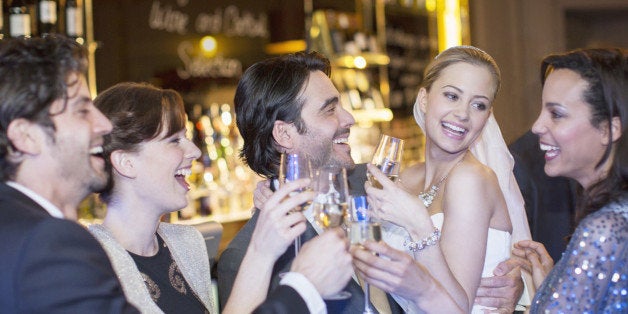 No one wants to throw a total snooze-fest wedding or bore their guests to tears. No worries though; there are a ton of super offbeat and inexpensive wedding entertainment ideas that'll make your guests remember your wedding for years!
From bounce houses and circus performers to mechanical bull rides and wedding video scavenger hunt, I went on the hunt for real brides and wedding experts' most favorite and original ways to make sure that your wedding is the party of the year! Read the tips for real brides and wedding experts below, and take a gander at the "7 Fun Things To Do at a Wedding" infographic at the bottom!
1. Wedding Entertainment Ideas: Unique Wedding Music + Dance
"Music is to the soul what words are to the mind." -- Modest Mouse
Brilliant Book More Brides pro, Stephanie, had the awesome suggestion to give a DANCE LESSON at the reception,
Hire a dance instructor to teach your guests an easy fun dance they can do together. Get extra fun points by tying it into your ethnic background or personal interests with a story... You want all your guests to be able to participate and enjoy, so keep the "lesson" portion under 10 minutes.
Stephanie also suggests including all guest into a family or ethnic TRADITION,
This could be a dance, a sing along or an event. Helen and Ying had a traditional wedding ceremony, followed by a traditional Chinese tea ceremony with the bride in a red qipao and groom in a dark blue robe. A skillful and humorous narration explaining the origins and meaning created a rich, entertaining experience for the guests.
What about the know the whole wedding band vs. DJ debate? Here's a third option: DUELING PIANOS!
With dueling pianos as a wedding entertainment rather than just a wedding band, you get a larger variety of music, plus all the interactivity you want. Guests are able to make requests, play games, plus roasts and toasts if desired. The typical wedding band will know hundreds of songs. A great dueling pianos show will know THOUSANDS.
2. Wedding Entertainment Ideas: Channel Your Inner-Kid
"The soul is healed by being with children." -- Dostoyevsky
"I had never been married, and my husband was a widower with two boys who were eight and 11 at that time, said Sister Eden co-founder and real bride Lori.
Since the wedding was about the creation of a new family, we invited a lot of the kids' friends, too. It made a lot of sense since we are friends with most of their parents! We ended up with 37 kids under 18! To keep them entertained, we had a GAME ROOM with a ping pong table, air hockey, two video games and a popcorn machine. We even had special lighting to create a mood like an arcade... adults could use the game room, too, and some did!
Looking for an even wilder wedding entertainment idea? Take a note from Tasty Time Architect and real bride Connie:
My husband and I married at the SF Zoo in 2008. We had a PETTING ZOO with various animals during cocktail hour and years later, our guests always comment how cool it was to pet a baby alligator or tortoise or get up close to a falcon. We highly recommend it! It's a hit for adults and kids alike.
Check out this I Do at a Zoo!
According to Andy Ebon of Wedding Marketing Network:
While every guest wants to be entertained, the very notion runs counter to keeping the focus on the bride, groom, and their ceremonial agenda (specific dances, cake cutting, photo opportunities, etc.) I recommend choosing a photo booth from the vast array of style options (retro photo booth, open photo booth, photo lounge... including props). It's an optional activity, facilitated throughout the reception... It doesn't interfere, or compete with, the official reception photographer, and is much cooler than a selfie.
3. Wedding Entertainment Ideas: Pretend Your Wedding is an Action-Movie
"No, no! The adventures first, explanations take such a dreadful time." -- Lewis Carroll
Kimberly Friedmutter, life management expert for OK magazine, featured wedding entertainment to please any adrenaline junkie:
Everyone loves to perform and feel special so my husband and I hired a HELICOPTER to 'buzzzzz' the wedding prior to my walking down the aisle to video and take photos from the air of our outdoor extravaganza . . . the pilot got the guests riled up and excited by saying over the loud speaker 'Are you ready for a wedding??? Put your hands up and wave because YOU ARE ON CAMERA!!!!! AND NOW IT'S YOUR TURN TO SHINE!' Needless to say, everyone went nuts and the video crew was able to get great close ups of all of the guests!
4. Wedding Entertainment Ideas: Your DJ is the Key to a Fun Wedding
"When he worked, he really worked. But when he played, he really PLAYED." -- Dr. Seuss
Real Bride Bridget gave her two cents on fun DJ games that get guests cracking up:
Our DJ ROASTED THE WEDDING PARTY with slightly embarrassing stories so our guests could get to know them better...The DJ announced the story of how we met and got engaged from a his and hers perspective. Guests laughed good-naturedly at how stories didn't quite always match up...
Of course, what's a wedding celebration without a couple of drinks? Bridget shared this brilliantly boozy game from her own wedding: When guests clinked glasses for the groom and I to kiss, the person who was identified as starting the clinking had to come up to the head table and TAKE A MYSTERY SHOT. (Some were naughty, some were nice and none were the same.)
5. Wedding Entertainment Ideas: Let Your Food Be Your Entertainment!
"All you need is love. But a little chocolate now and then doesn't hurt." -- Charles Shultz
Green Bride Guide provided us with some awesome wedding reception entertainment ideas that involve food and drink! So you get your catering AND your entertainment. The excellently eco-friendly folks at GBG recommended hiring FOOD TRUCKS as you the end of the party you can have dessert trucks (ice cream, crepes, etc.) pull up. Guests then feel like kids getting a special treat.
You could also have your RECEPTION ON A BOAT: A floating cocktail hour with a view of sunset is an amazing adventure for guests. For a super sweet party favor that your guests will actually appreciate, buy CANDY BARS AND EDIBLE FAVORS in bulk. Brides can also put a small local delicacy on every plate as a treat for guests to enjoy at the event or take home.
Related