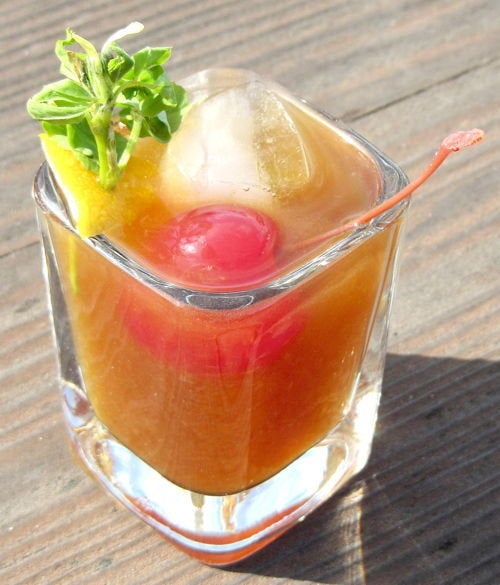 Forks up, party people! It's fenugreek season!
After acquiring some free fenugreek seeds at a neighborhood seed exchange, we planted them -- recognizing their name only vaguely as some component of curry. Now they're a bumper crop. We decided to investigate and eat our new slender-stemmed friends.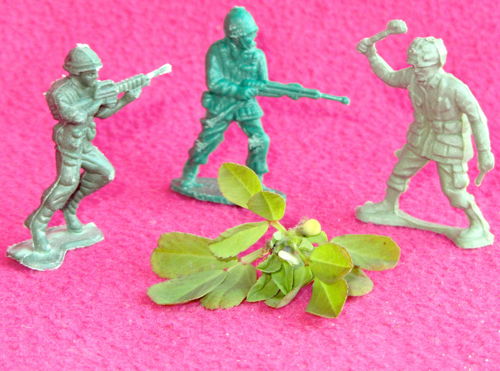 Native to the Near East, beloved in India, Egypt, Morocco, Yemen and beyond, this edible plant with leaves like tender jade-green fingernails tastes like spinach, which is to say not like much of anything at all. Looking exactly like squared-off rat droppings, sweet-smelling fenugreek seeds are a key ingredient in Indian curries, Ethiopian injera and panch phoran, the five-spice mixture that dominates Bengali cuisine.
If you can think of a better reason to eat saag paneer, say so.
Lachu Moorjani, chef-owner of Berkeley's award-winning Ajanta restaurant, told me that fenugreek is one of his favorite spices in all three of its forms: seeds, powder and fresh leaves.
In India, where it's called methi, "fenugreek is commonly used in the states of Bengal, Kashmir, Sind, Gujarat, and the entire south. It is rarely used in Punjabi or north Indian dishes," said Moorjani, who uses fenugreek in Hyderabadi methi murg, Kashmiri dhaniwal murg korma and many other entrées and green sauces at Ajanta, which he believes offers more fenugreek-fortified dishes than any other San Francisco-area restaurant. Depicted here are some crispy Ajanta samosas, complete with green dipping sauce: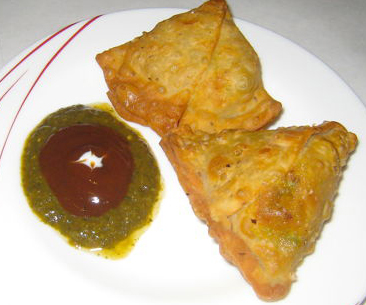 "When used as whole seeds, fenugreek is sautéed before other ingredients are added to a dish," explained Moorjani, who includes several fenugreeky recipes in his book Ajanta: Regional Feasts of India. "As a powder, it is usually added to sautéed onions and tomatoes along with other powdered spices. Fenugreek leaves -- dried or chopped up fresh -- are added to sauces somewhere in the middle of cooking. Fenugreek powder is a component of most curry powders from south India. I love whole seeds cooked in a curry sauce. They have a mild bitter taste that lingers for a while on your palate as you chew them."
I've been eating fenugreek leaves raw in salads and cooked into curries. I infused fenugreek into Crown Royal and simple syrup, then added Angostura bitters, Fernet Branca, black tea, Meyer lemon juice, a Meyer lemon twist, a fenugreek sprig and a CherryMan Farm-to-Market Maraschino (made from USA-grown fruit without high-fructose corn syrup, artificial coloring or preservatives) to create my new cocktail, the Fenu-Freak: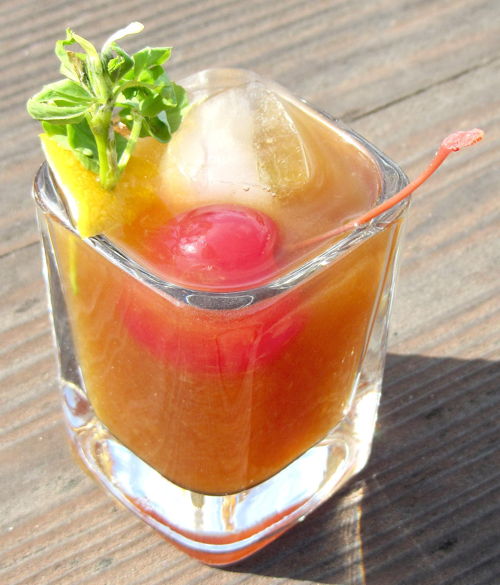 This is a great time to get assertive with spices. Gary & Kit's Napa Valley is one of several companies now offering dukkahs, Egyptian-inspired spice mixtures that shine atop roasted vegetables or olive oil-dipped bread. Gary & Kit's complete dukkah recipes are trade secrets, but given fenugreek's longstanding popularity in Egypt, it might be in there along with the cumin, coriander, peppermint, cardamom and other bright flavors.
Every month for the next six months, chef Sharon Nahm and mixologist Carlos Yturria will add to the regular menu at San Francisco's E & O Asian Kitchen new dishes and drinks based on spices associated with the ancient Spice Route. March's spice is cinnamon (for which Nahm created cinnamon-braised chicken and Yturria created a cocktail comprising house-spiced Brugal rum, fresh bergamot and cinnamon); April's is black pepper; May's is turmeric; June's is cardamom; July's is ginger; August's is star anise.
Vijay Rajendran, whose Hungry Globetrotter online gourmet club delivers the ingredients for make-at-home ethnic meals to members monthly, is also a big fenu-fan. He offered me this serving suggestion:
"My favorite way to eat fenugreek is when it is stuffed or kneaded into dough and cooked in a paratha style known as bakri," Rajendran said.
All this plus maple-syrup sweat. Eat fenugreek, work out and emerge from the gym smelling like an American breakfast.
All photographs by Kristan Lawson, used by permission.
Related