While Kent State University is known for its stellar fashion programs (one of the primary reasons why I chose to attend school here), it isn't exactly located in a part of the country that one would consider a fashion haven. The cute, small-town Ohio vibe that one gets from simply meandering around downtown Kent is vastly different than the sleek and busy atmosphere of, say, Manhattan. And don't get me wrong -- it is by no means a bad kind of different. Although the school is large, there's just a certain ease and hip nonchalance that rests in our campus's atmosphere and, ultimately, the style of our students.
So what exactly does the typical Kent State student wear on the regular? It's impossible to give an exact answer to this question without spending hours on it (keep in mind we have almost 30,000 students, which means almost 30,000 personal styles), so let me paint a picture of what you might observe style-wise on a walk through the campus: While traversing the brick esplanade that weaves through KSU, you'll be sure to see lots of skinny jeans on girls and guys alike, a few girls sporting their favorite pairs of perfectly worn-in combat boots, scarves galore, definitely some beanies, a surprising number of skirts (even on the coldest days) and maybe a couple of those "I slept in and nearly missed my 7:45 a.m. class, so I just threw on these sweatpants and booked it" outfits. There are also always a few girls ambitious enough to tackle high heels for their campus commutes, and I've recently noticed that bow ties seem to be taking off with the fellows of KSU (I spotted two the other day).
As you can hopefully now tell, when it comes to surveying KSU's overall style, you're bound to get a little bit of everything. There's a distinct and unique attention to personal style that is apparent in almost every student you will encounter. However, different tastes mixed with the much needed functionality for our expansive Ohio campus creates a united sense of effortlessness amongst our students' looks.
A wonderful example of this concept can be found in this Fashionista. It's clear from her white crocheted top, lilac cardigan and skinny jeans that the base of her outfit journeyed along a soft and feminine route. When she added her army jacket, oversized infinity scarf and black boots paired with thick gray socks, her look became suitable for the campus and its current winter weather. The final touches kept the look perfectly practical while also adding a juxtaposing laid-back grunge element to the original girly outfit. She managed to seamlessly blend different elements to keep for a functional college look and still stay true to the fashion image she wished to convey.
It's easy to come to Northeastern Ohio with unclear expectations as to what a large number of twenty-somethings can offer fashion-wise, but each student truly has a strong direction for his or her personal style. Whether they fully realize it or not, all of the students at Kent State University are Fashionistas/os that are on a constant mission to prove that collegiate fashion doesn't have to sacrifice function.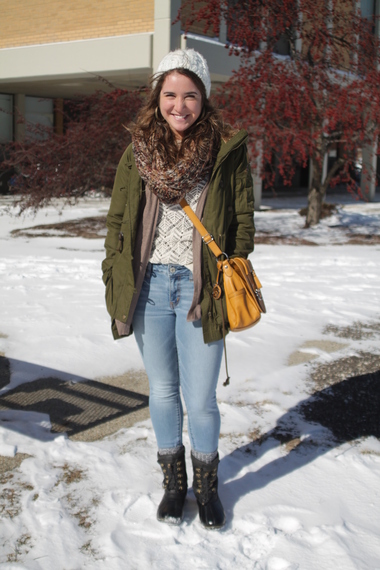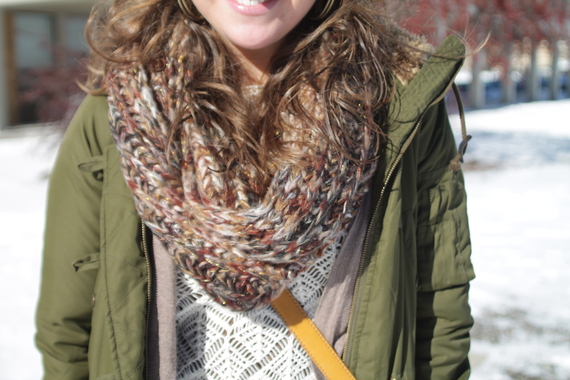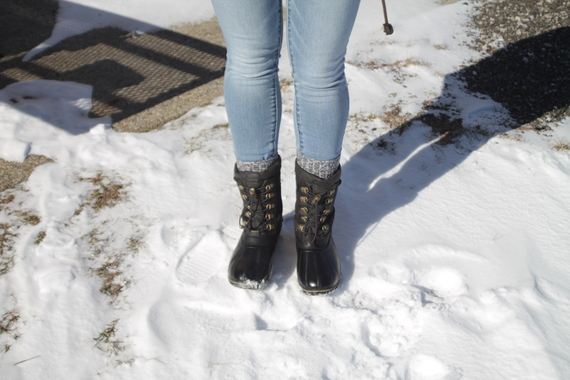 Cassandra Neely is a sophomore majoring in Fashion Merchandising with a minor in Fashion Media at Kent State University. She's a self-proclaimed fashion enthusiast with a deep appreciation for the written word and a great pair of ankle boots. When she's not documenting the style of her peers for CollegeFashionista, you can usually find her mapping out her next creative endeavors with her nose in a book and a large cup of coffee in hand.