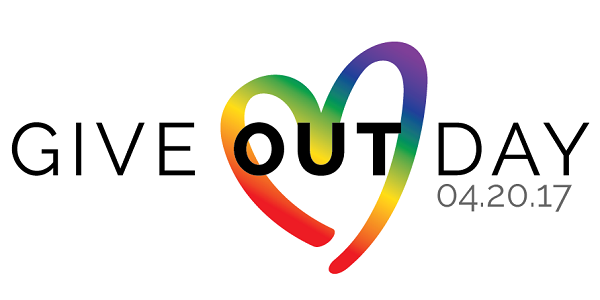 When the first-ever national LGBTQ day of giving, Give OUT Day, launched on May 9, 2013, the landscape for LGBTQ rights looked very different. The Defense of Marriage Act still stood, and most states barred same-sex marriage. Transgender Americans remained all but invisible, our elders too often isolated, and our youth too often ostracized and endangered. LGBTQ nonprofit organizations were just starting to recover from the Great Recession.
That time of acute need gave birth to that first Give OUT Day. Simply put, LGBTQ nonprofits lacked the funds they required to advocate for our rights and meet our community's needs. Meanwhile, many LGBT people of good heart didn't know how easy – and rewarding – it can be to support their work.
Give OUT Day brought our community's nonprofits and people of good heart together – all across the country, on a single day dedicated to giving to the LGBTQ community. It's not, of course, that giving is alien to our community. Give OUT Day builds on a rich, decades-long tradition of individual donors funding every step in this struggle, from bar fundraisers and penny jars to gala fundraisers and major gifts. But research from Horizons Foundation and the Movement Advancement Project suggests that less than 5% of LGBTQ people are giving to our community's nonprofits.
But Give OUT Day brings all of us, coast to coast, together for one common purpose – and that is very new. What's more, it's been a great success. Since 2013, more than 23,000 donors in all 50 states and Puerto Rico have contributed more than $3 million to over 500 organizations, ranging from youth organizations to elder support, from arts groups to social services agencies, from advocacy groups to community centers
The result? Tens of thousands of LGBTQ people – young, old, and all of us in between – have benefited from services, advocacy, and increased visibility that Give OUT Day funds have made possible..
We have all read about the spikes in hate crimes, attacks on our LGBT Centers and of course the continued dismantling of the progress we have worked so hard for, from Title IX guidance for trans students to the scores of anti-LGBT bills now being introduced in an emboldened anti-LGBT climate.
As the fifth Give OUT Day takes place on April 20, we should note that our movement has made immense progress on many fronts. But not only have the needs so apparent in 2013 – save marriage rights – not diminished significantly, but our community faces grave new challenges as well.
An administration actively hostile to LGBTQ Americans now occupies the White House, the Congress, and the great majority of statehouses. Pro-equality executive orders of the Obama Administration are being torn up. America's proud international voice on LGBTQ rights is being silenced. Across the country, state legislatures are furiously working to limit our rights, especially those of transgender people. Community centers have been vandalized. Hate crimes are up.
Many of our organizations are already overwhelmed. And that's before what are universally expected to be draconian budget cuts start hobbling countless vital social and health programs – cuts that will leave hundreds of thousands of LGBTQ people alone more vulnerable than ever before.
We know that we cannot afford to stand, silently, on the sidelines. Many of us have already been out in the streets, showing up to resist, volunteering our time. Many of us have opened our checkbooks, too.
Give OUT Day is the perfect opportunity for every LGBTQ person – and every one of our allies – to make sure that our nonprofits have what they require to litigate, educate, and fight for our rights. Give OUT Day is the perfect chance for all of us – together – to ensure that nonprofits have what it takes to help our community, whatever our people's needs for service, help, and support may be.
The reality is that there are many, many compelling calls on people for charitable gifts these days. Many have become even more critical since the elections. It's been encouraging that a few nationally prominent and crucial organizations like the ACLU and Planned Parenthood have received outpourings of gifts – they're going to need every penny.
Very few, if any, LGBTQ organizations have comparable visibility, or the resources to undertake massive fundraising campaigns. And it's here that Give OUT Day comes in. Give OUT Day provides LGBTQ nonprofits with a national technology platform – at no cost to them – to reach donors and prospective donors on a single, highly visible day of giving for our community.
From shelters for LGBTQ homeless youth, to support hotlines, to lobbying city councils and state legislatures, to providing HIV testing and medication, to community health care for low-income people, there is no part of the country where LGBTQ lives have not been changed for the better by the incredible work that nonprofits are doing each day. Give OUT Day is a chance for all of us to support their work – and to make our community's voice heard and its power felt.
For many of us, monetary donations are the most direct way to support their work. And that means gifts at any level - $25 as much as $2,500. It takes all of us – LGBTQ people and our allies – to fuel the organizations that advocate for and help hundreds of thousands of our brother and sisters, every single day.
Our community – our movement – is only as strong as the number of us who step forward to be part of it. Give OUT Day is exactly the same: it is together that we can change laws, heal lives, and ensure that future generations live in equality, dignity, and justice.
Please join us. For more information on Give OUT Day and the organizations you can support, just visit www.giveoutday.org.
Calling all HuffPost superfans!
Sign up for membership to become a founding member and help shape HuffPost's next chapter