 It all began with a milk carton.
"Fifteen years ago, when I was vice-president of sales of printer products at Canon USA, someone put a milk carton on my desk. I kept pushing it aside, not really looking. Then, I finally picked it up and looked at it. That's when it started."
"I put a program together and talked to my boss at Canon," Arnos says. "I put a budget together and, when COMDEX -- the annual computer dealers exhibition in Las Vegas -- came around, we did a golf tournament and a dinner at the Bellagio.
Canon also began contributing resources -- cameras, printers, scanners, copying machines and other products -- to the NCMEC and local police departments to help in the search for missing children. The company supplied all the cameras used to find missing children in the aftermath of Hurricane Katrina.
"That first year in Las Vegas," Arnos recalls, "we had Ray Romano, Kevin James, Kevin Sorbo and Robert Wagner. We didn't raise a lot of money and, the next year, we did the same thing. Canon said we can do more. We then started Canon for Kids and decided to have an appreciation party for our dealers to thank them for the business they bring and for supporting NCMEC."
Of course, the focus on missing children that the annual Canon event highlights, had its start with John Walsh (top left, speaking at the event). Thrust into the national spotlight when his son Adam was abducted from a mall in Hollywood, Fla., and was subsequently murdered, Walsh has become our nation's premier victims' rights advocate and hunter for America's Most Wanted After they lost Adam, he and his wife Revé established the Adam Walsh Child Resource Center, a nonprofit seeking legislative reform that ultimately merged with NCMEC. His tireless activism and testimony before Congress on numerous occasions has brought about strong laws dealing with the abuse and abduction of children. Since the 1982 murder of his son, John Walsh has never rested. He is a most passionate and tireless advocate for child safety.
"The average citizen has to realize that these kids are going from harm's way to continued harm's way. We've had many children in foster care who have been abused, exploited. We're so focused on materialistic success in America. Everybody wants to be the great athlete or the next Bill Gates and all these children are falling by the wayside while we're still the richest industrialized nation in the world. I think everybody has to say we can't forget these kids. They are falling through the cracks. We've had so many cases when children have been wrongly adopted or used and molested and not taken from the family doing that, so they wind up dead. It's just an ongoing problem and I believe society has to change its attitude."
He adds, "I've believed for years that all children are the responsibility of all people. You just can't isolate yourself and say, 'OK, I've made it. I'm going to live in Beverly Hills and crime will never touch me.' I think Bill Cosby said it best. He said, 'You can be a crime victim anywhere in America. My son was murdered in Beverly Hills. He was murdered for a Mercedes Benz.' So, the children still fall through the cracks. It's just not a high priority. I go to third-world countries where it's really a high priority, where they take much better care of their children -- their orphaned, abused, molested, abandoned children. Foster care is better in some third-world countries."
There are parents who care a great deal and take every precaution possible to safeguard their children. But children are still taken and abused. Walsh says, "I think what people don't realize -- and I talk to parents all the time -- is you have to open those lines of communication with your kids. You have to tell them what's out there. You have to find out what's on their Facebook page. You have to find out who they're hanging out with, who their friends are.
"Eighty percent of crimes against children are committed by a trusted authority figure or by someone they know. Look what went on at Penn State for years. Look who was the most vulnerable: those children who had no father figure in their lives and their mentor was a guy accused of 45 counts of molesting young boys and a guy protected by the system for 15 years. No one could believe it could be him. Parents have to talk to their kids. They have to open those lines of communication and tell them 'if someone's making you uncomfortable -- I don't care if it's the minister, the priest, the rabbi, the famous coach, the famous...whoever...you're going to tell me and I'm going to do something about it. Don't assume anything. don't assume it couldn't happen to you."
Asked what one thing he believes people should know about him that they may not know, Walsh says, "I think people have a perception of me that I'm a tough guy and fighter and all those things. You know, I'm a father. I'm privileged to be a father. I say that all the time. I had a great father. He was my role model. I'm blessed to have three children since Adam's murder. I'm married to the same woman for 40 years. You can do it. You can be in the TV business and still have a good marriage."
Walsh comes to Las Vegas every year for the Canon Customer Appreciation event benefiting the NCMEC. There is no cost for Canon's customers. Money is raised from a silent auction that offers trips, luxury goods and services and from sales of commemorative Canon For Kids teddy bears. Often, when he's in Las Vegas, Walsh says, he "rides with the Las Vegas Joint Task Force, the U.S. Marshals and Las Vegas Metro ]police force]. There's a side to America that people just don't want to accept. there's an underbelly. It is scary and I see it on those rides."
This year's event at the Bellagio, was the 14th. It raised $427,000 for NCMEC. The organization's CEO John Ryan, says, "Canon has been an important partner of the National Center for Missing & Exploited Children for 16 years. Their generosity and dedication to our efforts to help children have raised money and public awareness, both of which are critical to our success.  We are grateful for their efforts on behalf of children at this event and throughout the year."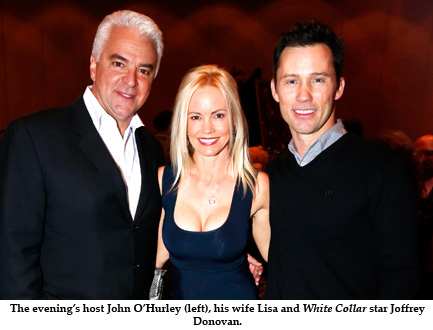 There are many, many people who regularly work on the event and who attend each year. For example, rocker Alice Cooper is a regular there with his family. His son Dash works the event through Precision Corporate Staging, the company that sets up the technology for the show at the event. This year, the entertainer was Las Vegas Strip showman Frankie Moreno. The host for the evening was John O'Hurley. O'Hurley is an actor (Mr. Peterman on Seinfeld, King Arthur in Spamalot and Billy Flynn in Chicago, among many roles), author (It's Okay to Miss the Bed on the First Jump: And Other Life Lessons I Learned from Dogs and motivational speaker.
He explains his involvement with the NCMEC and this event: "Years ago, I came out here because one of my best friends, Bryan Cranston, was a young father deeply concerned about everything the National Center is about. He had me come along even though I was still a bachelor. It was always a nice way to spend a weekend in Vegas and always a very good cause, even though I had no personal attachment to it.
"Over the years, my life has changed significantly. I married, had a child and so my sensitivity to everything that this charity is about is at a peak for me as a concerned father. I look around the country and every time I see this happen I feel the terror of the child and feel that disgust that these predators exist in our society.
O'Hurley adds, "I think this is a unique cause, too, because they measure their success not in dollars raised, but in lives saved. There aren't too many causes that can use that as the barometer of their success. So, as a concerned parent I'm involved but, this is also something I feel called to do, rather than just a need to do.
"There isn't a single person my age that I can't look at and say, 'Did you parents tell you to be back before dark?' That was the common parental oversight then. But, between then and now, we seem to have bred a society of predators. Yes, maybe, they were always there. I don't know, but we didn't experience them like we do now.
"As for the National Center, it's not so much the success they've had that we should think about but, instead, think about what could have happened if they weren't there. That's 178,000 kids that were missing that have been found through their work.. That's an astonishing figure."
Others who work on the event feel the same passion. Jaki Baskow, whose multi-award-winning Las Vegas-based company Baskow and Associates produces the gala with Canon, says, "When I was approached seven years ago to do this, I felt honored. And, each year, that feeling grows. I cannot imagine our world without the work for NCMEC done by Canon and by John Walsh, John Arnos, John Ryan and, now, John O'Hurley. Sure, I wonder if one must be named John to be involved but, joking aside, this is such a serious subject and the work being done is so good, we'd be a much sadder world without it."
Photos: Levi Ellyson/501 Studios courtesy of CanonUSA
REAL LIFE. REAL NEWS. REAL VOICES.
Help us tell more of the stories that matter from voices that too often remain unheard.