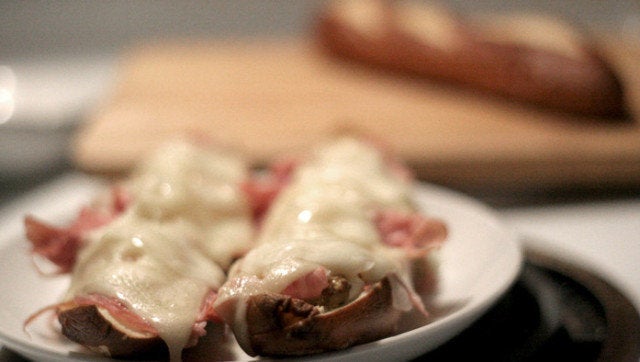 What Is It Anyway? is a series that examines the histories behind peculiar and obscure foods. Today, we're explaining funeral sandwiches.
So what are they, anyway?
Funeral sandwiches are simply, slider-sized sandwiches made with dinner rolls (King's Hawaiian Rolls, if you want to get specific). The rolls are loaded up with deli ham and swiss cheese, and are glazed with a mixture of butter, Worchestershire sauce, mustard, brown sugar and onion powder. The glazed rolls are left to sit in the refrigerator for several hours before being baked in the oven.
History
Funeral sandwiches get their name because, very simply, they are a type of sandwich often served at funerals. Showering the family of the recently deceased with food gifts is a Southern tradition that dates back to as early as 1779. According to the Oxford Encyclopedia for Food and Drink in America, common funeral food gifts include "fried chicken, baked ham, potato salad, deviled eggs, rolls, pound cake, and endless pies." Casseroles and "funeral potatoes" (hash browns, sour cream, and cream soup that is topped with a cornflake crust) are also popular.
The Oxford Encyclopedia for Food and Drink in America also writes of funeral food:
In the eighteenth and nineteenth centuries, funeral tokens, particularly funeral biscuits, were used in many communities. Like the cake slices given to departing wedding guests, funeral biscuits stamped with symbolic images were given as tokens or were served after the funeral, often with wine.
The common thread among funeral food is that it is typically simple, warm and versatile, which could explain where funeral sandwiches got their name.