SUMMERVILLE, S.C., April 11 (Reuters) - Hundreds of mourners gathered on Saturday morning at a South Carolina chapel to remember Walter Scott, an African-American father of four who was shot in the back last week while running from a white patrolman.
Scott's death, caught on a bystander's video, has reignited a public outcry over police treatment of African-Americans. Michael Slager, the North Charleston officer who fired eight times at the man's back as he fled from a traffic stop, has been charged with murder.
Under cloudy skies, an early crowd stood under the portico of W.O.R.D. Ministries Christian Center in Summerville behind police tape that separated them from television cameras and media tents. The service, scheduled to begin at 11 a.m. EDT (1500 GMT), will be open to the public.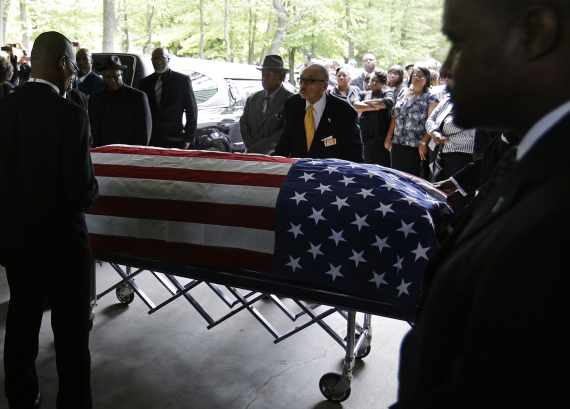 The casket of Walter Scott is wheeled into W.O.R.D. Ministries Christian Center for his funeral in Summerville, South Carolina.(Photo by David Goldman -Pool/Getty Images)
"This is a sad day," said Rev. James Johnson, a minister who is president of the local chapter of civil rights leader Rev. Al Sharpton's National Action Network.
"God has got a reason for what has happened," he told Reuters. "Hopefully this will heal the world."
Scott's family is expected to be escorted to the funeral by North Charleston police. The family changed its mind on allowing media to attend after a newspaper reported that the family wanted Sharpton to stay away, Johnson said.
Sharpton was always welcome, though the family had not scheduled him as a speaker, he said.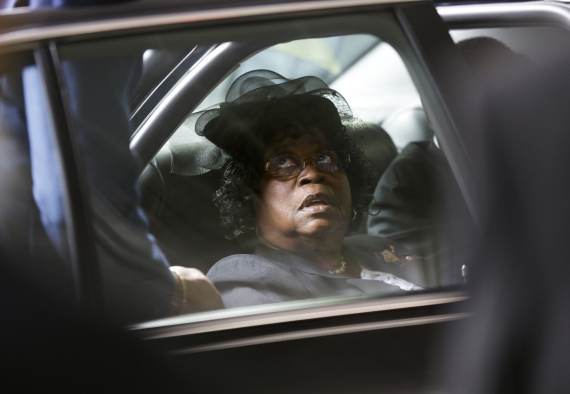 Judy Scott arrives for the funeral of her son. (Photo by David Goldman -Pool/Getty Images)
Sharpton said on Friday that he had a scheduling conflict but would attend church services and a vigil in North Charleston on Sunday.
Scott, 50, was driving a black Mercedes-Benz on April 4 when he was pulled over by Slager, 33, for a broken tail light. Video from the dashboard camera in Slager's police cruiser recorded a respectful exchange between the two men before the officer returned to his patrol car.
A few minutes later, after being told by Slager to stay in the Mercedes, Scott emerged from his car and took off running. He was apparently unarmed.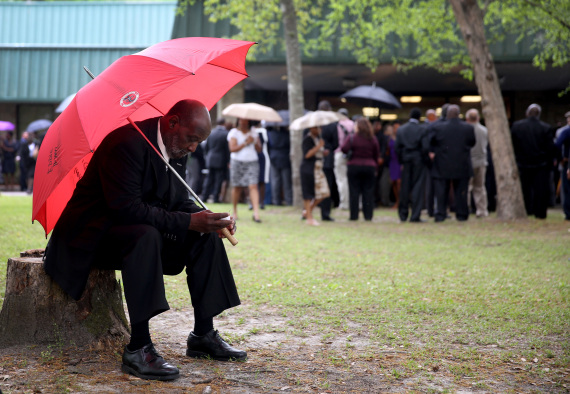 Hundreds of mourners gathered to remember Walter Scott. (Photo by Joe Raedle/Getty Images)
A second video by a bystander showed the men in a brief tussle before Scott ran off again, Slager fired his gun and Scott slumped into the grass.
In the days since his death, Scott has been remembered for his love of dancing and the Dallas Cowboys. He had a history of arrests for failing to pay child support and was forced out of the U.S. Coast Guard in 1986 after more than two years of service due to a drug offense.
He was nonetheless discharged under honorable conditions because he had a good record of service, the Coast Guard said.
An obituary published on Friday said Scott's survivors include his parents, two brothers and four children. (Writing by Colleen Jenkins and Frank McGurty; Editing by Susan Fenton)
Support HuffPost
Every Voice Matters
Before You Go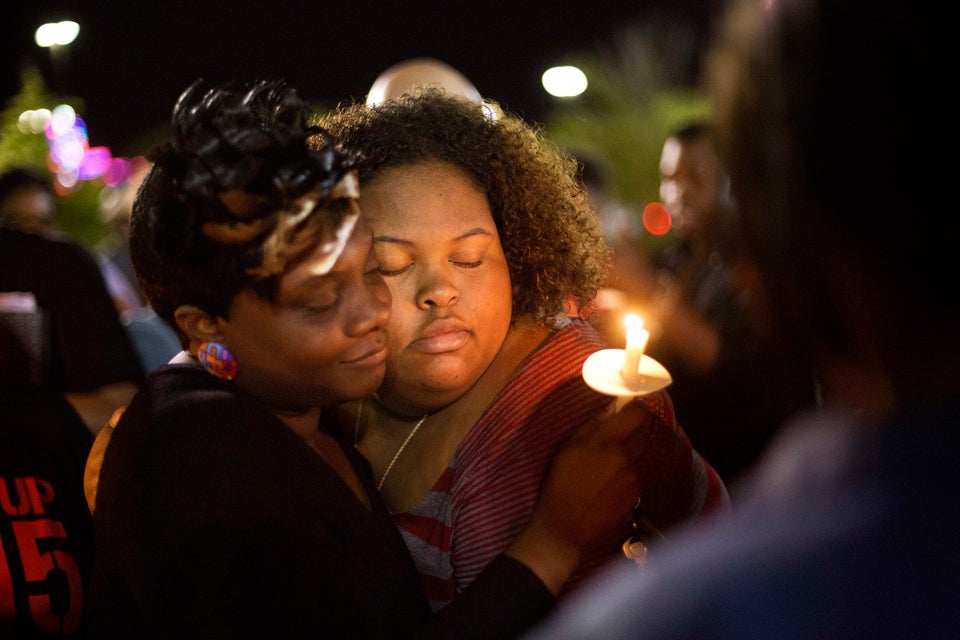 Walter Scott
Popular in the Community