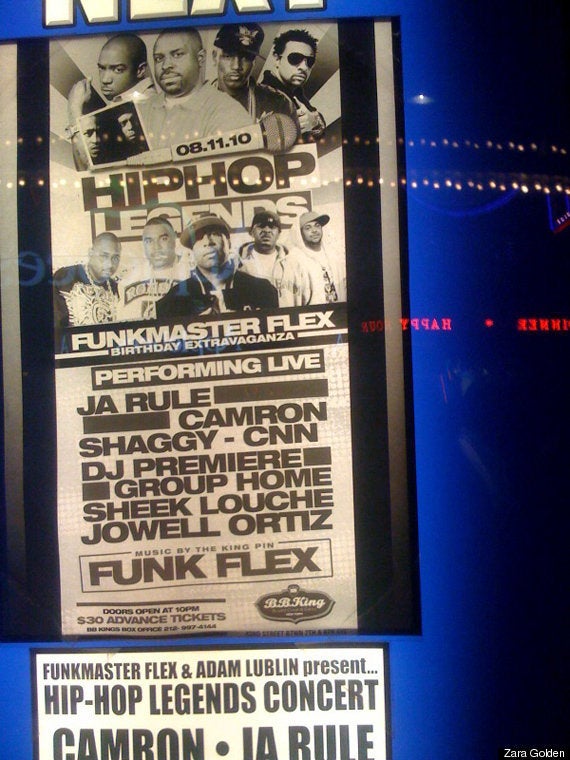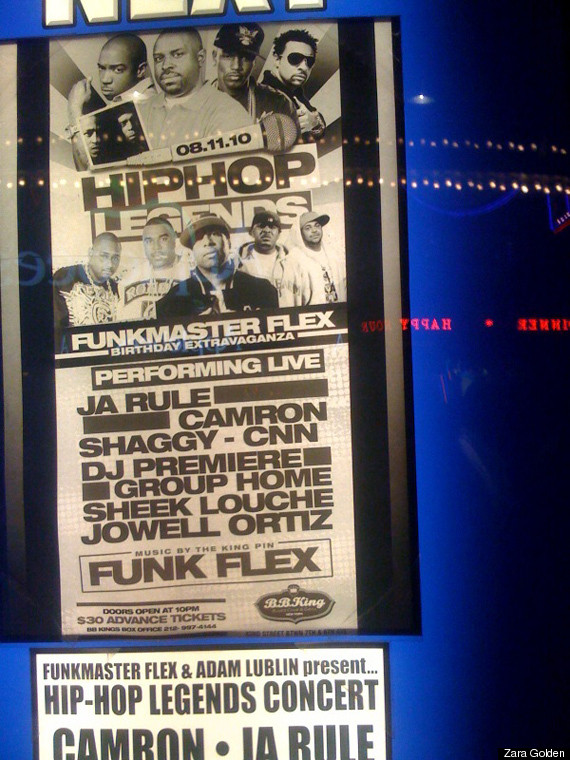 The mood last night at BB King's was celebratory. The evening was billed as Funkmaster Flex's Birthday Extravaganza, and the line to get in when doors opened at 11 PM (on a Wednesday night) had run all the way down the block with excited guests. For the most part, the night did feel like party, energy high and plenty of birthday hugs for the guest of honor. But it was also billed as part of BB King's ongoing Hip Hop Legends series, a celebration of hip hop's key players, a playing out of its most memorable story lines. The curious misspelling of DJ Premier, Sheek Louch and Joell Ortiz's names on the physical bill outside the venue aside, it was this celebration "legends" that left the most to be considered.
In this regard, it would have been harder to recruit a more appropriate emcee than the legendary Funk Flex, famous for his late-night shifts at early 90's hip hop mecca, The Tunnel, and his long running evening show on Hot 97. Inspired and inspiring, it seemed only fit that he takes a working roll in his shared celebration. It was also appropriate that DJ Premier, producer, DJ and half of the late Gangstarr, warm up the crowd, having had a hand in hip hop of past and present. Songs went out to his late partner, Guru, along with other fallen hip hop heroes before living legend, Bun B came out to do a new one off his just released Trill OG.
There were lots of shout-outs to the 25 and older crowd during this early part of the evening, an age bracket that still includes a few years of attendees too young to have gotten into the Tunnel. The memories were mostly fond, though, and the energy excited, as it was for Sheek Louch (who's "BMF" freestyle brought out fellow D Blockers Jadakiss and Styles P) and through Joel Ortiz's set (summer hit, "Nissan, Honda, Chevy" garnering attention even without the help of the predictably absent Jim Jones).
Shaggy, the Jamican American reggae star whose most notable hits fell neatly into the pop-obsessed early aught radio rotations, offered the evenings first notable deviation from the "hip hop legend" line. He's probably most renowned as a jokester at this point, but it's hard to seem out of place when you are as good natured and easy smiling as he. Quick as he is with the "Wasn't me!"s, it was hard to muster the motivation to question his place in the evenings lineup.
Cam'ron comes from a more recent iteration of hip hop legends, but was a solid choice to headline the night. Notoriously unstable (his 2008 disappearing act, for one example), the Harlem born rapper manages to stay ever relevant in the New York hip hop scene with a consistently fun and pleasing output and patient fans. Taking the stage sometime around 3AM with his second in command/side-kick/protege, Vado, and a troup of others, all wearing white UN tees, he worked effortlessly through his early morning set. The unabashed crowd sang along to "Suck It or Not" and was excited when Busta Rhymes came out for his verse off the "Stop The Party" remix and to help close the night out with summer bangers, "Salute" and "Speaking In Tung". Juelz, having been arrested that morning, didn't make it.
The most confounding celebration of "legend" came when Ja Rule was set to hit the stage. "This guy is on the bill for a reason," warned Funk Flex in response to the crowd's booing. It's probably safe to assume that Ja Rule has the deepest catalogue of hits with the most radio play of all the guys (and it was all guys) on the bill. Between 1999's "Holla Holla" and 2003's "Mesmerize" featuring Ashanti, Ja Rule had seven singles make it to the Top 20 on the Billboard Hot 100 and four consecutive albums go at least platinum. These top slots and platinum albums should have been marks of making it, but instead, they ended up fueling his glib feud with 50 Cent (beef that a friend of the two referred to, diminishingly, as "gangsta minstrelsy"), a feud that ultimately stiffled the Queen born rappers career.
Ja Rule seemed ready to dispute his faded reputation last night, taking the stage with a large and camera filled posse. His inclusion in the celebration of legends probably felt like an opportunity to re-establish himself as more than the actor on the losing end of a rap battle. "I want you to see I am sincere," he said, taking off his sunglasses, "I want to take this back to 1999."
And so he took us back to a time that was better for him. He sounded good, skipping through the most popular versus from his most popular songs as well as a little new material. Before "I'm Real," the remix of Jennifer Lopez's song that hit number one in 2001, he took off his shirt, baring a still chiseled chest. He's been keeping up: he looked good and sounded fine. But it was clear, constant shout outs to New York and 1999 and nods to hip hop's current incarcerated king Weezy weren't going to earn him back any of this "realness." Ultimately, his desire seemed genuine, but the flashes from the camera's he brought were distracting, the bare-chested posturing desperate and the scene sad. The crowd's reception felt particularly cold in the midst of the celebratory night, and Ja Rule's "legend" similarly unclear after a desperately delivered but ambivalently received hit-heavy set.
Last night's was a motley crew of legends. It was clear that in hip hop, such a status doesn't come so simply or so easily -- it's not earned because of or in-spite of time, hits or relevance. A clear reverence for those who came and passed before was met with equal enthusiasm for those working their way up through the ranks today, while beats from hip hop's early days carried as much edge as today's hottest. But the waffling excitement over Ja Rule proved the clearest test of legend, demonstrating a level of commitment that extends beyond radio hits and stunting. In all, though, the night was mostly one of reveling, and the crowd that filed out into a quiet, early morning Times Square seemed content to let things figure themselves out. Some things can't be settled in one night, no matter how long that night might be.
REAL LIFE. REAL NEWS. REAL VOICES.
Help us tell more of the stories that matter from voices that too often remain unheard.