America is voting. Candidates are canvassing. Votes are being turned out. The stakes are either very high, or very low, depending on the news you read.
So while you wait, enjoy some of the best photos to come out of Election Day 2014.
Mitch McConnell voting in Kentucky on Tuesday morning. Thumbs down for what?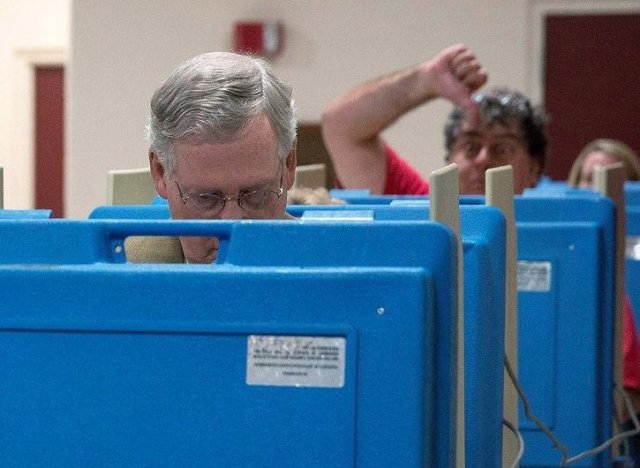 (Aaron P. Bernstein/Getty Images)
Missouri Gov. Jay Nixon's (D) crack social media team posted this photo Tuesday morning. It was wiped from Twitter shortly after.
Florida gubernatorial candidate Charlie Crist (D) strikes a pose.
A lost absentee ballot didn't stop Lil Jon from turning out to vote.
Looks like Florida Gov. Rick Scott (R) got the short end of the stick in this photo with Texas Gov. Rick Perry (R).
Texas gubernatorial candidate Wendy Davis (D) locking down the Wu-Tang vote.
This might be the happiest photo of Sen. Mitch McConnell (R-Ky.) in existence.
Way to take things literally, Sen. Mark Udall (D).
Sen. Tim Scott (R-S.C.) gets out the vote.
When going to the polls, keep your hands to yourself.
Below, more updates on election news:
Popular in the Community