Spirits Tavern in Dahlonega, Georgia is a great local haunt to grab a burger and a beer. But lately, the bar has been drawing crowds for something else entirely ― its hilarious chalkboard artwork.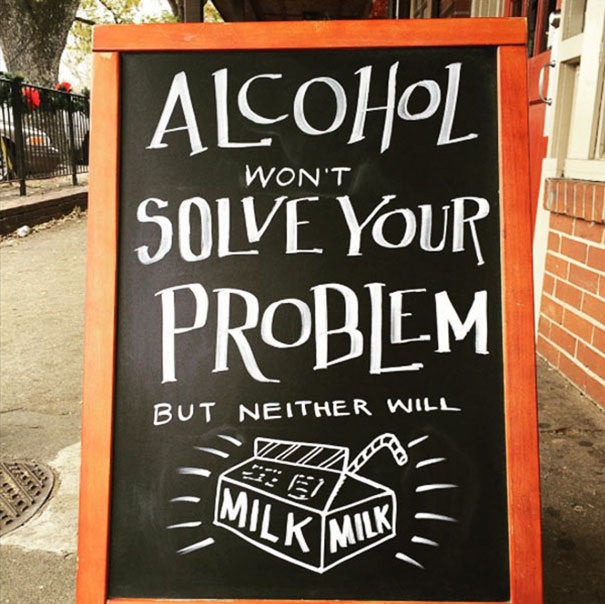 Spirits Tavern owner Sabrina Walker got the idea to recruit local artists to design promotional boards for her business. She landed on a friend of hers, Dahlonega artist Ollie Wolff Pruitt, to take on the project.
"Dahlonega is full of very talented people. I'm very lucky to be close friends with several of them," Walker told The Huffington Post. "As Ollie and I became friends, she began to just enjoy hanging out at the bar while she worked on the signs. It just organically developed into a really neat thing."
Pruitt, by her own admission, has had "a blast" creating the witty signage.
"I've been doing art full time for a few years now, and it often becomes more about just getting work done and less about the process," Pruitt said. "It's nice to come in to the bar and just draw for the hell of it and the joy of the actual mark making."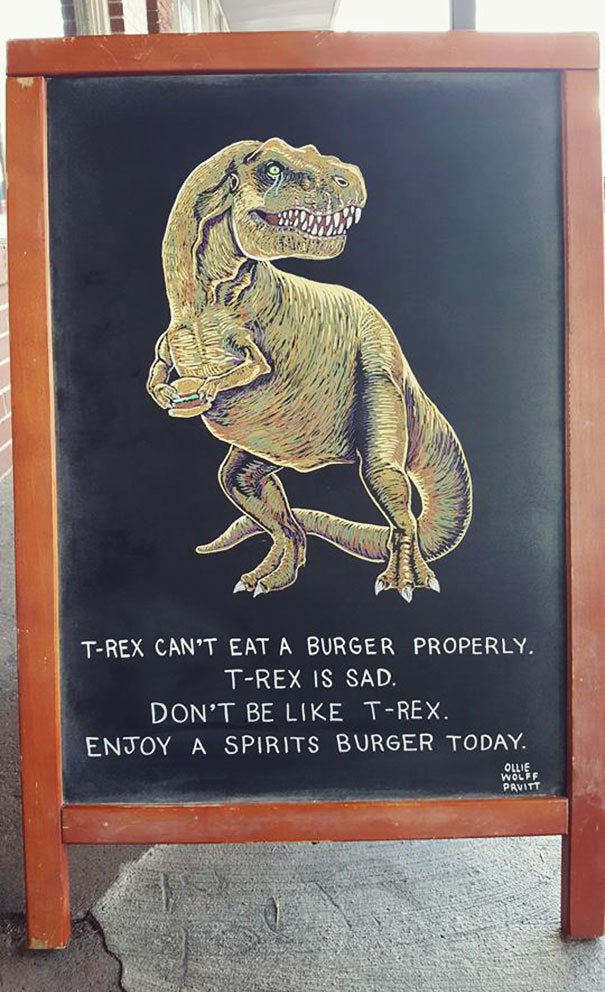 Pruitt gets a lot of her ideas from quotes floating around the internet and humor sites like The Oatmeal.
"I was mostly drawing random jokes or funnies from the internet that Sabrina or someone at the bar would find," Pruitt said. "But we did get a few original ideas in there. Sometimes I'll just really want to draw a certain thing, so I'll try to make it relevant to the bar, like the sad T-Rex. I just wanted to draw a dinosaur."
Pruitt and Walker agree that the local response to the chalkboard signs has been overwhelmingly positive.
"A ton of people will stop just to take pictures with the signs, or will actually come in just because it made them laugh," Pruitt said.
"People really enjoy walking by to see the artwork" Walker added. "It's become popular and has even been featured in our local newspaper."
Take a look at Pruitt's laugh-out-loud chalkboard signs below.