Back-to-school season is upon us, which means adorable photos of cute kids holding up signs on their first day of school. For one mom, the sign she made for her child could not offer a more realistic take on the busy life of a parent.
Lindsay Sutton, the mom behind the blog Essentially Momming, posted a photo on her blog's Facebook page earlier this month that showed her son on his first day of school in Missouri. Like many kids, he held a sign that included his grade. It also included a funny message.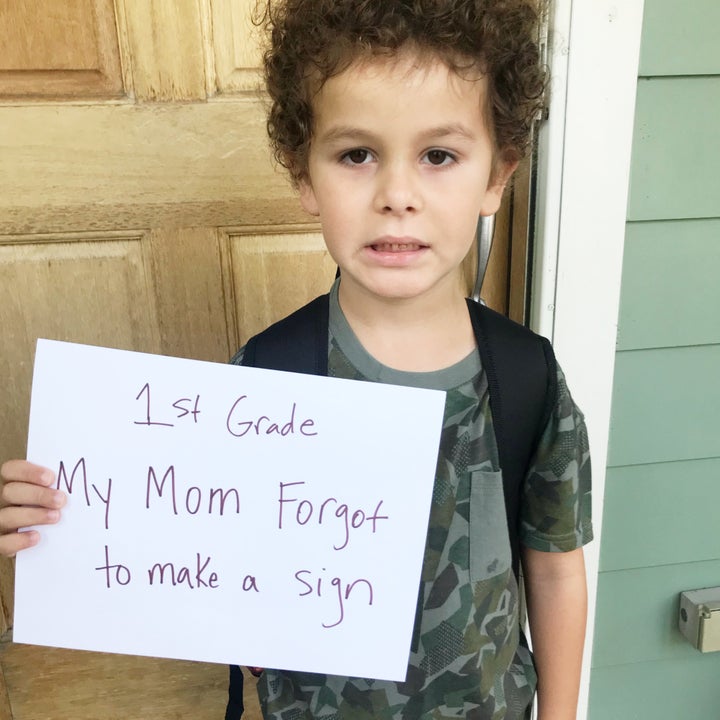 Her post has received many comments with crying-laughing emoji as well as one comment saying her son's sign "should win a prize."
Sutton admitted that she didn't actually forget to make a sign for her kid. Instead, she wanted to create something funny on her followers' timelines ― and also send a message about the pressures of social media and parenthood.
"Very late the night before school started, as I was checking off the 16 things I had to do when your kid goes back to school, I remembered that I had to make the 'usual' first-day-of-school sign," she told HuffPost via email. "And when I caught myself thinking, 'Omg what if I forgot?!' it got me thinking. Wow, we really put a lot of pressure on ourselves as moms in this social media age we live in."
As for her kid's less-than-enthusiastic expression in the photo? Sutton said he came up with it all on his own.
"He's got a great sense of humor like his mom," she joked.
Overall, Sutton simply hopes the back-to-school photo makes people laugh and parents realize that doing their best ― whether that includes a first-day-of-school sign or not ― is completely acceptable.
"I'm fairly certain that my kid not having a custom Etsy 'Back to School' sign didn't affect his first day at all," she said. "Imagine that."
Support HuffPost
A No-B.S. Guide To Life
Popular in the Community