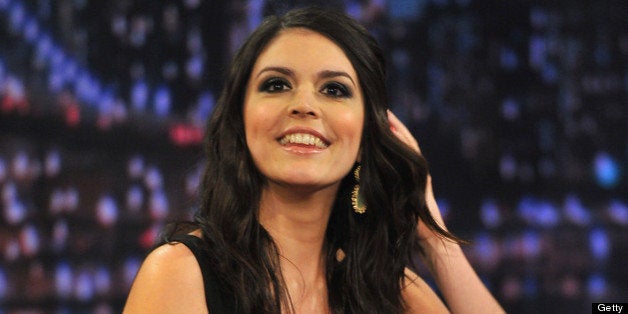 Saturday Night Live (SNL) comedian Cecily Strong, 31, is the fourth female featured solo entertainer at the White House Correspondents' Association Dinner, on Saturday, April 25. Considered one of the top gigs in the comedy business, the annual roast of the president and politicians is considered Washington's equivalent to the Oscars and called the "Nerd Prom." The star-studded event unites media pros, politicians, newsmakers and Hollywood stars. Strong follows Wanda Sykes (2009), Elayne Boosler (1993) and Paula Poundstone (1992).
Strong embodied her name when she was cast off the "Weekend Update" chair last September in season 40. She responded like a pro with class. She is the Dinner's youngest comedian in four decades. Strong earned BFA in Theater from the California Institute of the Arts and performed at Second City. Following four auditions, in September 2012, she debuted on SNL as a featured repertory player. Perhaps she will counsel guests on how to deal with her "Weekend Update" recurring activist character, "The Girl You Wish You Hadn't Started A Conversation With At A Party," to successfully traverse the crowded, celebrity-packed ballroom and after-parties. She should feel somewhat at home at the WHCA Dinner, since her father was an AP Bureau Chief at the Illinois Statehouse. Her upcoming films include "Staten Island Summer,""The Bronze," and the all-female "Ghostbusters."

Female White House Reporters Barred from Dinner Until 1962 Protest
In 1962, Helen Thomas and pioneer female journalists and White House reporters successfully convinced President John F. Kennedy not to attend the annual Dinner unless the women members were admitted for the first time. Official women White House reporters were full WHCA members and paid full dues but were traditionally barred from the main annual all-male event.
Thomas became the first female president (1975-1976), since the WHCA was founded in 1914.
Currently three of the top four officers are female: Christi Parsons, Tribune Company, is the tenth female president. Carol Lee, Wall Street Journal, is Vice President and Margaret Talev, Bloomberg News, is Treasurer.
Off the record, the WHCA could be retitled the White House Cupids' Association. It's reported that Hollywood's hottest couple, Sofia Vergara and Joe Manganiello, met at the festivities last year. He proposed six months later on Christmas Day. So much for Washington promoting Modern Family values and domestic affairs.
The event will be covered on C-Span and C-Span.org, beginning with celebrity arrivals at 6:30 PM and dinner program with the president and Cecily Strong around 9:00 PM. Proceeds support scholarships and awards that recognize aspiring and accomplished journalists. Further information at www.whca.net.
Read more about female journalists, comedians and role models making historic milestones here.
Support HuffPost
The Stakes Have Never Been Higher
Related
Popular in the Community