I'll never forget that hot summer night, sitting in the back of a crowded bar with poor A/C, leaned over the table, reviewing my set list with the light from the muted television mounted against the wall. I was up next and full of my normal preshow jitters. As I stuffed my set list into my pocket, I remember having my train of thought jolted to a sudden halt, by hearing the comic up on the mic scream "What the fuck?! They're gonna give me AIDS through the wall!"
I was so into preparation for my set that I wasn't paying attention to what he was saying before, but that got my attention. He went on for another 10 minutes about his gay neighbors, who he constantly referred to as "butt bandits" and "fags" to the shock and amusement of the crowd and made jokes about how scared he was of catching AIDS through the wall living next to them. I couldn't believe it, I'd heard gay jokes before, and told my own share of crass jokes and bragged about how much pussy I was getting (that's what male comics were supposed to do) but that night, I decided that that couldn't work for me anymore. The emcee introduced me, and as I stepped up to the mic, everything that I'd prepared went out of the window.
Removing the mic from the stand, I remember saying "We've been neighbors all this time, and I have to come to a comedy showcase to find out that's how he feels about living next door to us?" The audience chuckled, and from there, I riffed on being gay, and how hard life had been for me at the time. By then, I'd been doing comedy for about three years and of course way before then, had been aware of my sexuality. In fact, I was just coming out to my mom, who wasn't taking it too well, going through a horrible break up, dealing with religion and was borderline suicidal. I was at a crossroads in my life, and listening to that idiot triggered a catharsis. My 15 minutes on stage seemed like an eternity, the rant was raw and kind of funny and I'm sure that the audience definitely felt like they were sitting in on a therapy session, but when I walked off that stage, I finally felt like I'd done something authentic.
I never intended to disclose my sexuality on stage, because to me, it wasn't anyone's business, but doing so allowed me to finally create material from an authentic point of view, which makes the best comedy, or any art for that matter, not to mention, made me as funny as I was off stage, because I could be honest. However, I didn't expect what came next, I was kicked off a small tour that I was on and lost a weekly hosting gig at a bar because the owner felt like "the patrons wouldn't be able to handle the gay shit." A few nightclubs that I played were particularly hostile, at one, bottles were thrown at me in the parking lot, and at another, a group of guys were waiting outside the club and dared me to "bring that shit back down there."
I persisted however, and continued to develop my authentic voice and was able to use humor to not only talk about life, but do it in a way that all audiences could relate to, and started receiving standing ovations in many of these same venues. I've always felt that that's one of the great things about humor, that in the same way the great poet Maya Angelou said of love, "it recognizes no barriers. It jumps hurdles, leaps fences and penetrates walls." Twelve years after those incidents, I continue to do so.
It seems like over the years, anyone in comedy who happens to be anything other than a heterosexual white male has had to take this road. I think of pioneering black comics like "Moms" Mabley, Dick Gregory and Redd Foxx, all who played the chitin' circuit and often passed through and performed in places that were not so welcoming to people of color, and even risked their lives to stand up and perform, simply as they were. Trailblazing women comics like Joan Rivers, Whoopi Goldberg and Phyllis Diller also come to mind when I think of conquering the challenge of creating space for people who are rendered invisible in society -- let alone comedy.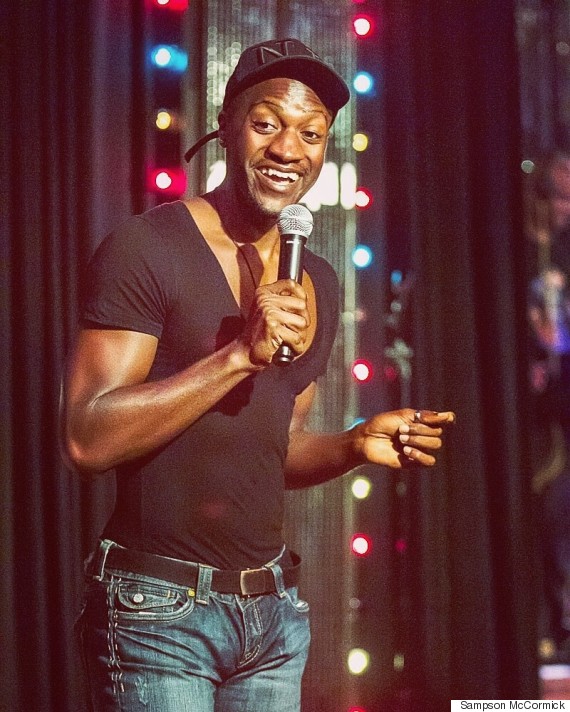 Yet, surviving and being afforded opportunities in this business continues to prove beyond challenging for most minority comics, an issue that I largely overlooked until I gained the credentials to start working weekends at comedy clubs and appearing on shows that often lead to more mainstream exposure and other things necessary to make a living as a comic, which is where I've often met resistance. For a while, seeking to work more mainstream venues, etc. the rejection was subtle "Oh, we looked at your stuff, it's good, but we don't know where to put you... wanna wait til next June when we do our Rainbow Sherbet show?" I'd politely decline and scoff to myself, "Bitch, it's December, I have bills to pay, and I'm funny 365 days of the year, not just gay pride month."
As I continued my searches for work, the rejections became more blatant, "No, we don't bring in queer comics, and not too crazy about women comics either, sorry. I know it sounds harsh, but that's just the way it is," "You're funny, we just don't want to risk alienating the audience" and a more recent email, which read, "We'd rather not have comics who explore homosexual subject matter on our stage," not to mention a late night show which told me "You're definitely funny, but we just don't think our viewers are ready for that. Good Luck." Of all the late night shows, the only one willing to give me a shot was Arsenio Hall, whose show I was in the process of getting a date on, right when he was abruptly cancelled after being renewed for a second season. My opinion? For one, he was the only brother in late night, and was giving opportunities to many minority artists who generally wouldn't be afforded that type of exposure anywhere else. I feel like Arsenio had a great show, during both runs, and to me, and most black folks, he's like our Johnny Carson.
Getting back to those calls and emails, I find it quite ridiculous that in some cases, LGBT subject matter and women's point of view on stage isn't afforded as many opportunities, all while some other comics (who get the opportunities and exposure, not to mention are working clubs every weekend) can stand up on stage, tell rape jokes, make fun out of abortion and traumatic events, degrade women, gay, transgender and disabled people, in some cases do racist humor and be looked at not only as funny (as mediocre as some of them are) but never be considered "risks for alienating an audience." I don't consider myself politically correct, I feel like if that's the caliber of their humor and they're able to draw an audience to come listen, then more power to them, but the opportunity should be made to hear the other sides, no matter who we are, after all, funny is funny, and for a long time, funny has existed in the gay, women, disabled and other minority stand-up that's often overlooked, simply because we're seen as either niche or unmarketable.
The issue of diversity in comedy is beyond apparent, from the up until a while ago criticism of Saturday Night Live, which finally added a black woman to the cast after about 7 years. Then, there was Jerry Seinfeld's "Who cares about diversity in comedy? It's not the census. I have no interest in gender, race or anything like that." Comment, which to me translated into: I don't have to make an effort to see everybody." Which is understandable coming from someone like him. While I respect Mr. Seinfeld and his accomplishments and contributions, he's a white man, and has never had to face the "being seen" obstacle.
This, for too long has been the general attitude directed at minorities not only in comedy, but in stage, film, television and entertainment, period, unless you're pandering to a "certain role," which I'll just call "modern day minstrelsy." I feel like in comedy, this attitude contributes to perception and this is why the lack of opportunities for minorities in this business, and statements like Mr. Seinfeld's are problematic. "Women aren't funny," so when you see one get up on stage, you get up and walk out of the room, and never get to see that she is in fact, hilarious and hear her point of view. Gay comics are usually offered "Pride Night" which most audiences don't venture out to and (although there aren't a significant number of queer comics) we get looked at like leprechauns when audiences finally see us, because some don't believe we exist (especially LGBT comics of color).
But we definitely exist, and we work hard, you have to show up and be two times funnier, and we deserve opportunities on equal platforms, as mediocre, white male comics who get free passes on rape jokes, bro references and shit humor, and enjoy mainstream exposure. After all, it shouldn't matter who you are if it's truly all about funny being funny.