A photo of a funny sign at a Little League game has become a hit.
Evan Primakow, the father of a 7-year-old in Milwaukee, was watching his son play in the "rookie" league of Glendale Little League when he noticed a sign posted on a field's fence.
He liked the message, so he decided to snap a photo of it.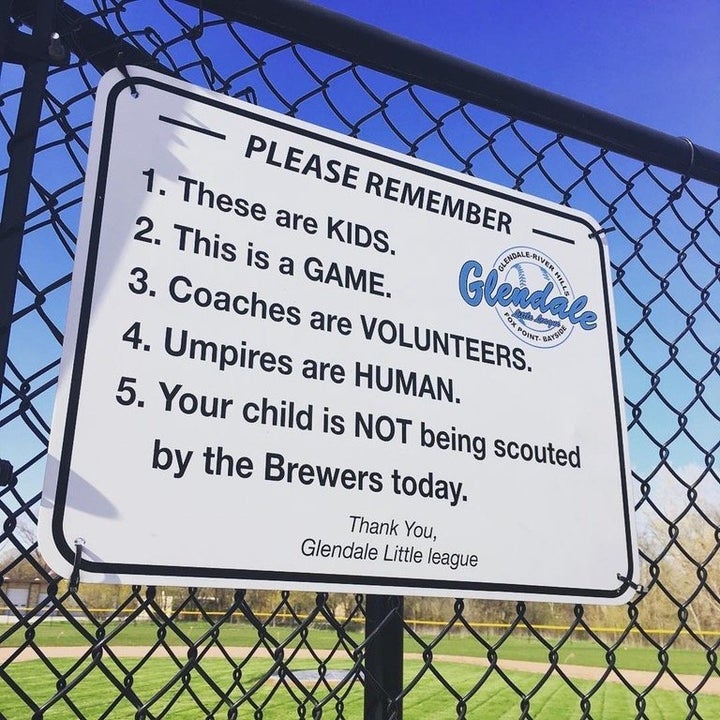 PLEASE REMEMBER

1. These are KIDS.

2. This is a GAME.

3. Coaches are VOLUNTEERS.

4. Umpires are HUMAN.

5. Your child is NOT being scouted by the Brewers today.
"I think it works in that it is a reminder, that is very visible at games, that these are just kids and there's no reason to let things get out of hand," Primakow told HuffPost.
Primakow decided to post the picture to the popular content-sharing site Reddit, and it soon got a decent amount of attention, receiving over 700 comments.
John Diedrich, the president of Glendale Little League, told HuffPost that there are actually four of these signs (one for each of the league's fields) and they went up about four years ago.
One of the league's board members had seen a photo of a similar sign posted at a baseball park in California and decided it would be a good addition to their park.
The signs were not posted because of one specific incident, according to Diedrich. Rather, they were put up to address the fact that some parents — both watching and coaching — tend to get a little zealous when they watch Little League games.
"That overly competitive attitude has led to strife among parents at games at times," Diedrich told HuffPost. He said that parents have also made "inappropriate comments" to the umpires, who are older children who also play in the league.
The nonprofit Positive Coaching Alliance was founded in 1997 to help combat this issue. The organization offers workshops that provide coaches, parents and administrators of schools and youth sports organizations with skills that make playing in a sports league a more positive experience for children.
But readily available tools like these haven't completely eliminated the problem.
His seven-page letter begins: "I always said that the only team that I would coach would be a team of orphans, and now here we are. The reason for me saying this is that I have found the biggest problem with youth sports has been the parents."
Related