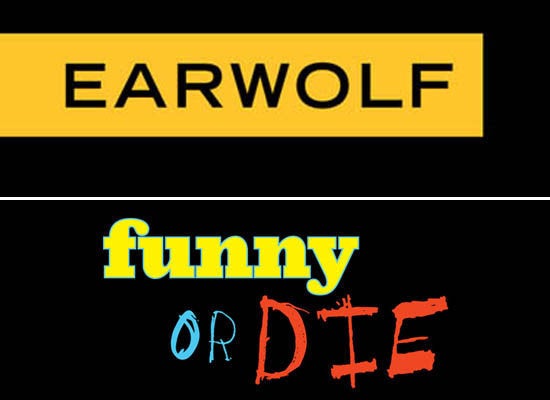 Comedy podcast fans, rejoice! The upstart, independent podcasting network Earwolf is joining forces with the behemoth that is Funny Or Die—and their collaboration could represent a drastic shift in the way digital comedy media finds an audience.
Earwolf announced Monday that it will exclusively provide podcast content to Funny Or Die starting in September. The content will be distributed through both Earwolf and Funny Or Die's websites, as well as through iTunes. Additionally, Earwolf's entire back catalogue will be available for free through Funny Or Die.
Confused by what this all means? Never even heard of a podcast? Wondering why Funny Or Die thinks that this growing medium is a worthy investment?
All will be clear soon, according to Earwolf CEO Jeff Ullrich. In fact, Funny Or Die's regular audience may not even know what they're currently missing out on. Devotees of Earwolf's shows expect typical scenarios as comedian Paul F. Tompkins impersonating Andrew Lloyd Webber as a caricatured dandy for 90 minutes, and likely recognize that Funny Or Die's offbeat, irreverent style is a perfect match.

"We have similar styles and sensibilities in both our comedy and our approach to business," Ullrich told The Huffington Post in an email. "And when it comes to business and production they accomplish a lot with a little, and quickly, all the while at the highest quality. We like to think those are attributes Earwolf shares."
While Funny Or Die, founded in 2006 by Will Ferrell and Adam McKay, is currently one of the most well-known comedy brands, boasting an empire that includes their popular website, TV, movies and even books, Earwolf may be less familiar to many.
The brainchild of Ullrich and comedian/writer/director Scott Aukerman, Earwolf has been one of the most visible creators and distributors of comedy podcasting. In the summer of 2010, Aukerman and Ullrich launched a network of (mostly L.A.-based) comedians who host distinctly unique shows on the Earwolf network. The programming is anchored by the flagship show "Comedy Bang-Bang" (formerly "Comedy Death-Ray Radio"), a chat/sketch show hosted by Aukerman that rivals "WTF with Marc Maron," "The Nerdist Podcast" and "Never Not Funny" as one of the most popular, and heralded, comedy podcasts.
Other Earwolf shows include "Sklarbro Country," a comedy/sports show hosted by twin comics The Sklar Brothers; "How Did This Get Made?", an in-depth examination of cultural trash, co-hosted by Paul Scheer of "The League,"; and "Mike Detective," a parody of radio serials hosted by Rob Huebel of "Human Giant."
Podcasts have become an increasingly attractive form of entertainment for listeners, many of whom value the relative independence and avoidance of the potential compromising traps of traditional media, such as advertising and corporate shareholders often found in large media conglomerates.
Although Earwolf's shows frequently feature the likes of veritable comedy stars such as Zach Galifianakis, Patton Oswalt and even Jon Hamm, many would-be listeners are simply unaware that an entire universe of vibrant podcasting exists. Despite more and more coverage being given to the growing field, with such mainstream outlets such as Rolling Stone and GQ devoting semi-frequent coverage to the field, podcasting is still foreign to most. Ullrich estimated that 80% of Americans have never even listened to one.
But according to Aukerman, such ignorance could change—and quickly.
"I hope [the Funny Or Die partnership] legitimizes for some people the idea of 'podcasting,'" Aukerman tells The Huffington Post. "A lot of potential hosts and talent bookings we go after still don't know what a podcast is, or how popular they are, so we run into a little resistance there. Now I think we can confidently say to potential talent, 'Funny or Die,' and they'll get it."
For Ullrich, Funny Or Die's broad reach (the site draws 11 million unique visitors a month) means that he has a chance to expose a vast swath of strong, intelligent comedy to audiences likely to become regular listeners who are looking for yet another comedy platform.
"And let's face it," he said. "Any time you have a chance to work towards the same goal with an organization that has the vision and credibility that FOD does, you do it."
Aukerman, who rose to prominence as a writer for "Mr. Show with Bob & David" before making a name for himself by founding the Comedy Death-Ray brand, is no stranger to Funny Or Die. Perhaps the site's most popular ongoing series, "Between Two Ferns with Zach Galifianakis," was co-created by Aukerman, and he directs each episode of the deadpan chat show.
"I think both brands are known for being the best providers of comedy in their respective mediums - FOD with web series and Earwolf with audio entertainment," said Aukerman. "This is one of those times when two brands are going to work together and there won't be any ill-advised compromises being made - it's just going to strengthen both."
Funny Or Die seems to share the optimistic outlook.
"[This partnership] will provide yet another way for us to entertain our users, provide a creative outlet for us and the talent we work with and provide a venue for advertisers to reach this sought-after demographic," Funny Or Die CEO Dick Glover said in a statement.
So will the actual content and talent under the two companies' respective banners overlap, or just their distribution?
Aukerman anticipates Earwolf and Funny Or Die work very closely in all regards. "In addition to producing shows for Funny or Die, we hope to swipe a lot of the talent they use to appear on the pre-existing Earwolf shows. We hope to coordinate bookings of videos and podcasts together in a really seamless way."
And for Aukerman, the sky's the limit. "And yes, this means I expect Justin Bieber to be on 'Comedy Bang Bang' every week as my sidekick."
Calling all HuffPost superfans!
Sign up for membership to become a founding member and help shape HuffPost's next chapter