Love Illustrated is a HuffPost comic series that captures the realities of modern love.
And if you grew up somewhere else or at a different time, you might be like, "I have no idea what you're talking about."
That was the case for illustrator Dami Lee and her boyfriend of three years, Matthew, who discovered that because they were raised in different countries, they had completely different sets of childhood pop culture references.
"I was born in Korea but moved to Texas when I was 6, where I learned to speak English and soaked in all my pop culture by watching hours of TV," Lee told HuffPost. "He was born in California but grew up in Tokyo, where I'm sure he had better things to do than watching reruns of 'Saved by the Bell.' So we had pretty opposite childhoods."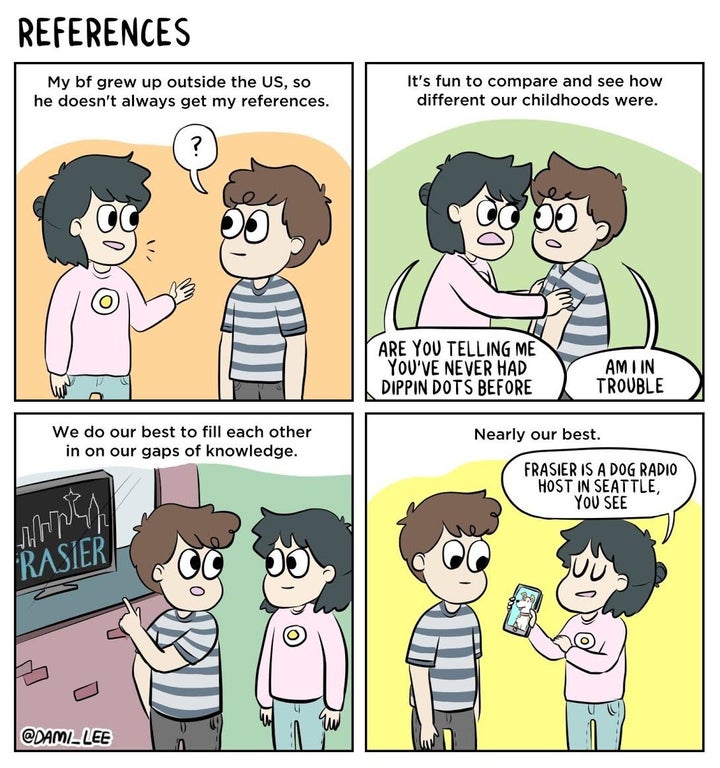 Last year, the couple visited Seattle and Lee couldn't stop dropping "Frasier" references left and right. It wasn't until a month after the trip that she realized Matthew had no clue what she was talking about ― a moment that inspired the comic above.
"I tweeted about it and my friend Jen suggested I tell him that Frasier is the dog," Lee said. "I did, but then I felt bad so I told him the truth."
The couple bumped up against another bit of confusion when Matthew revealed that he had never had Dippin' Dots ice cream before. Lee was aghast.
"I was so shocked when he told me he'd never had Dippin' Dots that I made a spreadsheet of other things he hadn't tried," she said. "We eventually went to the Coney Island Aquarium and they had it there, so I made it a point to get him one."
The verdict? "He said it was fine."
Though the couple can't reminisce together about the shows and snacks of their youth, Lee said she loves her boyfriend dearly anyway.
"I feel like I'm dunking on him for not having tried bad American processed foods or watching prestige television," she said. "I'm sorry, Matthew!"
Creatrs is a collective of Tumblr's most talented artists. HuffPost has partnered with Tumblr — which is also owned by Oath, HuffPost's parent company — to create this original illustrated series.