Last week turned out to be full of surprises for me. And I mean cultural surprises, with dance, music, and politics shared in equal measure. Have you heard about the Marlborough School, a private school for girls in Hancock Park? I was invited to attend a dance performance there, organized by its Artistic Director, Mpambo Wina. The program included various dance numbers, with impressive choreography and elegant costumes for all of these beautiful young ladies. But one dance piece in the program particularly stood out for me.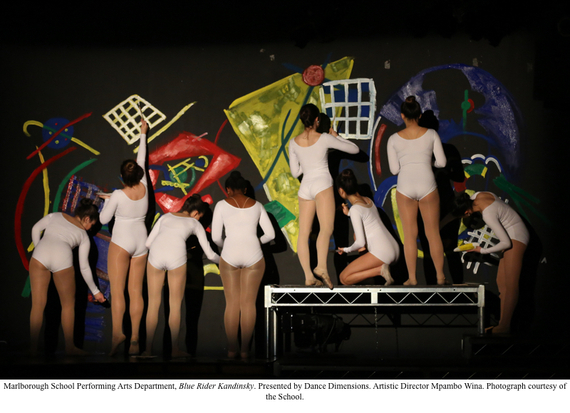 It was called Blue Ride Kandinsky, and it started with all these dancers coming onto the stage holding paint palettes and brushes. Then, for about ten minutes, they proceeded to paint on a huge black canvas a variation of a famous abstract composition by avant-garde Russian artist Wassily Kandinsky. And if that is not enough, we in the audience could hear the voice of Kandinsky himself telling us about breaking with traditions of representational imagery for the sake of new, revolutionary abstract art.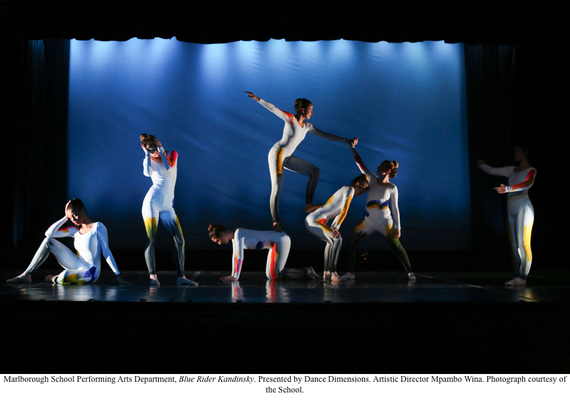 After well-deserved applause for their painterly efforts, the dancers left the stage for a moment and then reappeared wearing white leotards decorated with a few colorful brushstrokes. Talk about a marriage of music, dance, and painting... As coincidence would have it, I had another surprise encounter with dance last week. This time, it was on the grounds of USC, where I had a hard-hat tour of the construction site of the Glorya Kaufman International Dance Center.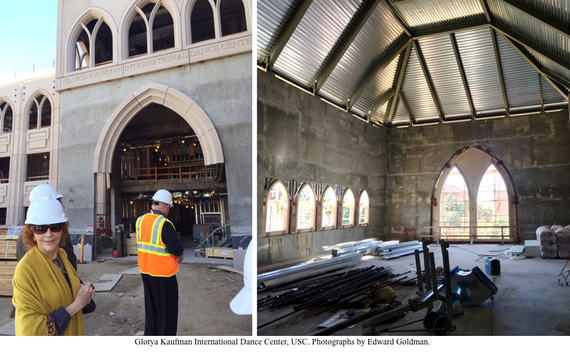 The building is scheduled to be completed by this summer, with classes scheduled to begin in the fall. With William Forsythe --one of the most famous choreographers in the world --as its Artistic Advisor, the Glorya Kaufman School of Dance promises to become the West Coast equivalent of New York's Julliard School.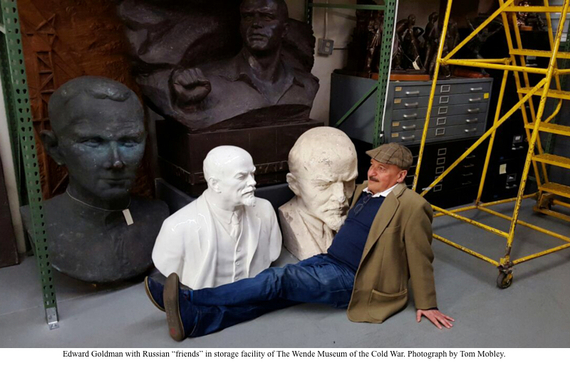 There is one more ambitious cultural project under construction here in LA, this one scheduled to be completed next year. I'm talking about The Wende Museum of the Cold War, currently hidden in plain sight in the southern borders of Culver City. Next year, it will move to the former Armory building in the center of Culver City. I went to the Wende for a lecture about Radio Free Europe and its broadcasts during the Cold War. It reminded me of living then in the Soviet Union, where Voice of America and Radio Free Europe were jammed in major cities. So, those of us who wanted to listen to their broadcasts had to venture a few kilometers out of the city into the countryside. After the lecture, I asked for permission to go into the Wende's storage facilities, packed with statues and portraits of Soviet deities of the past. Take a look at the photo of yours truly smiling in the company of Lenin, Stalin, etc., etc.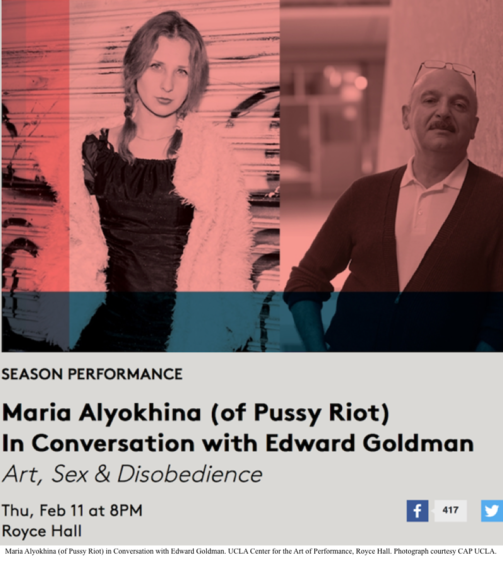 So my friends, I saved the best --or, should I say, the craziest --for last. This Thursday, February 11, at UCLA's Royce Hall, I will be talking with Maria Alyokhina, member of Russian feminist punk protest group, Pussy Riot. Criticizing policies of Russian President, Vladimir Putin, led to jail time for Maria and another member of the group, Nadya Tolokonnikova. You might want to check out the 2013 HBO documentary titled "Pussy Riot: A Punk Prayer," as well as Masha Gessen's book, Words Will Break Cement: The Passion of Pussy Riot, published last year by Riverhead Books, NY. If someone told me four decades ago, when I was still living in the Soviet Union, that one day I'd end up on an American stage with Pussy Riot, I would have called them crazy, absolutely crazy...
To learn about Edward's Fine Art of Art Collecting Classes, please visit his website. You can also read The New York Times article about his classes here, or an Artillery Magazine article about Edward and his classes here.
Edward Goldman is an art critic and the host of Art Talk, a program on art and culture for NPR affiliate KCRW 89.9 FM. To listen to the complete show and hear Edward's charming Russian accent, click here.
Popular in the Community