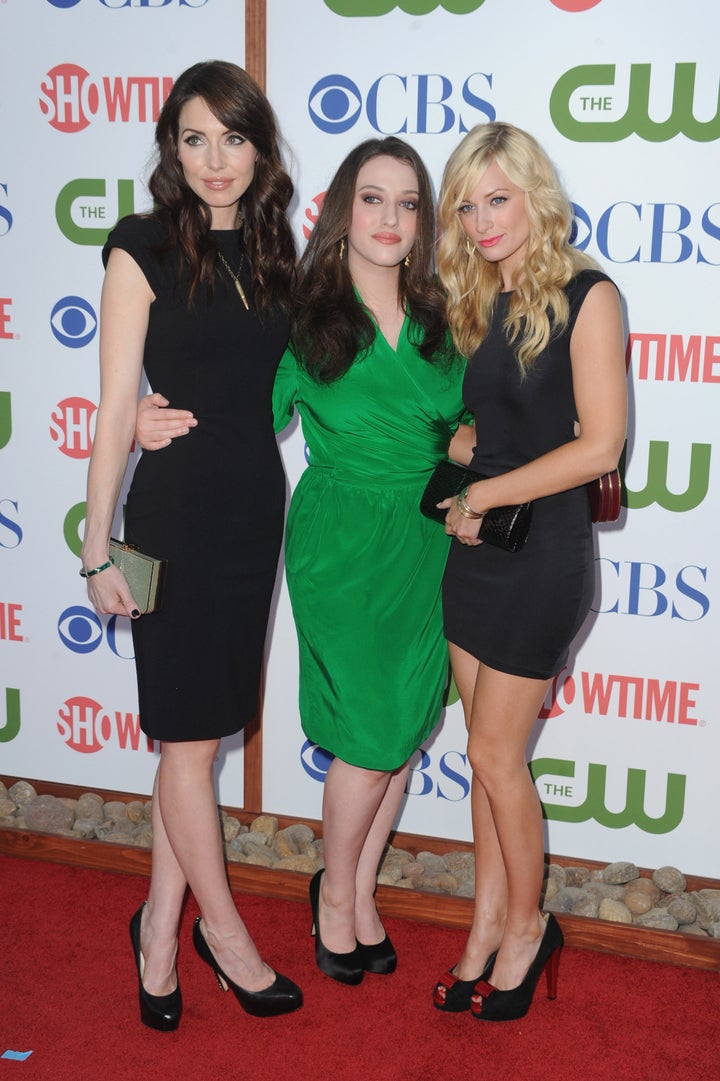 To start, can the media please stop with the"are women funny?"  and "chick comedy rules the new fall TV season" articles and shit. Just stop.
The short response to this nonsense is yes, some women are funny. And as far as "chick comedy" goes, why do we need to specially label shows when women are the stars and writers? When men star in and write shows, do we call it "dude comedy?" No, we just call it comedy. 
There's so much buzz about Hollywood's new found love for funny women, especially "edgy brunettes" (Oh good, maybe I'll get work. Oh wait, I'm "too ethnic" so maybe not). Apparently quirky (gorgeous) women are taking over the world , so much so that ABC had to combat this horrible problem with Work It.
Am I angry at these shows? No. If done well, jokes about gender can be smart and insightful and after watching a full episode or two of a show I can then, formulate an opinion. My own personal opinion. Because I understand, especially as a comedian, that humor is personal. So I'm not mad, well except when it comes to Work It because, COME ON! So many people are hating on Whitney and yet I've heard little criticism about Work It which revives the hack "men in drag" shtick in response to the oh-so-realistic problem of women controlling the work force. Why is no one Tweeting about how offensive that is?
Maybe these "chick" and "dude," or whatever they're called, shows will be great. Maybe they will suck. I don't know and I don't really care.
What I do know and what I do care about is all this non-stop hullabaloo (God, I love that word) regarding women and humor. As if women being funny is something new.
In case we've forgotten, funny women have always been killing it on TV. Realistic looking, strong, amazing funny women like Lucille Ball, Vivian Vance, Carol Burnett, Carol Channing, Joan Rivers, Roseanne Barr, Phylicia Rashad, Bea Arthur, Rue McClanahan, Estelle Getty, Betty White, Gilda Radner, Joyce DeWitt, Suzanne Sommers, Phyllis Diller,Isabel Sanford, Jean Stapleton, Valerie Harper, Mary Tyler Moore, Vicki Lawrence, Candice Bergen, Penny Marshall, Cindy Williams, Dixie Carter, Annie Potts, Delta Burke, Jean Smart, Shelly Long, Kirstie Alley, Rhea Pearlman, Jackee Harry, Marla Gibbs, Julia Louis Dreyfus, Tina Fey, Amy Poehler, Kristen Wiig, Ana Gasteyer, Maya Rudolph, Cheri Oteri, Jane Curtin, Rachel Dratch, Molly Shannon...and so so so many more.
Talk to me about edgy when something like the Golden Girls is back on the air.
Four women over the age of 50 starring in a hilarious show about being over 50? Now that's edgy.
Or Good Times, Family Ties, Who's The Boss, or Roseanne. These shows touched upon gender differences as well as class differences without beating you over the head with it. And they starred relatable looking people. Some were even about, gasp, black people!
Where are the sitcoms about other races and ethnicity's this fall? And I don't just mean tossing in a wacky Asian boss with an accent or wacky Indian cab driver with an accent or the black BFF or gay BFF. As American sitcoms we constantly fail to share the true American experience. The diverse, flawed, sometimes ugly, American experience. (Ugh, if only American Girl had been given the proper chance).
And now I'll shut-up, like a good not-rich, not-perfectly white, unfunny woman should.
(This piece was originally posted here)
REAL LIFE. REAL NEWS. REAL VOICES.
Help us tell more of the stories that matter from voices that too often remain unheard.