WASHINGTON -- While some lawmakers may think furloughed workers are just taking a paid vacation, many are actually using the forced time off from work as a chance to espouse public service and encourage young people to join the government.
Members of Young Government Leaders, a nonprofit professional organization of more than 5,000 public servants, are making shutdown-ade out of the shutdown. They're using the time to focus on the same values they endorse at work and spinning negativity into optimism.
"Obviously when you're on furlough, there's definitely some challenges with regards to the morale," said Virginia Hill, the national YGL president who's furloughed from her job at the National Institutes of Health. "We know it's not because we are not valued, but at the same time, there is that sense of feeling out of touch and out of control."
"It's so important that YGL is putting together events like this where we're volunteering our time and proving that public service can't be shut down," Hill said.
Rodney Johnson, a presidential management fellow with the IRS, attended the event. He's been using his furlough to sign up for a course, read, spend time with his daughter and volunteer.
"It's good to get out the house, and to talk with and be with other government employees who are going through the same thing, but it's also opportunities like this that remind you, in my opinion, how good you have it to be able to assist other people that are not as fortunate as you are." Johnson said of the food bank event. "It kinda grounds you."
Johnson, who's worked in both the private and public sectors, said he isn't worried about job security in government -- unlike many of his fellow public servants who say the shutdown has made them worry. He said he would continue to encourage young people to pursue government work.
"As I tell most of my [past] fellow employees in private sector, we don't shut down, we downsize you," Johnson said. "And so when we downsize you, you don't have a job and you're not getting paid. You may get a severance pay for a month to two months, but that's it. So at least here, we're shut down, we're probably going to get back pay and you have a job to go back to."
Noha Gaber, an Environmental Protection Agency special assistant to the administrator, also attended the food bank event and said she's committed to her government job. Although she admits it's hard to convince young people to join public service during a government shutdown, Gaber, who talks to students about joining the government, said the work value outweighs the setbacks.
"It is hard to talk up the value of public service in an environment when you feel like government workers are always kind of being attacked -- their value isn't really understood -- but when I go out and I talk to students, I kind of try to put a face to government service," Gaber said. "It is an opportunity to really give back to your country and do something that is very meaningful."
"It's not something that you're going to deal with continuously," she added, referring to the furlough. "There are things that come up every now and then that are frustrating, but overall, the reward is more than dealing with this."
In California, Los Angeles YGL president Mike Stevens and University of Southern California YGL chapter president Alex Becker are grappling with the same issue. They've planned a panel at USC for students to learn more about government work, but now because of the shutdown they know students are going to ask if it's really all they say it is.
Stevens said he'll share this with students at the event:
"Everything that's wrong right now -- that should be your goal. Come work for the federal government, come help us change that, join YGL."
Despite the positive vibes in Washington and in California, YGL has suffered its setbacks as a result of the government shutdown. Stevens isn't sure if everyone on the panel will show up at the event, and reaching them is tough, given that they communicated via work email and phone -- both of which are off limits to many furloughed employees.
YGL Baltimore recruitment coordinator Ryan Hicks, who works at the Department of Defense, said his chapter had to cancel a board meeting earlier this month because the location was closed due to the shutdown.
But such setbacks -- like the shutdown itself -- aren't stopping the group from thinking ahead.
"Perhaps it's an expression of overall general problems going on in the federal government that maybe requires a new mindset and maybe a fresh perspective, which comes with new leadership," said Becker, contemplating how he'd respond to student questions about the shutdown. "And these emerging leaders are coming out of policy institutions ... they bring that message of, the federal government needs help, needs stronger leaders to motivate some people who are saying, 'you know what, I know I'm competent, I know I have the skills and the passion to help the United States government. That could be me, I could be that leader and I could make a difference.'"
Photo of the YGL volunteers at D.C. Central Kitchen: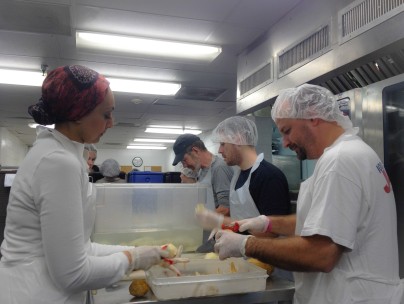 (Noha Gaber and other furloughed workers help out at D.C. Central Kitchen)
Before You Go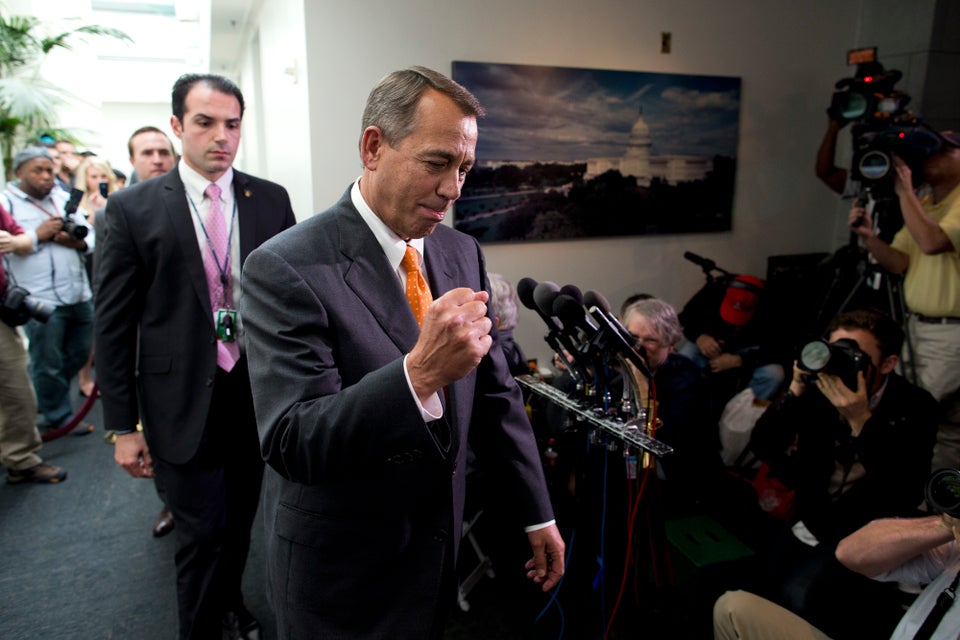 2013 Government Shutdown
Popular in the Community