WASHINGTON -- For two weeks since the government shutdown began, furloughed federal workers and their families have had their lives upended. Ordinary trips to the grocery store are now complicated by financial concerns. Can they afford gas? Can they scrape together affordable meals on last month's income? Their worry is only heightened by what they read online or see flash across TV news. When will Congress craft a deal to reopen government and get them back to work?
As congressional leaders intensify their negotiations in the days before the debt default deadline, The Huffington Post will be checking in with furloughed workers across the country to get their thoughts on the standoff. Below is a running diary chronicling their stresses, their hopes, their cheap meals, as they wait for their lives and their bank accounts to be restored. Check back for updates.
Rebecca Patlan-Garcia is driving her Geo Metro some 45 minutes from her Winslow, Ark., home to the poultry plant where she inspects chickens for the USDA. She will soon put on her regulation hard hat and join the factory line. For eight hours, minus a few breaks, she will stand in one place flipping open the flaps of dead birds, and eyeballing trays of their ripped out guts. On average, she says she will look at 35 birds per minute at 1.8 seconds per bird.
For the shutdown's two weeks, Patlan-Garcia has performed this task without pay. She was already in bankruptcy, already living a life with garnished wages.
The work itself is tough. But, she admits, the worst of the job is not the actual work, but the plant workers' animosity toward federal employees like her. "We get a lot of crap from people who don't understand," she says. "They have these strange expectations about us -– that we're something different. They lump us together when they see federal worker, what they think of is Washington, all these people that make all this money. They look at us this way."
"We get dirty and nasty," Patlan-Garcia continues. "We have bills. We have a life just like everybody else. One lady called me 'a pencil pusher.' I told her I wish I pushed a pencil."
Patlan-Garcia says she has no idea when she will be paid next.
Nick Wolfe, the furloughed Department of Defense worker from Arlington, Va., isn't waiting for the House vote. He says he has already packed his gym bag and laid out his work clothes -- white dress shirt, tie -- for the morning.

"The key here is that it's the routine," he says."It was just very nice to be able to do that part of my routine. It was just nice to be able to do that again."
Russell Rogers, the furloughed customs worker from West Chester, Pa., is sitting in his 2000 Toyota Echo in a church parking lot. His 15-year-old daughter takes fencing classes in a rented gym at the church. He is waiting in the dark to pick her up.
"I'm just enjoying the quiet," he says.
Rogers doesn't bother with news radio or using his phone to figure out the contours of the Senate vote. After all, he says, the intensely brokered deal still has to pass the House. "I assume that will happen," he says. But cautions: "I don't want to take anything for granted. I'm hopeful."
About 2 1/2 hours earlier, Rogers says he got a call from his U.S. Customs supervisor. The supervisor wasn't sure what to tell him. "I think he was just excited that something seemed to be happening," Rogers says. "In all honesty, he wasn't sure what I should do or where I should go."
Rogers had been in training in Maryland when the shutdown hit and he had to come home to his wife and children after he was furloughed. His boss just said maybe he'd have to report to work at 8 a.m. or maybe he wouldn't have to. Rogers was just happy that someone remembered him. "I'm still in the system," he says, sounding relieved.
Bob Milhaus wants to rest.
"I'm going to bed," he said as soon as I got him on the phone. The furloughed contract employee from Silver Spring, Md., sounded exhausted, his voice a little rough. "It passed the Senate."
Milhaus said he was waiting for the notice that would tell him he could return to work. He wasn't sure if he how he felt about the news out of the Senate. "I'm looking forward to getting money coming back to my life," he explained. "My emotions are so screwed up today it's not even funny."
"I won't lie -- we've been glued to C-SPAN all day!" Christina Draper says. She's feeling cautiously optimistic.
She and her husband, who is furloughed from the Treasury Department, have been trying to figure out how to pay the bills with five sons and no current source of income. Yesterday, she was considering trying to strike a deal with their mortgage lender, who has promised to work with them if they can't make a payment.
"Since we got some breaking news this morning we opted to hold off, as we are hopeful things will work out and get back to 'normal' here shortly," she says. "Hearing that there is a deal is a huge relief, and yet we wonder if it's once again short term."
This afternoon, Cecilia Solis, 55, earned $15 butchering a friend's deer. The money she earned will be critical. She says it's going to help pay for gas to get her to a GED testing site on Friday. She is the only one among her siblings to have not graduated high school. She had gotten pregnant and not graduating has always weighed her down.
"My life is supposed to be better," Solis says. "I wanted to be a first-grade teacher because I love kids. I tell myself my life is not supposed to be like this. This is something that I need to do so I can get a better job, maybe with the tribe, like custodian work or maybe working at the day care."
But Solis knows the $15 is not going to cover the 200-mile round-trip from her home in Owyhee, Nev., on the Duck Valley Reservation to the testing site and back. "I need more than that," she says. "I don't want to cancel [the test] because I think I'm ready to take it."
Solis says she has been working toward her GED for four months. She thinks her 2002 gold Chevy Cavalier -– with its nearly 200,000 miles -- could handle the drive. It just needs gas. Right now, she's got less than a quarter of a tank.
But gas money has become a luxury for Solis since she was furloughed from her home health aide job. The tribe had paid her to care for two elderly residents with federal funds that were cut when the shutdown hit on Oct. 1. She helped the residents with basic chores like washing dishes, cooking meals, making their beds and doing laundry. She earned $15 an hour, and worked four to six hours a week.
Solis has checked in on her residents a few times since the shutdown. She talked to them this morning. "They wanted to know when I was coming back to work," she says. She sensed they had started getting depressed. She wishes she could help more, but she can't cut into that gas money.
Today, she got a letter from Dialina Blackhat, the unpaid case manager, explaining that she would not receive her public assistance on Oct. 20.
Solis is down to a couple of rolls of toilet paper. She is out of laundry soap and bleach. She says she is almost out of food. She still thinks she can make it to the test.
"If I have to go rake leaves, if I have to go cut somebody's wood in the cold, if I have to cut more deer meat, if I have to scrub someone's toilets, that's what I have to do," Solis says. "If I have to hitchhike, I will."
Jody Ostendorf, the furloughed EPA worker whose home was badly damaged by flooding in Colorado, is a step closer to rebuilding. Yesterday, her new water heater passed county inspection. Right now, she's waiting for her contractor and builder to submit a form she needs to access the disaster loan money she's supposed to receive.
This afternoon, she wanted to go to a rally in downtown Denver protesting the government's closure, but she's taking care of her 9-year-old daughter, who is home sick with walking pneumonia. She's been watching news coverage of the budget negotiations, instead, and worrying about the effects of defaulting on the debt ceiling.
Her neighbors have been helping her fix her driveway, which was destroyed by the floods. She thinks noise from the machinery may have scared off her 15-year-old cat, Taneka, who's disappeared.
"It's now the third day she's been missing, so I woke up feeling incredibly sad about another loss," Ostendorf says.
Joe Bacon started the day losing potential earnings. The Social Security administrator from Los Angeles has been going to work these last two weeks without guaranteed back pay. Workers were not allowed to take time off, emergencies would mean leave without pay, so a three-hour morning appointment with a doctor cost him.
His doctor, Bacon says, at least tried to cheer him up and calm him down. "He didn't want me to go to work," Bacon explains. "He kept saying everything is going to get solved. He kept trying to crack jokes to try and get me to laugh."
Bacon remembers one of the doctor's jokes.
"What is long and hard on John Boehner?"
Bacon couldn't help but crack up. "I didn't expect him to get me laughing," Bacon says from his desk, where he reports the office mood is "anxious."
His doctor warned him to stay away from C-SPAN and online news. He says he has yet to check his iPad. "I needed to decompress," he says. "My blood pressure is still high along with my blood sugar."
Bacon is now thinking about that iPad. "Maybe I'll turn it back on in a little bit and take a look," he says.
Bob Milhaus is still angry. He is sitting at his computer in the dinette of his Silver Spring, Md., home. He finished his mid-week laundry. The furloughed contract worker exchanged emails with co-workers. He read the news that a deal may in fact be at hand to end the shutdown. But he's still annoyed at the drama, the ups and downs between Senate leadership and House fringe. "Everybody's waiting," he reports. He is done with waiting.
Lunch was Ritz crackers and Velveeta. "I'm just trying to save money," he says. "Yesterday was onion soup with some rice thrown into it. It did the job. I'm no longer hungry. It gave me enough strength to get mad at everybody again."
Milhaus replays how his company downplayed the shutdown threat, and how no one seemed to have a plan for when it actually happened. He says he feels failed by the company and failed by the government.
Now it's back to his computer and the news.
Carla Braswell, a furloughed archivist technician with the Richard Nixon Presidential Library and Museum, spent the morning cleaning her Pasadena, Calif., apartment and watching the news. A friend from the UK is flying into Los Angeles for a "50th birthday blowout," she says. She is about to leave for the airport to pick her up.
"I've been warning her: 'I hope you like Top Ramen,'" she jokes.
They may have more to eat than instant noodles. The news from Washington is encouraging. "It looks like we have an added reason to celebrate when she arrives," Braswell says.
Nick Wolfe just made what he is calling his "breakfast-lunch," which consists of tortillas topped with Gouda and broccoli sprouts. The furloughed Department of Defense worker has the news on in another room of his Arlington, Va., apartment. He is "slowly making plans to buy cat food" for his two cats.
At least he has the money. Wolfe had a 401K that he rolled over into an IRA. He had to take out $20,000 from his retirement to pay his bills. He had no choice, he says. He owns a house in D.C. that's been underwater since the market crash. He recently had to spend $13,000 on home repairs. The furlough days during the past summer were a final blow.
"I'm looking at this and going, 'Oh shit,'" Wolfe says. "I literally had no money. If I didn't get some money in my checking account, I can't pay the rent in November."
Wolfe admits that he still has a "low-grade level of rage" even after hearing that a deal might be close. The damage to his finances and to the country's credibility has been already done, he says.
Yesterday, Rebecca Patlan-Garcia, the unpaid USDA inspector from Winslow, Ark., had a checking account with $730. This morning, she looked up her account after her midnight shift at the poultry plant. She noticed that it shrunk to $250. The phone and electric company had received their take. Her insurance company had gotten their money, too.
This was at least bad news for her dog. "I was telling him this morning 'you may have to eat the cheap crap,'" Patlan-Garcia says. "I said, 'If they pass this [Senate compromise], you get the good dog food.'"
This morning, after work, Patlan-Garcia picked up some okra and peppers from her daughter and dropped her granddaughter off at school before coming home. She immediately went online and checked Twitter for news of a deal. She was optimistic about what she skimmed. "I went outside and the sun was shining," she says. "It felt pretty good. It felt much better being out in the sun and thinking 'OK, this could be the day.'"
Now, Patlan-Garcia is back inside and eating some yellow watermelon a friend had given her. She and her friend cracked up about the color. "I joked that we are so freaking poor we can't even afford red watermelon," she says.
Russell Rogers just changed some light bulbs in his bedroom. In the two weeks since his furlough from his U.S. Customs and Border Protection job, he has set about cleaning out the gutters and prepping his West Chester, Pa., home for winter. Also on his chore to-do list, he says, is to send out nearly daily "nastygrams" to members of Congress.
"I usually try to keep it pretty civil," Rogers explains. "I live in Philly. I try not to employ the Philly lexicon."
For Rogers, 51, showing restraint is difficult. He had been unemployed for two years until getting the Customs job in August. He was in his third week of training as an agricultural specialist when the furloughs hit.
Unemployment had been hard on his wife and three children. He had applied for 100 positions, he says, and had four job interviews. His wife teaches at a parochial school but makes below poverty wages. They had to rely on family and food stamps to survive. He learned to cook economically and kept their debts low.
"One of the small pleasures that my wife and I would do during unemployment was buy a box of wine," Rogers says. When he got the new job, he splurged and bought a Bordeaux in a bottle. "That was our big celebration –- that we could buy wine in a glass bottle," he says. "That was a big change. That was awesome."
This morning, he thought about what it would be like to finish his training and finally get to work. He said it would be "euphoric."
These last two weeks have brought him back to his unemployment years. It's not a good feeling. "We just kind of reverted back to that kind of, I call it 'purgatory,'" he says. "We reversed back to not spending any money at all or as little as we could."
Rogers has gone back to the boxed wine.
Bob Milhaus, the furloughed contract worker from Silver Spring, just woke up. He is sitting at his burlwood table in the dinette area just off his kitchen. He has his first cup of Peet's dark roast coffee, and his computer is opened to The Washington Post. He has yet to check email.
"It looks like we are waiting for the Senate ... But we've been here before," he says.
Milhaus says he got a good night's rest after taking some sleeping pills. Before the shutdown, he'd have to take the pills not even once a week. "Since the shutdown, it's been every two or three nights," he explains. "It gets to the point where I get a couple nights of tossing and turning. I can just take a pill and finally get a decent night's sleep."
Now, Milhaus is worried about "the clowns in the Senate" who might filibuster whatever compromise bill the leadership tries to bring to a vote.
Debbie Donaldson, the furloughed Department of Interior employee from Littleton, Colo., originally had planned to sell costume jewelry after she retired. But now, she says, "it's furlough money."
Donaldson would know. She just got back from selling jewelry at an apartment complex, where she made $125 -- money she is putting toward her next month's mortgage payment. Along with the cash, she says she was able to eat enough free fruit slices and potato chips at the event to count as a meal. "That was my dinner," she says. "That really sounds bad, huh?" She has to save anyway she can. The two-week furlough has meant she may not be able to pay her mortgage or her car loan.
As soon as she came home, she asked her husband if there was news from Washington. She had checked while she sold jewelry, too. She can't believe no deal has been reached, no vote was taken. "When are they going to get their act together?" Donaldson wonders.
Donaldson interrupts our call to kiss her middle school-aged daughter goodnight. The previous night, her daughter assured her that the shutdown would end soon. "I've been praying for it every morning and every night," her daughter told her.
Now, it was getting late and Donaldson wanted to check in on Congress one last time. "I'm going to lay in bed and watch the news until I fall asleep," she says. "My nightly ritual."
Rebecca Patlan-Garcia, the unpaid inspector for the USDA from Winslow, Ark., is driving to her overnight shift at the chicken plant. A few hours earlier, she'd woken from her sleep and flipped on the news and went online to see where Congress was with negotiations on the shutdown. News of a continued impasse pissed her off.
"This is getting ridiculous," she says. "I don't understand how one man [Boehner] can do this to the whole country. Even people that I know who are Republican have decided that they are going to vote Democrat from now on."
Patlan-Garcia brought along a container full of spaghetti and green beans -- leftovers from Tuesday night's dinner -- that she'll eat during her 2:30 a.m. break. In order to save money, she says, she didn't buy a lot of vegetables. The green beans were from her son-in-law's garden. She cooked the beans in garlic and butter -- not too long, so they wouldn't get limp.

A month before the shutdown, her SUV burned up. Patlan-Garcia decided to buy the smallest car she could find -- a 2001 Geo Metro. "I call it my 'white trash Barbie mobile,'" she says. "This actually was a blessing, even though I don't really like this car."
The Barbie mobile gets her to work with a lot less gas money -- something she needs since the shutdown began two weeks ago.
Dialina Blackhat, the unpaid tribal social services case manager who works in the Duck Valley Indian Reservation, is making a burrito for her grandson. For her own dinner, she says she's got an orange.
"I don't eat much," she explains.
Blackhat had come home from work still thinking about all the clients she had to tell Tuesday that they wouldn't be getting their next welfare checks. The checks were meager –- just $94 twice a month. But they kept the lights on, put gas in the tank.
Before she had left for the day, she says, quite a few clients pressed their cases. One, she says, had to cancel hip-replacement surgery because he can't afford gas for the 150-mile car ride to the hospital. He's checking with family members for a ride, but few are working, she says. The reservation's school is the only employer not funded by government money -– and therefore not mired in the shutdown.
Blackhat says she worried about the others who face medical issues during the shutdown -– the man who came into her office, his voice shaking, his neck in a brace. He needs to see his doctor to check on his broken neck. She recalls the young mother crying because she has no money to take care of her three children, including a newborn. Blackhat could only offer her a few packages of diapers.
Now at home, Blackhat wants to tell me about the quadriplegic elder -– not a client she case managers -- whose health aide was furloughed. She doesn't think family members can take care of him on their own.
Now, she's got her orange and her own bills to go through. She got one today for a bed for her son, who is in college. She seems to worry most about the next power bill. Unless she gets paid soon, she says she might not be able to afford heat. "We either buy wood or we use the heater," she says. "We get bad weather here."
Sometimes, Blackhat explains, they can get as much as three feet of snow in the valley. There's already snow covering the mountains.
After leaving work, Joe Bacon, the unpaid Social Security Administration worker in LA, wanted to see how much money he had on his transit card. He says he thought he had $80. He found out he had actually drained it. He had to use his MasterCard to put money on his transit pass.
Bacon, back at his small apartment north of Koreatown, says he's down to less than $1,000 in his checking account. His rent is $825 -- due first of November. He was eating a cold cut sandwich and "a little bit of diet Coke" for dinner when I called. He's already angry about tomorrow morning's doctor visit. "Leave without pay, I really like that," he says.
Bacon is thinking of buying a lotto ticket. "If the lightning is going to hit, the lightning is going to hit," he says.
Jamila Jordan, the furloughed museum worker in D.C., returned from college an hour ago to her Petworth group home. Instead of watching the news, she decided to work on museum projects. "I'm not required to work," she says. But if she doesn't, she adds, "I'm going to be several weeks behind."
Jordan helps develop programming for kids. Tonight she is trying to complete some preparation for a visiting middle school. She hasn't had dinner yet, but she's thinking about it.
She will probably eat instant ramen again. "It's only 12 cents," Jordan says. "Have to save money."
Christina Draper is deciding whether she needs to give the mortgage company another call.
Her husband, the family's sole support, is furloughed from his job at the Treasury Department. The mortgage, car insurance payment, phone bill and electric bill are not, although some of the companies have said they're willing to work with her.
"My husband used to wake up in the morning, and go to work," she tells HuffPost via email. "And though, at times he complained about the long hours, or the workload, he always went to his office with a smile, ready to tackle the day's work. Now, he wakes up [and] wonders what's going to happen today. He listens to C-SPAN for hours, HOPING someone will have a break through."
In the meantime, every request from one of the couple's five sons is a new cause for hesitation.
Their ninth-grader wants tickets to the Junior ROTC ball: $40. Their 17-year-old needs a cap and gown for graduation: $100.
"I thought ... I can feed us all for a week [with that money] if it comes to that," Draper says. "It's his senior year! And it breaks our hearts."
Their 20-year-old son, a server at a local restaurant, went behind their backs to pay their Internet bill.
"Things are OK, for now," Draper says. "When we started hearing about the shutdown, and how deadlocked Congress was, we started cutting back. But I won't lie, our savings are paltry. Every time we got some money in the bank, something came up -- I got sick, one of the kids got hurt, the car needed tires, etc., etc. So, though my husband makes a nice living, we still live paycheck to paycheck."
By the end of the morning, Dialina Blackhat, the unpaid case manager who works in the Duck Valley Indian Reservation, had finished sending out letters notifying her clients that they would not be receiving their meager welfare checks as planned.
With a population of only 2,000 residents, the reservation's mail is delivered fast. Clients began showing up at noon to complain about the welfare notice. The first was a 52-year-old unemployed Native American facing hip surgery. The last came by Blackhat's office just 20 minutes ago -- a 33-year-old woman who tries to take care of her nieces and nephews.
"They are just upset about what they're going to do," Blackhat says. "They don't know how they're going to handle paying for anything."
She has clients worried about how they are going to pay for soap and toilet paper.
"How do you tell people how you're going to cope? I don't even know how I'm going to cope," Blackhat says. She's been working without the promise of a paycheck. "It's almost like the world's ending. That's what the government wants to do to us?"
Bob Milhaus, the furloughed contract worker from Maryland, is at the computer in his living room. CNN is on in the background, although he can't help but surf other news sites.
"Trying to keep myself from going crazy," he explains.
But that actually requires stepping away from the news and not immediately responding to the sad emails from co-workers. In the past two weeks, he has shielded his sanity by re-organizing his CD collection, refiling everything by genre instead of alphabetically by composer. "So far I like it," he says of the new system completed last Friday.
Since then, Milhaus has cleaned house and done laundry.
"Most people are a little more depressed than I am right now," says Milhaus, who seems to be feeling better than he was this morning. "There's not a lot of happiness out there."
One email he read today struck him as particularly sad. "I guess we'll just have to sit here and hope that unemployment can keep us afloat," a coworker wrote.
Joe Bacon, a Social Security Administration worker in Los Angeles, still has to go into work despite not being paid. He's at his desk, ready to offer an update on his office's mood.
"Really despondent, fella," he says. "Especially when people were seeing that the House said they were going to go home. Looks like Boner's last deal fell apart."
You mean Speaker John Boehner?
"That's what we're calling him now -- Speaker Boner," Bacon explains. "And that's when we're being nice. It's amazing we had some tea baggers last week. They are starting to turn on the GOP."
Bacon, 57, says he's been sick all week. He had to go to urgent care because of complications from his arthritis and diabetes. He's going to see his doctor tomorrow. But he won't be paid for that time, he says. He'll be counted as AWOL.
Right now, Bacon says he postponed a trip to the bank to ask for a loan. He is probably going to have to do it later this week.
"I have to figure out a way to pay my rent," he says. "I'm stressed. I know that because I've just had blood work done and blood sugar is up."
Jody Ostendorf is waiting for the county inspector to take a look at her water heater and bring her another step closer to rebuilding her house.
Unlike those of some of her neighbors, her house wasn't entirely destroyed, but the water gutted the first floor and ruined much of her furniture.
Less than a month later, the 44-year-old, still living out of her second floor, found herself furloughed from her job at the Environmental Protection Agency, where she works in the air quality planning unit.
"It's pretty frustrating to watch the news," Ostendorf says. "It was surreal going to work for those two weeks before, knowing the government was likely going to shut down, and then coming home and working till 11 o'clock at night on ripping my house apart."
For the first week of the shutdown, she worked without pay on a rule concerning greenhouse gas limits in Wyoming, but her work needed a sign-off from Washington, where no one was around to review it. Since then, she's been repairing her home and wondering when her next paycheck will arrive.
"So far, I have bought two new hot water heaters and a new washer and dryer so I can do laundry and have hot water," she says. "The estimate to rebuild my house is almost $12,000, not including all the furniture that was water-destroyed. I am hemorrhaging money while my income is gone. Also, I am recently divorced with a 9-year-old daughter. These past few weeks have been terrifying for me financially, but I am trying to be strong for my daughter's sake."
Ostendorf has received a disaster assistance check from the Federal Emergency Management Agency and was just approved last week for a low-interest loan from the Small Business Administration. But there's still so much work to be done. Her days are consumed with a dizzying list of offices to visit, forms to fax and permits to obtain.
That, at least, she sees as a bright side to the timing of the shutdown.
"I'm a bureaucrat, but this is really daunting, all of this running around," she says. "And frankly, being furloughed has freed me up to do this."
Elizabeth Lytle, a resident of Waukegan, Ill., received her much-needed paycheck today. Unfortunately, the earnings are lower than Lytle expected them to be, and the Environmental Protection Agency administrative assistant isn't sure where to turn.
She's on furlough -- and so, presumably, are the human resource folks who could get her some answers.
"Who would I contact to complain?" says an exasperated Lytle, 55. "They sent everybody home, pretty much."
Even before the shutdown began two weeks ago, Lytle had already swallowed six furlough days this year due to the automatic budget cuts known as sequestration, costing her about $1,000 in lost wages.
Out of work now for two weeks, and without a guarantee that Congress will pass legislation granting her back pay, Lytle says she's been calling whomever she owes money in hopes of working out a stopgap arrangement. Her husband is out of work.
So far, she's found a sympathetic ear at the utility companies. After she explained how uncertain her normally certain income had become, the gas and electric companies each reduced her bill by about $25 this month on the condition that she later clear up the debt, according to Lytle. But there was little she could do about the rent in the event she doesn't have money coming in by the end of the month.
Lytle had similar chats with her landlord and utility companies just a few months ago over sequestration.
"It's just ridiculous," she says.
Lytle says she recently started looking for new work and applied for unemployment insurance. Aside from job surfing, she says, she has little to keep herself busy at the moment -- other than watching the news with the diminished hope that a deal will be hashed out soon on Capitol Hill.
"I've never seen a Congress do like this one," Lytle says. "If something like another Katrina happens, heaven help us."
Debbie Donaldson, the furloughed Interior Department employee, has returned home from taking her husband to the doctor. She jokes that because of the furlough she didn't have to take any time off work to do it. She just finished eating a lunch of peanut butter and jelly.
She's now organizing costume jewelry, a side business, for a show at an apartment complex this afternoon. She'll take more than 600 pieces of her jewelry. Maybe she can make a little money to offset her weeks on furlough. "There's no fee at this show so that's always good," she says.
The show is from 4:30 to 8 p.m.
Laurie Wyche-Abele of Pennsylvania describes how the shutdown has affected her life, noting that being forced to work without pay is hard when it costs a fair chunk of change to actually get to work. (She asked that her husband's name not be used when reprinting her email.)
This has impacted my family greatly. My husband is a police officer for the federal government in an agency in Fairfax VA. We live in Downingtown, PA. He must continue to travel to work -- but is not getting paid. Those that are required to come to work cannot apply for unemployment benefits, however, furloughed workers can. The cost of his commute is not a small one. Thankfully, I have a job but the loss of his salary has had a devastating impact on us. I also don't know if our health benefits will be impacted as I would imagine they are not being paid. Our mortgage is late, and I cannot pay it without his salary. [My husband's] car company has thankfully deferred his payments for 2 months but after that we don't know. This is so irresponsible of our congress. We need term limits and they need to face the consequences those of us in the real word are facing because of their irresponsible choices.
Tiffany Vroman, a Huffington Post reader, emails to share her thoughts on the shutdown debate and her personal experience of the damage it has caused.
My husband, my four stepkids, and myself, recently moved in with my in-laws in order to purchase a home. We saved, and worked, and paid off a few things so that we could apply for the loan. Finally, we were ready! We found a house, put in the offer, anxiously awaited the acceptance and started the home buying process to give our family a stable place to grow. Just as our lender was about to submit the paperwork, news broke of the government shut down. Now we are stuck. Weeks later, we need a plan, and a place to go. Sure we have a roof over our heads and food in our bellies, but it proves that everyone is affected, even if it is just a little bit. Now, with a job offer that had been waiting for me since before this began, I have decided to take the new offer and try again some other time for our home. Thankfully I can say I have a job, income, and home, but I can understand how people in worse situations are suffering. Time to come to an agreement and quit wasting everyone's time.
Jamila Jordan, the furloughed D.C. worker, just returned home from job hunting in the Columbia Heights neighborhood of Washington. None of the restaurants she approached for work were hiring.
She says she's now preparing to go to school: She's studying history as an undergraduate at Trinity University. She has a year and a half left.
But Jordan won't be going to school on an empty stomach. She got lucky, she says. A friend gave her rice for lunch.
Bob Milhaus was sitting in front of his television set in Silver Spring, Md., "watching all the deals fall apart."
Milhaus sounded despondent. After last night's news of a possible Senate breakthrough, he'd been hopeful.
"All we need is a fat Italian with a fiddle, and this is Rome," he says now. Before the shutdown, Milhaus worked for a contractor doing tech support for the Government Accountability Office. He has almost no chance of getting paid for his lost time.
Yesterday, Milhaus wrote to The Huffington Post: "I am single, still working and soon will be 68. I need to work because I know social security will not cover my needs by itself, and I am lost, lost, lost." Yesterday, he filed for unemployment.
Today, he woke up at 6:30 a.m.
By 6:45, Milhaus had scoured Careerbuilder.com and Jobs.com, and he began sending out resumes. He sent out five for various help-desk positions. "I don't know what to do next," he says.
He knows what he doesn't want to do: Eat lunch. "I'm trying to cut back on everything. I'm trying to spend as little as I possible can," he says.
Milhaus is down to about $70 in his checking account and $100 in his savings account.
Rebecca Patlan-Garcia just looked up her checking account with one burning question: Can she pay her electric bill today?
The total in her account reads $730. Patlan-Garcia, a poultry inspector for the Department of Agriculture in Winslow, Ark., is "elated." She had stopped payment on several checks just in case. It looks like she can take care of her electric.
Patlan-Garcia was already in bankruptcy court when the shutdown hit. Cutting back had been her life. But now, she says, the shutdown has cut her off from the things she enjoys, like hiking (can't visit national parks) and rescuing dogs (can't afford gas).
"Dogs I could pick up 40 miles from my house and take to Tulsa -- normally that wouldn't be a problem," she says, adding that Tulsa is roughly 115 miles away. "Just can't put out the gas money."
Now she simply goes to work on her midnight shift without pay. This morning she came home and turned on the news.
"It's hard to think about doing any shopping," Patlan-Garcia says. "You just want to go home. You don't want to do anything that's going to cost money. We are kind of in hold mode."
Her next shift inspecting chickens starts at 10:30 p.m.
Leah Phifer, 29, is a furloughed Department of Homeland Security employee in Minnesota. Sequestration and the government shutdown have prompted her to rethink pursuing a lifelong career in public service, due to the uncertainty and instability that once seemed unthinkable.
She says that since the shutdown began, she has had an "obsessive-compulsive need to check the news every five minutes."
"My friends and family have actually placed a moratorium on my media access -- once an hour. I'm driving them and myself crazy," she adds.
Phifer says she feels guilty thinking of all her "essential" colleagues who are still on the job, toiling away without a paycheck and unable to take time off for personal or family reasons.
"Since I'm forbidden from discussing work while on furlough, I have to resist the urge every day to pick up the phone and check on them," says Phifer, who works in human relations. "I wasn't laid off, quit or fired. There is no clean break or closure. I still work for the federal government and I'm still emotionally invested in what happens to my agency."
The shutdown has derailed her plans to buy a house for now. She also still has student loans to pay back. Yet she considers herself lucky.
Her roommates have conveniently "forgotten" to cash her rent checks since she's been furloughed, and her friends and family have been taking her out to dinner and offering to loan her money.
"When I took the oath to work for the federal government, I never thought I'd have to depend on the charity of others," says Phifer. "There was never any expectation of becoming a millionaire working in public service, but there was the promise of rewarding, stable work. Now I don't know what to expect."
In her job with the Social Security Administration, Julie Pierce of Beverly, Mass., helps make sure the right checks go to the right people. Since the government shutdown started two weeks ago, the right checks have not been going to Pierce. She received only a partial paycheck last Friday and is really hoping the shutdown ends before November.
"If we don't get our next check, that will put me at risk of not paying the mortgage," she says.
While the furlough has given her more time to spend with her children, Pierce, 36, says it has not been enjoyable at all.
"When you're locked out, forced out and just very aware of the work not getting done," she says, "you don't get this sense that you're on vacation."
She says she's been frustrated that people she talks to think that Congress passed a bill to give back pay to furloughed workers (only the House of Representatives did). She thinks reporting on the shutdown has been inadequate in general.
"A lot of people I talk to, they just think of it as two valid sides," Pierce says. "You have this small group of lawmakers who are basically trying to make up something in order to turn back the clock. We already had an election. They'll even call the Affordable Care Act a bill -- no, it's a law."
Dialina Blackhat, 55, showed up at her job as a tribal social services case manager on the Duck Valley Indian Reservation located along the Idaho-Nevada border, bracing for another day of more bad news. This time, she's the one who is delivering it.
She says she spent the morning printing out letters warning her clients that their welfare checks will not be coming on Oct. 20. "It's upsetting," she says. "What are these people going to do? They are way beyond poverty level."
Each check is barely enough to survive on. Her clients, she says, receive on average just $94 twice a month. "They don't know how they are going to do anything at all, how they are going to pay their power bills."
Blackhat can only sign each letter and stuff it in an envelope.
She too is struggling. Since her job is federally funded, she is working without the promise of a next paycheck. She's lucky to have $600 a month to live on after deductions.
Debbie Donaldson, a furloughed Department of the Interior worker in Littleton, Colo., woke up at 5 a.m. after another "lousy" sleep. She immediately started checking the news. The 52-year-old mother of two first went to The Huffington Post and CNN online. She then turned on her local news.
"They said a deal is getting close," she says. "But they keep saying that. You start to get encouraged, and then you realize it's not as good as they make it sound like it is."
Donaldson went to the gym at 6 a.m. On the treadmill, she watched more news. House Speaker John Boehner (R-Ohio) was stressing patience.
"I don't want to be patient!" Donaldson yelled at the TV. "I want to get back to work!"
Jamila Jordan, 24, has just woken up with a plan for the day.
"Today's the day I'm going to start looking for a job," she says. The D.C. resident has no other choice. Two weeks ago, she was furloughed from her job at the Hirshhorn Museum, where she helped provide kids' programming. The bills are starting to pile up. Last night, she ate instant ramen for dinner.
"I feel embarrassed to tell you that, but it was ramen," Jordan says. "It was depressing. I thought I would never have to do this again."
Jordan hopes she can pick up a job waiting tables. She's mapped out a few restaurant-heavy neighborhoods to walk -- Columbia Heights, U Street, Dupont Circle. But she's worried about risking what money she has left on transportation; a round-trip Metro fare from her Petworth residence could be roughly $5. "I know the reason I've been holding out so long is I'm scared to spend money on the train," she says. "I have nothing in reserve to do this job hunt, but I have to."
Jordan says she's going to try her job hunt on an empty stomach. She can't waste funds on breakfast.
HuffPost Readers: If you work for the government or are otherwise affected by the government shutdown, we want to hear from you. If you're willing to discuss your perspective, please click here and fill out our short survey. Or you can email us here to share your story.
Before You Go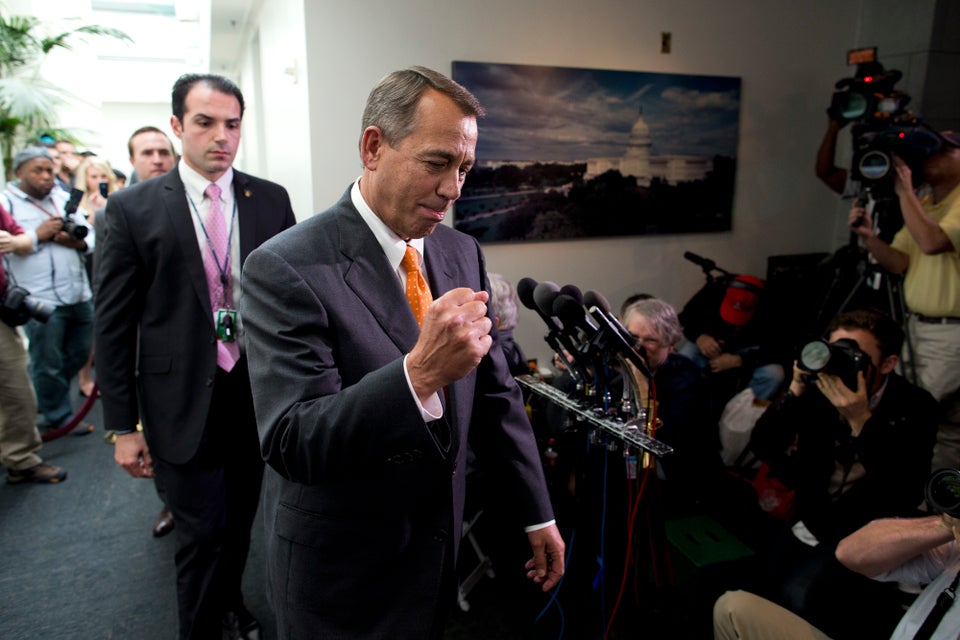 2013 Government Shutdown
Popular in the Community