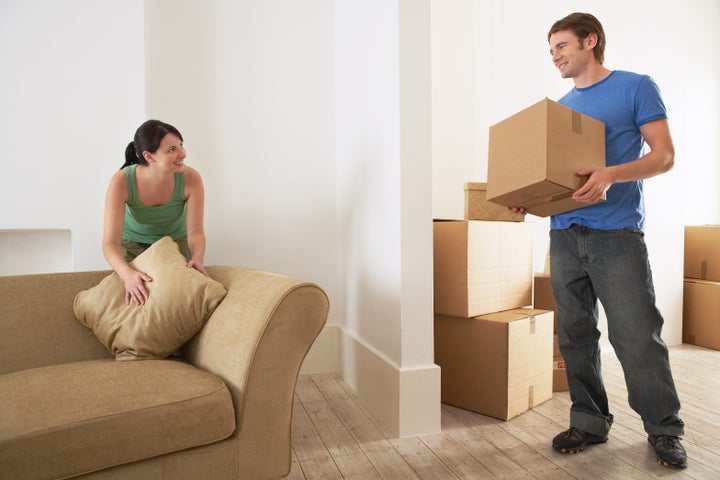 My minimalist philosophy gives me a unique angle on personal finance: instead of writing about coupons and credit cards, I focus on how a lighter lifestyle can mean a bigger bank account. I explore strategies that save space and money -- two things most of us can use more of!
Today's focus: furniture. It's both a major household expense and a major space-gobbler. The less we need, the less of our hard-earned cash goes to those home décor superstores. Maybe it's just me, but making minimum payments on an ottoman just doesn't sound that appealing. But having the extra square footage in my living room -- to do yoga, play with my daughter, or dance a tango -- certainly does!
So with that in mind, here's 15 pieces of furniture you may be able to do without:
1. Dresser. Instead, try fabric shelves that hang from the closet bar. I use them myself for socks, undies, and folded clothes, and in my baby's room for everything from onesies and sleepers to bibs and washcloths.
2. End tables. In my opinion, all those extra little tables that live in corners, and at the ends of couches, are just magnets for clutter.
3. TV stand or entertainment center. I've eliminated the need for this monstrosity by ditching my television altogether. But if you're not ready to go that route, you can simply hang it on the wall.
4. Buffet or sideboard. Say sayonara to all the fancy table linens, and the heirloom (or wedding) china you never use, and skip this storage piece -- giving your wallet, and your dining area, a little more breathing room.
5. Curio/display cabinet. Do away with the tchotchkes and knickknacks, and you can do away with this massive (and potentially expensive) furnishing. You'll also spend less time and money acquiring dust-collectors to fill it up.
6. Recliner. Sure, it's nice to put your feet up -- but not exactly a necessity.
8. File cabinet. Get a scanner and go digital for your non-essential paperwork. By minimizing the amount of paper that enters my life (and doing an annual paper purge), I'm able to get away with one box of "must keep" documents tucked away in a closet.
9. Bookshelf. As a minimalist writer, I have a love/hate relationship with books; that is, I love the content, but hate the physical (heavy, unwieldy, difficult to move) format. Ebooks have been the answer to my prayers -- enabling me to forgo a bookshelf, and carry my entire collection with ease.
10. Nightstand. If your bedside accoutrements are few, consider attaching a small shelf to the wall instead.
Feeling inspired? Ambitious? Intrigued? Living without the next five items is a little more unconventional, but can save you a nice chunk of change (and some serious square footage):
11. Desk. If you use a laptop, you may not need a dedicated work surface -- you can surf, check email, and pay bills on your dining table, coffee table, sofa, lounge chair, or floor. In one of my apartments, I used a deep windowsill as a workspace.
12. Desk chair. There's no need for a desk chair if you don't have a desk.
13. Sofa. It might sound crazy to go without a couch, but it's doable (and kind of fun!). The alternative: a lounge chair or two, or simply some cushions arranged on the floor.
14. Dining table. Like a sofa, a dining table is typically considered a household essential -- but it doesn't have to be. If you don't mind sitting on the floor, a coffee table may suffice. In fact, in some cultures, a simple low table is the norm.
15. Dining chairs. If you don't have a dining table, you don't need chairs; if dining at a low table, a few cushions will do. Such an arrangement can have a serene, Zen-like feel, or if you're so inclined, a more bohemian, Arabian nights ambiance.
Do I think everyone should sit around on floor cushions in empty rooms? Of course not -- although that's pretty much how my husband and I lived during our recent nomadic phase (seven moves in three years, mainly overseas). Not only did it slash our moving and household expenses, it was quite liberating to live free of so much stuff!
But I expect few readers to adopt (or even desire) such extreme minimalism. It can be ideal for mobile, small-space dwellers -- not so much for those who have bad backs, frequently entertain, or long to sink into a sectional at the end of the workday. And if finances are the sole concern, furniture can certainly be had on the cheap via Craigslist, yard sales, Freecycle, or even dumpster diving.
Rather, I hope this post is a fun little thought-experiment on what's truly necessary. I think sometimes we feel obligated to own certain items because it's expected; but if you don't even know what a credenza is, it's highly unlikely you need one.
Instead, feel free to furnish only with what fits your lifestyle -- not the idealized one pictured in some shelter magazine. If you find even one or two things here you can live without, you may save a few (hundred or thousand) dollars -- and have some extra room to do a little happy dance!
Related