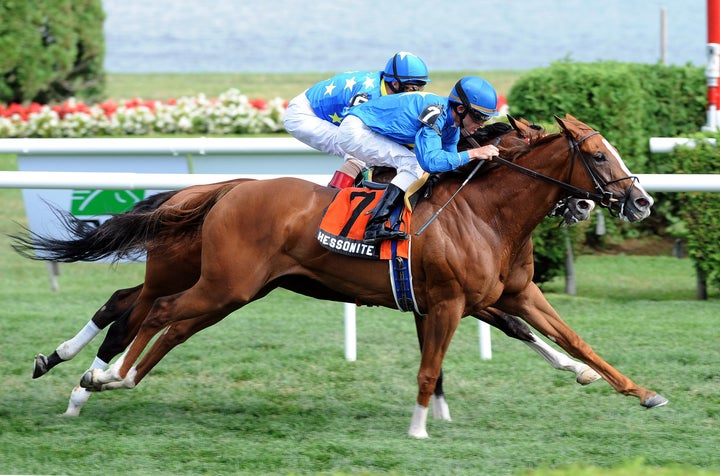 The United States is one of the last places in the world where horse trainers can treat their horses with the anti-bleeding medication Furosemide, known by its brand-name Lasix, on race-day.
But recent actions taken by both the Breeders Cup and American Graded Stakes Committee have moved the United States closer to most of the world.
This past Wednesday, the American Graded Stakes Commitee followed suit voting to only grade races of 2-year-old horses that have banned furosemide on race day.
Steve Zorn, the racing manager of Castle Village Farm, Business of Sports Racing blog discussed the potential for a ban in mid-June. He described the drugs as an effective way to reduce horse bleeding. "Lasix works; it reduces both the incidence and the severity of bleeding, though it doesn't eliminate low-grade bleeding." and the drug enhances horse performance.
Critics of the drug also discuss how it's banned by other countries.
ESPN describes the legal situation, "Furosemide is currently legal to use in every racing jurisdiction in North America. All other foreign racing jurisdictions ban the use of the drug, though many trainers in Europe have acknowledged that they use the medication for training."'
The decision by the American Graded Stakes Commitee has upset some horse trainers who state the drug is a valuable treatment for horse bleeding, the Daily News reports.
Horse racing blogger Jennie Rees has written about the potential for the ban to reduce field size (the number of horses-per-race) because of horse health problems due to a ban.

In June, Zorn concluded that if bans occur in the United States, "Trainers will need to develop new methods of dealing with bleeding, owners will have to adjust to new patterns for a horse's career." With the actions of the Breeders Cup and American Graded Stakes Committee since his post, it looks there will have to be some changes in U.S. horse racing.
Related
Popular in the Community