By Shane Dixon Kavanaugh and Jody Sieradzki
The First Lady gets a lot of loot. Just last year, Michelle Obama was given two sets of emerald, diamond and pearl jewelry worth more than a million dollars, all from one Saudi King. The same monarch, the late King Abdullah, also gave eighty grand worth of sparkle to the Obama girls--just so they didn't feel left out.
And it's not just the family. Foreign leaders showered President Obama and other high-ranking U.S. government officials with gold coins, Rolex watches and hundreds of other extravagant--and sometimes eccentric--gifts aimed at helping grease the wheels of global diplomacy last year.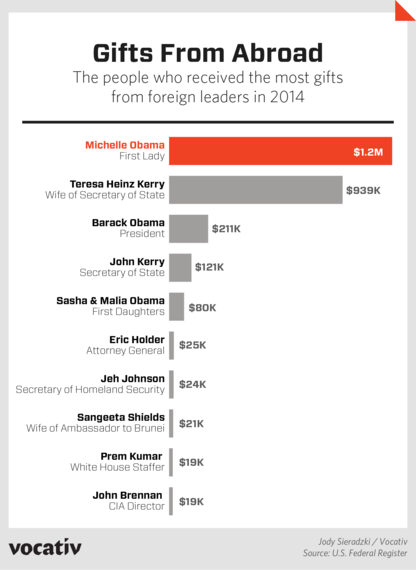 While dignitaries from more than 95 countries gave gifts to American government officials in 2014, Saudi Arabia was in a league of its own. Representatives of the oil rich kingdom gave out watches, jewelry sets and fur coats worth more than $2.5 million in all. Qatar and the United Arab Emirates, Saudi Arabia's wealthy neighbors, were the only other nations whose dignitaries spent more than six figures on presents for U.S. officials; they each dropped nearly $170,000.
Most of the lavish loot from the Saudi kingdom was directed to Obama and his family. King Abdullah personally gifted the president two gold watches, worth $18,240 and $67,000, as well as a "48″ gold-plated brass replica of the Makkah Clock Tower on marble base." Cost of the clock tower? Around $57,000.
The price tags of those presents pale in comparison to the price of jewelry the Saudi king bestowed upon Michelle Obama. On January 14, 2014 he gave the First Lady a set of diamond and emerald necklaces, earrings, rings and bracelets worth $560,000. Three months later, he gave her another set, this one worth $570,000. King Abdullah, who died in 2015, also gave the Obamas' children, Sasha and Malia, jewelry worth $80,000.
U.S. government officials--including Obama himself--are not supposed to accept gifts like these except in situations when, as the records themselves say, "Non-acceptance would cause embarrassment to donor and U.S. Government." If they do take the present, they can't actually keep it unless they pay the government fair market value for it. Otherwise, they're required to turn the booty over to the National Archives or other institutions for storage or display. Most recipients, including Obama and his family, chose to turn over their cologne, cufflinks and other spoils.
Other top U.S. officials and their families were also subject to displays of Saudi generosity. In 2014, Secretary of State John Kerry received $60,000 in gifts from the kingdom, including two Rolex watches, a gold Cartier men's watch and a "palm tree statue encrusted with various gemstones." His wife, Theresa Heinz Kerry, whose net worth is around $1 billion, was given more than $800,000 worth of diamond, emerald and sapphire jewels.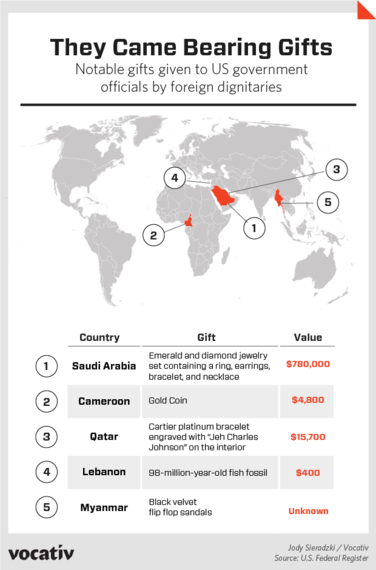 There was no shortage of strange and notable presents from other nations. The mayor of Byblos, a town in Lebanon, gave U.S. Senators Tim Kaine (D-Virginia) and Angus King (I-Maine) each a 98-million-year-old fish fossil. On November 8, 2014, the Myanmar government gifted President Obama a pair of black velvet flip-flop sandals, along a purple shirt and other colorful clothes.
Most notable among the officials who didn't simply donate the gifts they received was CIA Director John Brennan. Nearly his entire haul of wooden tea tables, decorative bowls, bronze animal statues and other goodies worth a total of $19,500, will be "retained for official use in the Director's office," according to the records.
Where Brennan will find the room in his office for all that stuff among the meditation rugs, paintings, glass falcons and other foreign swag he received in 2013 is not known. Another unknown: the bestowers of Brennan's gifts. As CIA director, he is not required to disclose that information because it "could adversely affect United States intelligence sources or methods."
More Stories from Vocativ:
Calling all HuffPost superfans!
Sign up for membership to become a founding member and help shape HuffPost's next chapter