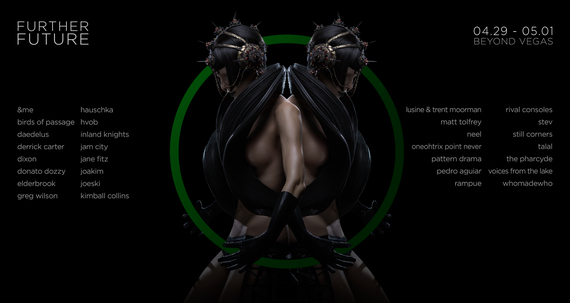 Built upon the sands of the Mojave Desert just outside of Las Vegas is Further Future, a visionary gathering of imaginative people over three days from April 29th to May 1st of 2016. Only in its second year of existence, this event has already garnered acclaim being hailed by Las Vegas Weekly as the 'Best Music Festival' of 2015. Further Future boasts a glamorous-apocalyptic aesthetic that evokes images of dusty chrome, smooth surfaces, metal work, plush amenities and desert landscapes. Conceived by Robert Scott of Burning Man camp and art car, Robot Hearts, the second annual Further Future (FF002) in 2016 promises to not only meet this acclaim, but also surpass it.
An unspoken rule of BRC is that anything represented on the Playa is not meant to be reused anywhere else, especially if it is for monetary gain. Though Robert Scott belongs to Robot Hearts, this is not a Robot Hearts event. With more than 70 international acts and a slough of interactive activities ranging from yoga to gourmet culinary programming, FF002 is not your average music festival. Further Future reshapes the paradigm of a transformational festival by keeping its ideologies but reinventing the aesthetics, amenities, design and a few other surprises. In a previous interview with founder Robert Scott, he describes Further Future:
A Further Future event aspires to be a gathering of people with the common goal to spend time together celebrating the infinite possibilities of the future, without necessarily being shackled to the dictates of the past or the cycles of present-day society. We want to combine the connective power of music and art to bring people together in a place where they can shed their anxieties and fears, and touch a natural state of happiness. This, while immersing ourselves together in a culture of open thought and inquiry, sharing ideas and aspirations with leading minds in the fields of art, business, science, technology and thought.
The musical lineup captivates the aural romance of every music-lover's fantasy. Boasting an eclectic array of avant-garde music such as electronica, techno, old school hip hop, reggae, chill-wave, deep house, acoustic, and more that cannot even be classified, Further Future is an amalgamation of musical infatuation whose curation needs no explanation for the elation it brings to the festival nation.
The first phase of this year's musical acts include Dixon, Oneohtrix Point Never, The Pharcyde, &Me, Birds of Passage, Daedelus, Derrick Carter, Donato Dozzy, Elderbrook, Greg Wilson, Hauschka, HVOB, Inland Knights, Jam City, Jane Fitz, Joakim, Joeski, Kimball Collins, Lusine w/ Trent Moorman, Matt Tolfrey, Neel, Pattern Drama, Pedro Aguiar, Rampue, Rival Consoles, Stev, Still Corners, Talal, Voices From The Lake, and WhoMadeWho.
Each artist is deliberately chosen to transcend genre, trends, and time. Further Future provides a platform for music lovers to hear a timeless variety of sound that is rarely experienced live, all in one place. "Our programming is curated to accentuate your moods and emotions throughout the day and night," says Jason Swamy, Further Future's creative director.
In addition to its eclectic lineup, FF002 is also an assemblage of globalists, expressionists, movers, shakers, thinkers, and thankers, all converging to share and mix their colorful ideas upon one giant painter's palette. Further Future is about innovation in science, technology, music, art, cuisine, mixology, movement, thought, and philosophy. It is a Petri dish that facilitates a collection of minds to develop their ideas into living, breathing organisms.
REAL LIFE. REAL NEWS. REAL VOICES.
Help us tell more of the stories that matter from voices that too often remain unheard.