Fusion anchors Jorge Ramos and Alicia Menendez will be joined by Fusion contributor and comedian Akilah Hughes and New York magazine writer-at-large Rembert Browne in moderating the Des Moine event held at Drake University, making it one of the most diverse panels of questioners at a forum or debate during this election cycle.
Fusion CEO Issac Lee said in a statement that its moderator panel reflects the network's commitment to "elevating voices" that showcase American diversity.
"With Jorge, Alicia, Akilah, and Rembert we have brought together dynamic and distinct group of voices, steeped in news, politics and culture, to question the candidates on the issues that matter to our young, multicultural audience," Lee said in statement.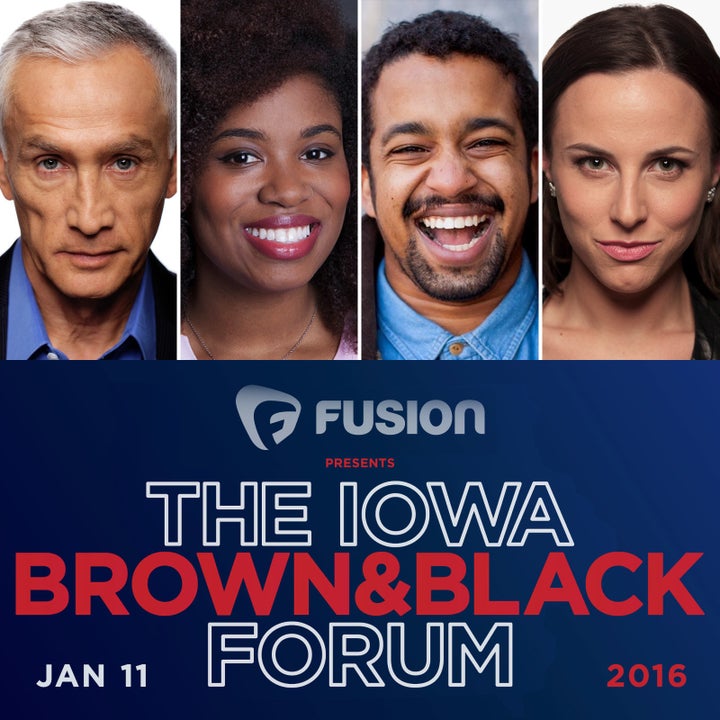 The forum, which has been organized by Fusion and The Iowa Brown & Black Presidential Forum -- which is part of Urban Dreams' non-partisan Project V.O.T.E. (Voting Opportunities Through Education) -- will include Democratic presidential candidates Hillary Clinton, former Maryland Gov.Martin O'Malley and Sen. Bernie Sanders (I-Vt). It will be Fusion's first time hosting a presidential forum since its launch in 2013.
Brown & Black Forum co-founders Mary Campos and Wayne Ford said in a statement that they were pleased with Fusion's selection of moderators.
"We've been recently discussing the need to pass the Brown & Black Forum 'baton' on to the next generation. Jorge, Alicia, Akilah, and Rembert will generate excitement among the millennials and take the Forum into the future," Campos and Ford said in the statement.
Unlike a debate, during a forum candidates appear at separate times answering questions individually.
The forum will be aired on Fusion and will be live-streamed on Fusion.net, YouTube and Facebook on Jan. 11 at 8 p.m. EST. The forum will be rebroadcast in Spanish on UniMas at 11 p.m.
Popular in the Community