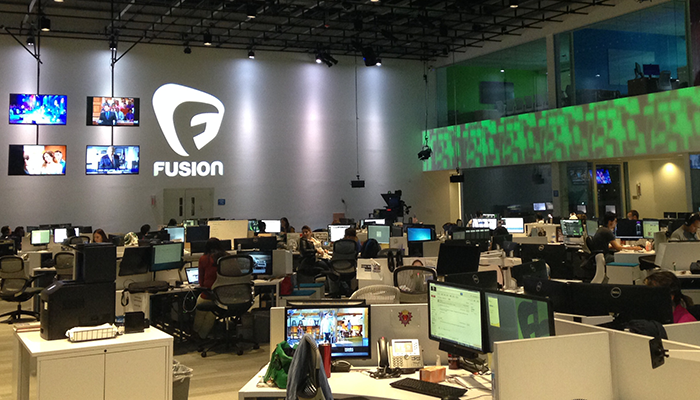 NEW YORK -- Critics have long diagnosed what's wrong with election coverage.
Too much politics and too little policy. Pack journalism on the campaign trail. Obsessive attention paid to each poll, campaign strategy, insider analysis, and the horse race -- who's up and who's down, hour-by-hour, month after month.
But while it's easy to see the problem, it's much harder to treat it, according to New York University journalism professor Jay Rosen.
"Trying to do something different from what is normally done in election coverage is really freakin' hard because the tropes and patterns and music and rhythm of election coverage are so well known," he said. "And so many people do it that it's hard to invent anything new. We're approaching this from a position of modesty."
Rosen's students in Studio 20, an NYU graduate program focused on innovation in journalism, have previously worked on semester-long projects with The New York Times, ProPublica, and the Guardian. This spring, his students will team up with Fusion and graduate students from The New School's Parsons School of Design to come up with new approaches for covering a presidential election.
Rosen described the Monday afternoon lab-based course -- taught by him, Fusion executive editor Hillary Frey, and Parsons associate professor of media design David Carroll -- as a "pop-up R&D lab" for the network. The 30- to 35-member class will include budding journalists, developers and designers.
"Trying to do something different from what is normally done in election coverage is really freakin' hard because the tropes and patterns and music and rhythm of election coverage are so well known."
Fusion, launched in 2013 through a partnership with Disney-ABC and Univision, is still trying to differentiate itself amid more established outlets targeting a millennial audience, such as BuzzFeed, Vice and Vox. One way editors hope to break through is by tackling the election in a way that may appeal to young readers uninterested in traditional coverage.
"We're not covering candidates, we're covering issues," said Frey, adding that there "are certain issues that Fusion wants to own."
Instead of assigning reporters to follow Hillary Clinton or Jeb Bush each day, Frey has tasked them with specific issues, including criminal justice reform, immigration, the Latino vote, social justice, structural racism, LGBT rights, gun control, campaign finance and college affordability.
Frey acknowledged that Fusion needs to be aware of the day's national political conversation, yet not get distracted by it. Instead, staffers are expected to remain focused on issues in their wheelhouse and presumably also of interest to the millennial audience that Fusion is hoping to reach. For instance, the latest churn in the Clinton email controversy and its potential effect on the Democratic front-runner's polls wouldn't likely be covered, whereas her proposal on criminal justice reform would.
Rosen, who has written critically about horse race-focused political journalism for years, said Fusion's issue-based approach is perhaps one way to get beyond the usual trappings of election coverage. By stating its areas of interest up front, Fusion can "evaluate what happens in the campaign on whether it touches those priorities," he said.
"Most news organizations don't want to do that because they don't want to actually make that call and say, 'These are our priorities,'" Rosen said. "To them that would be like pre-empting the election or it would be bias."
Fusion has been seen within Disney and Univision as an incubator for new ideas, making the spring graduate course something of an incubator within an incubator.
As the semester gets under way, Fusion journalists will bring students various problems, such as how to cover college loans in a more compelling way or better annotate a live debate. Students, working with Fusion staffers, will create applications and content to try and solve the problem. Fusion can buy the students' work for exclusive use, like a typical freelance relationship, or else it'll be available free for any media outlet to use -- the code will be open source and the content available under Creative Commons licenses.
All three instructors stressed that students will be working on urgent newsroom issues, rather than taking part in a purely academic exercise.
"It's not just little experiments that [you] show your professor," Carroll said. Instead, students will be able to "make something and measure its results by the real audiences and also be able to experience what it's like to work in these new environments, where new issues are being tackled in a daily basis."
Carroll's students come from more of a technology background than media, though he acknowledged the distinction between the two worlds is increasingly collapsing. For the coming semester, he said students are particularly interested in developing new applications and experimenting with virtual reality.
"The mantra will be prototypes, not PowerPoints," Carroll said. "Let's make something and see if it works."
Disclosure: This reporter is a member of the adjunct faculty at NYU.
Related
Popular in the Community