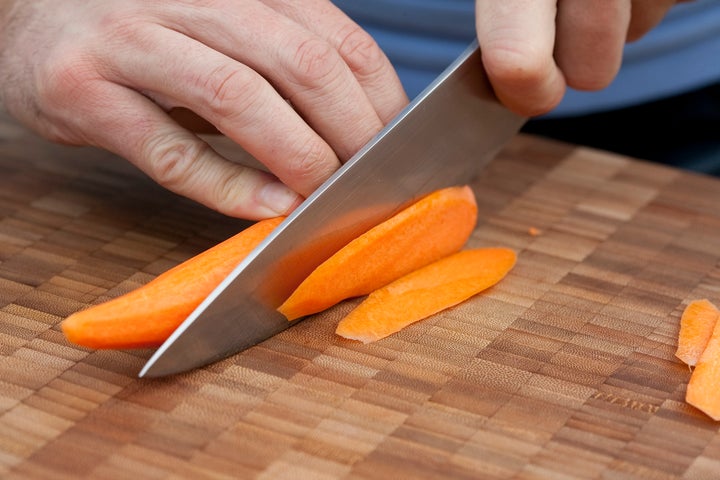 Twenty-two-year-old Aquila plans to start a catering business in the next few years, a goal that may seem grandiose for someone her age. But it's actually well within reach given the path her life has taken. She has lots of restaurant kitchen experience, knows several prominent chefs and is a college graduate.
Six years ago when Aquila was a sophomore in high school, all of this seemed impossible; her 1.7 GPA exuding a clear lack of drive. Still, one of her teachers saw that there was something she was very good at -- cooking. He believed she could hone her culinary interests into marketable job skills, if only she could cultivate determination and focus.
So he encouraged Aquila to work hard and start thinking about where her skills might take her. He also introduced her to Toni Elka, who had recently founded Future Chefs in an effort to help youth who had a passion for cooking yet lacked consistent adult guidance about how to channel that passion. Toni had been making connections with Boston-area chefs and envisioned that with the right support and encouragement, the kitchens where they worked would be places where these youth could find decent-paying employment.
An often overlooked aspect of the current jobs crisis is that many youngsters -- particularly kids from low-income families -- don't have people who can adequately help them develop life goals. These kids may entirely lack a consistent adult presence in their lives. In Aquila's case she felt loved by her mother and grandmother, whom she lived with, yet they didn't have the resources or skills to give her much direction -- let alone advice -- about her future.
This is why the work Future Chefs does is so critical. It enables youth to forge relationships with accomplished adults who motivate them to strive for success. Aquila has not only gotten the opportunity to build an impressive resume; she has had the chance to get to know mentors who have nurtured her self-confidence. At the cook-off competition following her senior year in high school, her plate received praise from Boston chef Chris Douglass. In retrospect, Aquila sees this experience as something of an epiphany: "Getting feedback from somebody who is successful in the industry and who is well known throughout the city -- it felt really good to me." This affirmation made her feel confident that she was cut out to work in the kitchen under the supervision of a reputable chef (Douglass subsequently hired her to work at the Ashmont Grill), and someday to run her own business.
Aquila's story highlights how nonprofits can make headway in matching young people with good jobs. Future Chefs' mission makes sense given that the need for labor in the food service industry is high and there are ample opportunities for entry-level workers to advance their careers. The organization's mentoring model addresses our economy's escalating demand for workers who have post-secondary training though not necessarily a college degree. A 2011 report by the Harvard Graduate School of Education revealed that the biggest job growth through 2018 is expected in positions that resemble food service jobs in terms of their skill requirements and mobility prospects. These include dental hygienist, construction manager, electrician, health technologist, paralegal, and nurse.
Therefore, what Future Chefs is making possible for young people like Aquila illustrates how other nonprofits could similarly address the youth jobs crisis. When Toni Elka and I spoke, she exclaimed with excitement:
There should be Future Childcare Workers and Future Nurses and Future Builders. Structured pathways should be created so that there are clear steps indicating this is what you do. But they should also be focused on the transition from adolescence to adulthood so that young people aren't just getting the technical skills they need but they're getting the soft skills and the life skills and the connection to the adult community.
Aquila now possesses both a glowing resume and the determination to keep advancing her career. But had she not gotten support and guidance from Future Chefs, she would likely be just another poster child of the haunting statistic reported in a February 2012 Pew Research Center study: only 54 percent of people ages 18-24 held jobs, the lowest rate for this demographic since the government started tracking these data in 1948.
Aquila developed a close friendship with another girl when they were both in the Future Chefs program. The two of them subsequently became college roommates and now have their sights on another partnership: starting a catering business together.
Popular in the Community