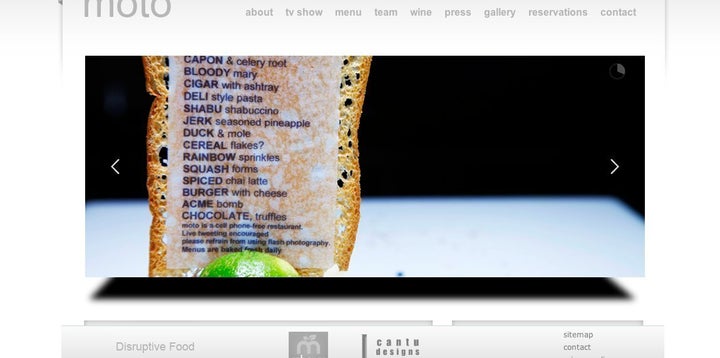 Future Food was not your ordinary TV food demo. When a segment was over you did not run to your kitchen to cook the recipes. If you missed the series on Planet Green starring Chicago's Chef Homaro Cantu and his kemosabee, Pastry Chef Ben Roche, you can still experience it yourself at the source, Moto restaurant in Chicago.
Cantu is the majordomo of the restaurant, and dinner there is a gas, literally and figuratively (you'll see what I mean). The thoughtful diner will likely leave bemused, laughing, frustrated, or even angry.
Is this really the future of food? Is this the beginning of a long-term trend, or just a flash in the pan? Is this a revolution or a gimmick? Is this space-age cooking or a giant leap backwards? Are these innovations or perversions? Does this belong in a restaurant or in a corporate lab? Is this just the next logical step in the march of chefs towards Hollywood, or just a fad? Has dining as theater crossed the line into theatrics when chefs wear goggles?
Cantu is clown prince of a food movement that is called "Molecular Gastronomy" and he has appeared on the covers of Gourmet and New Scientist. Trained at Le Cordon Bleu and under Charlie Trotter, he beat Masaharu Morimoto in an Iron Chef America battle in 2006, with beets as the mystery ingredient. He and Roche have chops. Pork, lamb, culinary, and chemistry.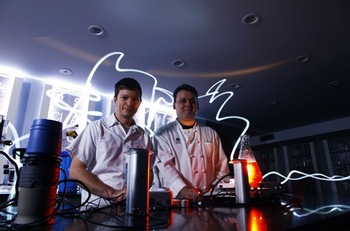 Molecular gastronomy is a perfectly awful appellation as well as an assault on the senses and this gastronome's definition of cooking. Sometimes called "Post Modern Cuisine" or "Culinology", proponents deconstruct food and put it back together, prep it with lasers and liquid nitrogen, cook it at 140F for 24 hours in a vacuum pouch, dye it, and practice other innovations and experiments on its hapless molecules. The concept was pioneered and named in by Hungarian physicist Nicholas Kurti and French physical chemist Herve This. This has become the godfather and spokesperson of the movement. Among the growing list of followers are Chefs Grant Achatz of Alinea, also in Chicago, Ferran Adria of El Bulli restaurant in Roses on the Costa Brava in Spain, Heston Blumenthal of The Fat Duck, in Bray in Berkshire in England. In a group photo, Cantu would be the one holding two fingers over the head of one of his comrades.
It is not new to point out that dining out has become a form of entertainment, and the prices are comparable. Tickets to professional sports, theater, opera, and dinner at Moto are about the same, and the performance takes about the same time. And the principles are similar.
Shock and awe
Cantu's core concept is play, fun, shock and awe. His menu itself is a good example. It is ink-jet printed with edible food coloring on rice paper attached to a thin cracker made of parmesan cheese mixed with sun dried tomatoes and herbs. There are two menu options: A 10 course meal for $135, and GTM (Grand Tour Moto) with 20 courses for $195. The 5 course meal has been discontinued. When I ate there my companions and I ordered the 10. Here are some of the dishes he served us.
SALMON & SESAME. The salmon was raw, cut in precise cubes, with a small amount of mayonnaise. The waiter brought out a pot with billowing white liquid nitrogen vapors coming off the top. He reached in with a strainer and scooped out a cream colored powder of freeze dried sesame oil to top the dish. As we ate, frigid clouds from the sesame oil powder came out of our nostrils making us look like overdressed dragons! We were laughing and snorting steam, all the while blown away by buttery salmon with a classic accompaniment, sesame oil, albeit in powder form. My favorite dish of the night.
BEET WITH BACON. The next dish was red and yellow beets that had been broken down, made into a foam, frozen into a fluffy two-colored wedge that looked like cake, and served with red and yellow sauces made from beets and goat cheese. Scattered on the plate were intensely flavorful pea-sized chunks of bacon. I hate beets. I loved this dish.
SKATE & POPCORN. In the center was a waaaay too small piece of fabulous pan-seared skate wing framed by smears of two sauces, a pale yellow one made by liquefying buttered popcorn, and the other, bright green from mint and miso. Beautifully plated. Great tasting. Popcorn and skating. Wheeeee!
CUCUMBER WITH LEMON & BASIL. Small shards of intensely flavored cuke in sugar and vinegar, almost gherkin-like, with fresh basil. Frankly, my Thai cukes are better. But it was accompanied by a shot glass of clear green liquid: Cucumber juice, concentrated, clarified, and sweetened. Unbelievably intense, yet remarkably refreshing.
SMOKED PORK WITH FROZEN FRIED RICE. A 3" long brick of smoked pork shoulder that may have been the best pork shoulder I have ever had, and I judge barbecue championships. The bark was pliable and flavorful, and I'll be damned if I can figure out what was in his rub. Oriental spices, I think. But it was incredibly tender and juicy. I cut it with my fork and it melted in my mouth. On the side were "greens." I think they were more like Italian greens than collards, and they tasted as if it had been braised in concentrated stock. You can bet I will be working to duplicate this. There were some noodles that I guess were made from fried rice. Frankly, I don't remember that part of the plate, the pork and greens so enthralled me. Interestingly, the pork and greens were the most conventional foods of the night.
BBQ PORK WITH THE FIXIN'S. Pig cheeks with frozen fried rice smothered in what he called a Kansas City barbecue sauce, but it was not. It was loaded with spices, and all of us thought it was clumsy. Including the misplaced apostrophe.
CHICKEN FRIED MAC-N-CHEESE. Tender quail, breaded and fried, served on top of macaroni that had been cooked the day before, then dried so it was crunchy, like pretzels. It was topped with cheese and liberally seasoned with truffle oil. Served in a cocktail glass rather than in a red and white bucket, this was more whimsical and cleverly haute trashy, but I didn't think it worked all that well. The earthy truffle oil infused everything and dominated.
FRUIT & BUBBLES. Cubes of pink and yellow watermelon that had been carbonated! Surrounding them was a sauce made of white chocolate and Explorateur cheese with tiny nuggets of candied black walnuts. The combination of flavors was boggling.
CHICAGO DOG. A half-size Chicago Hot Dog, perfect in every detail right down to the sport peppers, pickle spear, tomato, mustard, onions, bright green relish, and the folds on the tips of the dog, all made from frozen fruits and fruit juices! The poppy seed bun was cake, and you ate the whole thing like a hot dog, with your hands. What fun!
2 & 3 DIMENSIONAL TRUFFLE. A white chocolate truffle filled with liquid, and cotton candy flattened into paper and printed with a picture of cotton candy. Now it was obvious he was goofing on us. I was reminded of the guy who handed me a jar of strawberry preserves the first time I smoked marijuana in college.
The service was spot on perfect. Most of Moto's chefs take turns working the front room, so the wait staff was comprised of chefs in business suits, and they knew a lot about the dishes. The small minimalist black and tan dining room, perhaps 60 seats, swarms with 6-8 server/chefs at any one time, and they are all available to you. They walk with their heads up, willing to make eye contact, rather than looking at the floor, and they all have earpieces so they are in close contact with the kitchen. When food is ready, they hear about it.
So while I'm eating, I'm wrestling with my definitions of food and cooking. My religious love of simple fresh ingredients with minimal fuss was being shaken. So much of the food was uncooked, pureed, concentrated, colored, and processed. Raw and processed are usually on opposing ends of the culinary continuum.
And then the whole thing toppled under its own weight
GRAHAM CRACKER & BLUEBERRY. A dessert with blueberry puree, something that looked like Dippin' Dots (a commercial brand of ice cream beads popular with kids), and liquefied graham cracker sauce. It was tasty, and as I was dissecting it I remembered the fresh blueberries I picked that morning from my back yard and sprinkled on my cereal. It was so much better than Cantu's creation. He had gone too far. Why would you deconstruct something so perfect as a blueberry in the height of blueberry season? In winter perhaps, but not mid-July.
So what started so breathtakingly with raw salmon and freeze dried sesame oil, knocked me out with a peasant dish like pork shoulder and greens taken to a new level, degenerated into a Frankenstein: Fresh blueberries at the peak of the season, ruined. Was this simply a matter of one dish out of 10 failing? Or was this the Achilles heel of the whole concept?
So I was left with some final questions:
Is it worth it? With wines, coffee, tax, tip, valet parking, and cha-ching: You could easily break the200 per person barrier for a 10-course dinner and hit250 plus for the GTM.
The food was extremely tasty, stunningly beautiful, all my senses were working overtime, and every dish brought me a challenge. I was both inspired and puzzled. Cantu and Roche forced me to think hard about my concepts of food and cooking. How often does this happen? What is that worth?
What do you call this stuff? Cantu and Roche are equal parts punks, Pucks, Wolfgang Pucks, and punsters. We laughed and smiled almost non-stop for three hours. Perhaps a better name than Molecular Gastronomy or Post Modern Cuisine or Culinology would be Funny Food. Funny because it is both weird and because it makes you laugh. And who can complain about food that makes you laugh? Well, one of us did. My wife. A fine gardener, cook, PhD. microbiologist, and food safety expert, she thought the food, and the bill, were jokes.
All this begs one last question: Is Chef Cantu the second coming of Escoffier or Willy Wonka?
Have you eaten at Moto or one of the other temples of molecular gastronomy? What did you think?
----------------------------
Copyright (c) 2010 By Meathead, and all rights are reserved. For more of his writing, photos, and recipes, please visit him at his website AmazingRibs.com, friend him on Facebook, or follow him on Twitter.

Follow HuffPost Food on Twitter and Facebook!
Related