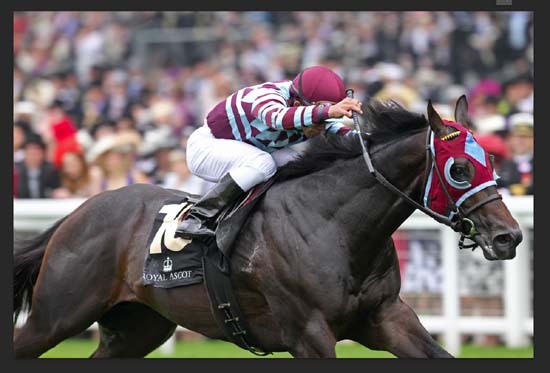 No Nay Never winning the Norfolk Stakes, Royal Ascot. Joel Rosario up
(Photo courtesy of Coolmore Stud)
On the last day of Keeneland's 2013 Spring Race Meeting, two-year old No Nay Never won at first asking, over four-and-a-half furlongs on the track's all-weather surface. On March 1, 2014, he is entered to run seven furlongs on the dirt in the Swale Stakes - Gr.3 at Gulfstream Park, Hallandale, Florida. Javier Castellano will be up.
If the race goes to plan, trainer Wesley Ward will point No Nay Never to either the St James Palace Stakes - Gr.1, or the Jersey Stakes - Gr.3 at Royal Ascot, England, in June. The St. James, part of the British Champions Series, is a mile, the Jersey is seven furlongs; both are on turf. After Ascot, a run in the King's Bishop Stakes at Saratoga in August is a possibility.
No Nay Never, a son of Scat Daddy out of the Elusive Quality mare Cat's Eye Witness, was bred, foaled and raised by Jayne Doi Johnson at Johnson and Johnson Farm in Shelbyville, Kentucky. He was sold through Keeneland as a weanling and a yearling, landing with a partnership led by Ice Wine Stables. Before No Nay Never put a hoof on a track, Irish racing juggernaut Coolmore's connections came calling and bought into the colt.
Record-Setting European Debut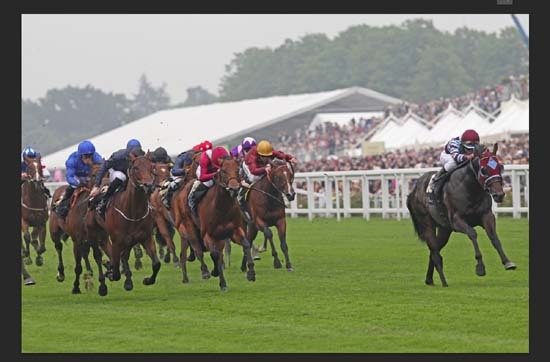 No Nay Never storms down the stretch to win the Norfolk Stakes, Royal Ascot. Joel Rosario up.
(Photo courtesy of Coolmore Stud)
I was concerned going into the Prix Morny. An hour before, I was almost ready to scratch him because of the ground, it was kind of wet. I was worried about the ground being too soft. After watching the race prior, we decided to run. I was happy with the way he ran, gate to wire.

I've taught him to track horses, be along-side horses. You can see that in his races, he's come from behind and gone by them. The massive crowd at Ascot kind of got him geared up and he knew that what he was on this planet for was to be a race horse. That's why we took so much time with him.
No Nay Never returned to Kentucky following the Prix Morny, where he was turned out at Coolmore's Ashford Stud in Versailles, for two months. Then he went back to Ward at Keeneland where he was galloped for fitness. According to Ward, he regained his form without a hitch and has been posting strong works at increasing distances.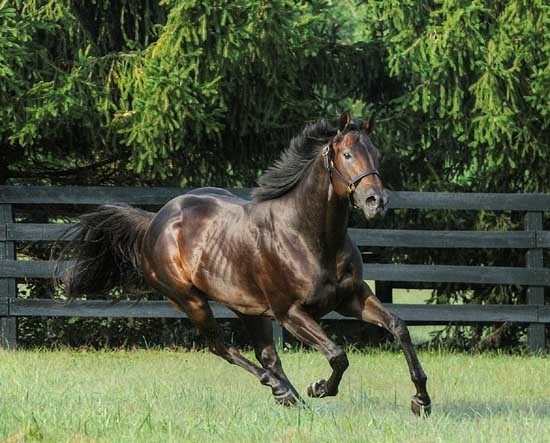 No Nay Never enjoying his vacation turn-out at Ashford Stud, Kentucky
(Photo courtesy of Coolmore Stud)
Trainer Wesley Ward says:
No Nay Never went from the paddock at Ashford right to Keeneland which is just down the street. We gave him about a month of gallops. Breezed him at Keeneland before coming down to South Florida, then galloped for a couple weeks, and started his work schedule down here. Every work has been more impressive than the next.

He works on the dirt at Gulfstream. He's breezed outstanding on the dirt, which I believe is his preferred surface. To me, he moves better on the dirt than either of the other two surfaces. I don't think it matters what he runs on, he's a horse that can handle any firm surface.

He's an imposing horse. A beautiful specimen. You look at him and he looks like a tiger. He's very composed, focused and knows exactly what he's up there for.

He is an athlete, a little more forward than most horses. He's been very relaxed in his works, yet they've been fast with speed to spare, without being too much on the bridle. I'm sure the race is going to be extremely competitive, it's a prestigious race. He is coming to hand so well, I think I have the right horse for this race.

Following the Swale, the owners John Magnier, Michael Tabor, Derrick Smith and Ice Wine Stables, are all very keen to get to Ascot. It's so special to win at such a prestigious meet that we are excited to get a horse of this magnitude back there. Having a dual winner at Ascot would be a shot in the arm.
It's not exaggerating to say that breeding a horse of No Nay Never's quality is thrilling for a breeder. "As a small breeder, you don't think these things are ever going to happen to you. You keep pinching yourself," says Jayne Johnson, No Nay Never's breeder. Johnson and her equine veterinarian husband Mike, own Johnson and Johnson Farm in Shelbyville, Ky. Their main farm was once the home of Colonel Sanders of Kentucky Fried Chicken fame.
Johnson claimed No Nay Never's dam, Cat's Eye Witness, for $30,000 at Turfway Park in Florence, Ky.
She was the first horse I claimed all by myself. I picked her out on her form and her breeding. They almost didn't let me claim her. My trainer was like 'Are you sure?' She was an itty-bitty little thing, she probably didn't make 15 hands then. I wanted her. She was quick, very fast, but was pushed and got stingy feet. Now she's stout and muscular, built well. She's cobby, with a big butt, big shoulder, looks like a Northern Dancer.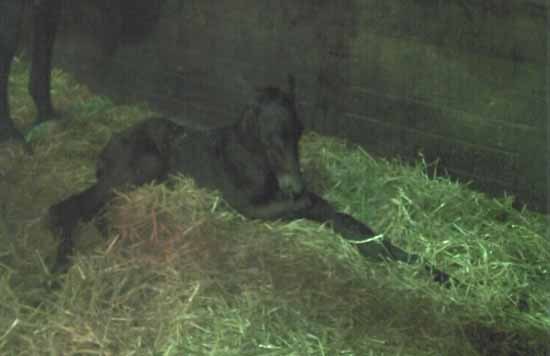 No Nay Never as a newborn foal, Johnson and Johnson Farm, Kentucky
(Photo courtesy of Jayne Johnson)
Cat's Eye Witness' first foal by Songandaprayer died as a suckling. Her second foal, Crozette, was a massive filly by Flashy Bull. It was a tough foaling, to the point where Johnson elected to give the mare a year off to recover. Her next foal, a Scat Daddy, was when lightning struck. This was the colt that became No Nay Never.
Johnson and Johnson Farm is spread over two properties, totaling about sixty-five acres. Says Johnson:
We do it ourselves, with good barn help; we're small. We go year round, doing foaling, doing sales horses. I do the sales prep myself. We feel like the more you can do yourself, the more you have control over and the better job you can do. That's the good part of being small.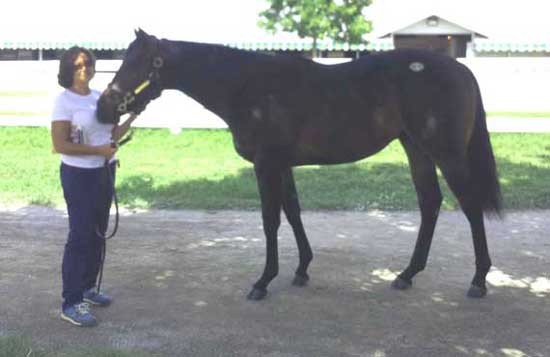 Breeder Jayne Johnson visits with yearling No Nay Never at Keeneland
(Photo courtesy of Jayne Johnson)
Indeed. Johnson sales-prepped the Cat's Eye Witness colt (the future No Nay Never) herself. Her work paid off, he sold for $170,000. Good fortune came again to Johnson, after Coolmore took notice of the colt and obtained an interest in him, they privately purchased Cat's Eye Witness, who was in foal again to Scat Daddy. And for the Cat's Eye Witness connection hat trick, Johnson and a partner sold Crozette, in foal to Scat Daddy, last November for $205,000.
As for No Nay Never's upcoming season, of course Johnson and her family would like to be at the track to see him run. At least for this Saturday when No Nay Never runs in the Swale, Johnson, her husband, daughter, son-in-law and barn crew will be watching from the farm. After all, this is foaling and breeding season, and mares foal on their own timetable. So, even while watching No Nay Never make his 2014 debut with one eye, Johnson's other eye will be on the foaling monitor, watching and waiting for her next big horse to be born.
Calling all HuffPost superfans!
Sign up for membership to become a founding member and help shape HuffPost's next chapter