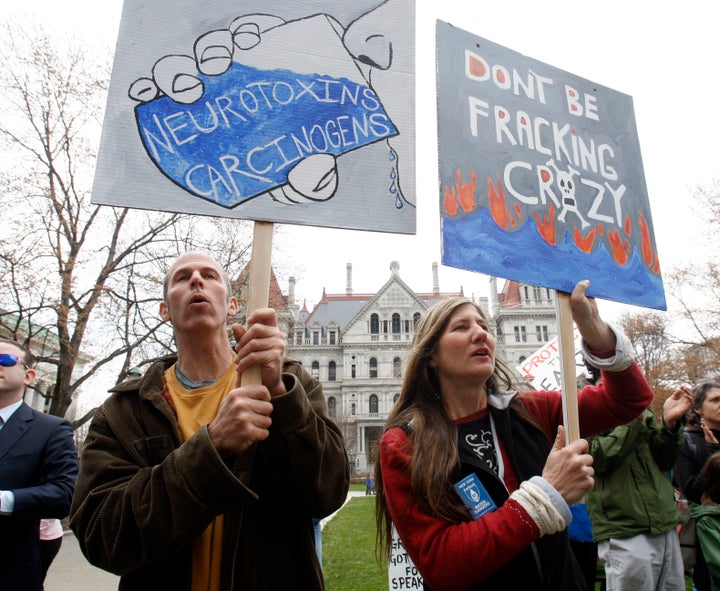 Environmental groups were up in arms on Thursday as news percolated that New York State's moratorium on natural gas exploration using a contentious technique known as hydraulic fracturing -- in place since late last year -- could soon be coming to an end. Yet a variety of lingering administrative hurdles would seem to make any such decision unlikely, at least in the short term.
The state's Department of Environmental Conservation announced late Thursday that it would be issuing on Friday a long-anticipated update to its environmental review and proposed rules for fracking, a technique involving the high-pressure injection of a mixture of water, sand and chemicals deep underground to break up layers of rock and stimulate the release of gas.
The agency said the new review would recommend, among other things, that hydraulic fracturing be prohibited in the New York City and Syracuse watersheds, as well as around primary aquifers and within 500 feet of their boundaries. Surface drilling would also be banned "on state-owned land including parks, forest areas and wildlife management areas," according to the agency's announcement.
"High-volume fracturing will be permitted on privately held lands under rigorous and effective controls," the agency also said, "and DEC will issue regulations to codify these recommendations into state law."
Concerns over the environmental impact of the process, including its potential to pollute groundwater, led to a temporary hold on its use in the state. The moratorium, which was put in place by former Governor David Paterson, was initially designed to last until the state DEC issued its report.
New York's state Assembly had voted earlier this month to extend the moratorium for another year, but the measure was never taken up by the Senate.
The New York Times reported on Thursday afternoon that New York Gov. Andrew M. Cuomo was planning to partially lift the moratorium based on recommendations made in the forthcoming report -- although a spokesman for the governor's office was quoted in the same article as saying the suggestion that Cuomo had made such a decision was "baseless speculation and premature."
Environmental groups have argued that far more analysis needs to be done before the full impact of natural gas development on the state is understood. The U.S. Environmental Protection Agency is currently conducting its own analysis of the impact of fracking on drinking water, and a Department of Energy panel is expected to issue a report on the process later this summer.
"Governor Cuomo has pledged not to allow this practice until it has been proven safe, and we're confident that he'll uphold his promise," said Claire Sandberg, the executive director of the New York-based group Frack Action. "Given all we know about the inherent dangers of fracking — compounded by the new revelations that this industry is in fact just a giant Ponzi scheme that may well bankrupt the state — we expect that Governor Cuomo will not move forward under current circumstances."
Currently, the natural gas industry and the fracking process are largely governed by a hodgepodge of state-level regulations that critics say have proven inadequate.
New York is among several states, including Pennsylvania, parts of Ohio and West Virginia, that sit atop a vast deposit of deep-shale gas known as the Marcellus Shale. The oil and gas industry touts the advent of advanced hydraulic fracturing techniques as being key to opening up previously unreachable or uneconomical gas resources like the Marcellus Shale to development.
"We're eager to give this forthcoming document a thorough analysis, and remain hopeful that it genuinely seeks to balance the responsible development of American natural gas in New York State with common sense environmental safeguards," wrote Kathryn Klaber, the president of the natural gas trade group the Marcellus Shale Coalition, in an email. "Our industry is as committed as ever to helping to put New Yorkers back to work and responsibly delivering clean-burning natural gas to families, consumers and small businesses across the entire region."
Access to these new deposits has also been highlighted by the Obama administration as a key component of the nation's energy future -- particularly as it relates to reducing reliance on foreign sources of energy.
But New York's temporary ban on the process was welcomed by environmental groups as a necessary check on an industry that has exploded in a regulatory vacuum.
"New York is rushing into uncharted and dangerous territory," said Dusty Horwitt, senior council with the Environmental Working Group, in an e-mailed statement. "With drilling companies dumping radioactive wastewater into rivers just across the border in Pennsylvania while flagrantly violating federal law by injecting diesel fuel underground without permits, New Yorkers cannot be assured that drilling can be conducted safely. We must have more guarantees that the industry and regulators can operate responsibly before opening the doors to drilling."
The new environmental study from the state DEC comes roughly three years after the agency first began to examine the potential impacts of fracking and natural gas development in the state. In September of 2009, it first issued an 800-page draft of the study, which is designed to lay out environmental guidelines for the industry.
In December of last year, Paterson issued Executive Order 41, which ordered the state DEC to revise the environmental analysis and deliver a new draft by this summer.
The new environmental study would be followed by a period for public comment of at least 30 days.
Bruce Ferguson, a representative of the group Catskills Citizens for Safe Energy, said he expects the deliberative process to take much longer, given the technical complexity of document and the requirement that the agency review all public comments -- which have run into the tens of thousands in the past.
He also suggested that Gov. Cuomo would be unlikely to pre-empt the federal analysis currently underway at the EPA. The earliest results from that study are not expected until the end of 2012.
"Will New York want to wait to consider the EPA findings," Ferguson said, "or will it issue its plan for fracking without benefit of this study?"
But Chris Tucker, a spokesman for Energy In Depth, a coalition of independent oil and gas producers, said that while deliberations were far from over, his industry was "very much looking forward to producing this resource in a responsible way in and for New York State."
"DEC took its time on this issue, talked to a lot of folks, gathered its own data, ran its own analysis, and is now poised to release what's likely to be among the most stringent and comprehensive regulatory roadmaps ever assembled."
Related
Popular in the Community