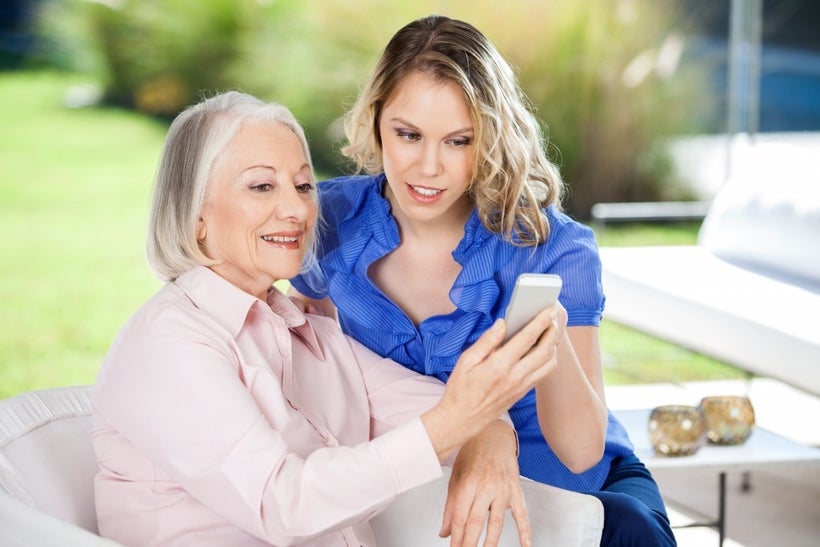 As the caregiver market shrinks, is it possible to arm older individuals with tools to better care for themselves?
Scott Moody the CEO and Chief Client Advocate of K4Connect thinks so. That's the purpose of his tech company; to serve older adults and people living with disabilities through software platforms that integrate devices, systems and applications into a single system that works together and can be managed via a single easy-to-use application. He believes that technology is a tool that can help older adults live in the place they want longer than might otherwise be possible
Among several features, Moody's company works on home automation tools that help individuals live a safer and more independent life at home -- even if alone. Through a central platform that's controlled by the user's smartphone or tablet, it can automate door locks, motion sensors, streaming music, blood pressure monitors and medication reminders, even video chat and photo sharing.
A member of the elder orphan Facebook group thinks tech companies have an untapped opportunity,
I believe there's a lot of opportunity for technology companies in the aging field. I'm in my late 50's and I'm very tech and social media savvy. My mother who read regularly on her iPad was not. My dad was very tech and software savvy and believe it helped him tremendously not so much in making friends but mentally stimulated and connected to the world. He also stayed connected to his children and grandchildren this way. Checking his sports apps and stock prices in the hospital. He loved learning as I do and if my mother was more open to learning...she too would benefit. She could have joined a virtual book club or chronic pain group. Technology opens up the world.
Moody would say the reason her mother didn't use technology much is because it's too complex and not intuitive enough. He made that opinion very clear in a statement to Next Avenue, "One reason is that I don't think people have developed technologies that are easy and intuitive enough to use. I always tell people technology is really only successful when you stop calling it technology." His previous company developed the technology that later became the Touch ID on the iPhone, which he noted is "so easy that you don't even know that you are using technology."
MIT AgeLab has a similar mission, since they're working with Keio University, Japan to understand the application of manlike interfaces to engage and teach older consumers how to use everyday appliances and devices. Instead of a thick instruction manual, the appliance would have eyes to relate to a person, hands to point to the right button and a voice to guide the operator through assembly and use.
The Intimate Features of Aging in Place
Keeping a person safe and comfortable at home through a platform that automates everyday devices is a good start for aging in place. But how about the personal care needs that people have as they decline? If a person intends to live at home as long as they can manage, technology must adapt to those issues as well. The medical term is activities of daily living, and deal with the day-to-day things like bathing, cooking, grooming, cleaning, walking, using the bathroom, and oral hygiene. For these, a person usually hires a caregiver, if they can afford one, and if not, they'll depend on a friend or family member to help.
In 2010, the Census survey projected 36 million baby boomers will turn age 65 over the next decade. That's a vast amount needing personal care. But the scariest number is the shortage of caregivers; the ones we hire, and the first responders, the family members.
As America observes a climbing number of seniors, the amount of caregivers remains stagnant. The Paraprofessional Healthcare Institute's latest briefing, The Future of Long-Term Care, points out the country needs five million caregivers in the next seven years to keep pace with the growing demand from a rapidly aging society. https://phinational.org
Since Japan faces an even bigger problem in the exceleration of aging adults, developers created Carebots which are robots specifically designed to assist the elderly, and it's an industry that's rapidly growing. One-third of the Japanese government's budget targets the robotic caregivers. According to a Merrill Lynch report, the personal robot market, could reach $17.4 billion by 2020.
So, what kind of apps and technology can we develop that assists the elderly in bathing and cooking? Will it be robotics, and if it is, will we be able to afford such care? Technology, especially the kind that K4Connect and MIT AgeLab develops will solve many of our issues as America ages at home, but I still worry about the personal things that we can't do for ourselves, like getting assistance to use a toilet, or to transfer from bed to chair. But I have faith that folks like Moody will come up with something.
Calling all HuffPost superfans!
Sign up for membership to become a founding member and help shape HuffPost's next chapter
This post was published on the now-closed HuffPost Contributor platform. Contributors control their own work and posted freely to our site. If you need to flag this entry as abusive,
send us an email
.