Twice a week, every Sunday and Monday night, around a dozen New Yorkers gather in long, candle-lit studio apartment nestled between a hair salon and some warehouses in one of Brooklyn's latest hip neighborhoods. They're actors, singers, seminarians and new parents, and they sit in groups of six around tables in one of the simplest and most untraditional Christian worship spaces the city has to offer.
St. Lydia's Church has no pews, no altar, no vestments, no band or choir, and little formality of any kind. Instead, church means drums and chanting, with frequent references to Jesus; breaking bread and drinking communion grape juice; and a long, three-hour homemade vegetarian dinner punctuated by Bible readings, a sermon and frequent talk of what it means to be a young spiritual seeker in Brooklyn. The pastor is ordained in the Evangelical Lutheran Church in America, but the members themselves range from atheist and agnostic to evangelical, Catholic and Episcopalian.
Worship services at St. Lydia's church in Brooklyn center around a meal prepared by attendees.
"Growing up, I was really sure in my faith in God and in going to Episcopal church -- I loved the liturgy -- but my sense was that I would never invite a friend of mine to this kind of worship service because it felt like there were so many barriers everywhere, from the look to the feel to the sounds of the place," says Emily Scott, 34, who founded St. Lydia's dinner church five years ago at a friend's apartment (it more recently settled into its new home in Gowanus). "We try to practice the most basic form of Christianity: bread, wine -- grape juice in our case -- water, a meal, singing and a community relationship and connection. I preach, but so does everyone else. We learn from each other."
As fewer Americans identify with traditional religion and more people check the "none of the above" box when asked about their faith, a host of creative, nontraditional spiritual spaces are popping up across the country. They include religious communities that worship and mingle in bowling alleys and cocktail bars, or multi-faith worship centers that intentionally group Muslims, Jews and Christians together. Houses of worship are rebranding, too, hiring architects to design new campuses to appeal to the future faithful.
Traditional churches still dominate the American landscape, but what religious space looks like is undergoing a subtle, gradual shift, with some of the most celebrated new religious communities arising in cities and college towns. The church steeple in the American town square hasn't gone, but it's got some company.
"The declining participation of young people in formal religion has put pressure on religious leaders to try new things," said Duke University sociologist Mark Chaves, author of the National Congregations Study, which in its latest 2012 survey found that 9.3 percent of American congregations met in a building other than a church, mosque, synagogue or school -- a 1.5 percent increase over 14 years. "There has always been innovation happening in American religion, of course, and that continues today."
Here are a few of the ways the future of faith is playing out in religious spaces.
The Common Place Church, which is run out of Avenue 209 Coffee House, in Lock Haven, Pa.
Growing up as the son of a pastor in the Christian Missionary Alliance, Joshua Grimes traveled frequently as a child, moving with his parents between New York and Pennsylvania as they followed his father's assignments, and dutifully spent his Sundays in the pews.
"I always wanted to start a coffee shop," said Grimes. "Before I felt God wanted me to be a pastor, I had always viewed coffee and ministry as two separate things. If I was going to go into church life, I had to give up all my secular occupations."
The two, it turned out, were not incompatible.
For six years, Grimes, 31, has run The Common Place Church, which operates like any other coffee shop on the weekdays, when it goes by Avenue 209 Coffee House, but on the weekends becomes a popular church.
"A lot of churches are now trying to retrofit their churches with coffee shops, to make them more friendly on Sunday. Our vision was to reverse that and have a church that meets in a coffee shop," he explained.
Around 120 people show up each Sunday, split over three services, and worship in a 700-square-foot seating and stage area next to the coffee bar. Most are college students who go to Lock Haven University. On the weekdays, the stage is reserved for local musicians. Worship has music, too, but it's always to the tune of a guitar and drums.
"My theology is that the church is the people, not a specific place," Grimes said. "If the building is the obstacle, let's remove the building and have church in a coffee shop. If you want to have a latte, you can have a latte each day and stay for church on Sunday."
The Pico Union Project looks like any other Jewish temple on the outside. Inside, it's a bustling multi-faith center.
"To many people, what I'm doing is blasphemy. But to others, it's a wonderful celebration of religious harmony," said singer-songwriter Craig Taubman. In 2013 Taubman bought the historic former Welsh Presbyterian Church building near downtown Los Angeles (also the original location of Los Angeles' Sinai Temple) with plans to convert it into multicultural, multi-faith arts and worship center.
The Pico Union Project, as it's now called, regularly hosts Muslim, Christian and Jewish communities for worship, with many of the groups meeting weekly. Among the groups that use the space are Kwang Yum and AE Yang -- two Korean-American Christian worship communities -- as well as Words of Encouragement, a largely black church. At least once a month, the nearly 400-person capacity space hosts events like the Triple D Havdallah Jam, a musical and spoken-word gathering to mark the end of the Jewish sabbath. Earlier this year, the Pico Union Project was the site of the first meeting of the Women's Mosque of America.
Between religious events, the space -- it has two floors, including a main floor with removable pews -- has been the site of a Kirtan concert, the one-man play "Wrestling Jerusalem" and weekly open houses.
"Churches and synagogues across America are struggling because of diminishing congregations. Economically, it's hard to keep the buildings open. If Jews pray primarily on a Friday evening or Saturday morning, and Christians pray on Sundays, then why not share the economic burden between the groups?" asked Taubman, 56, who worked in children's music in the 1990s for Disney and more recently released a series of albums of Jewish spiritual music.
"I'm tired of the dialogue. I'm trying to create an actual practice," he said of what happens in the space. "The only way to love your neighbor is to know your neighbor."
Using proximity to build relationships is also behind the Tri-Faith Initiative in Omaha, Nebraska. The 35-acre campus, currently under construction, will feature a reform synagogue, an Islamic community center and mosque, and a United Church of Christ church all within a short walk of one another.
A Community With No Permanent Home
Young Jews gather in February at one of The Tribe's meetings at a Manhattan photo gallery.
As the 28-year-old assistant rabbi at Congregation B'nai Jeshurun in Short Hills, New Jersey, Joshua Stanton says he's gotten used to seeing a pattern among young Jews: They grow up involved in the temple, go to college, come back to their hometowns, and tend to be much less involved in the religious community than they were when they were young.
He doesn't think they're less attracted to the faith, it's rather that their needs have changed.
"There are a lot of people who are comfortable in synagogues, but there are many others who need to go to a place that is more familiar to them. If that's a bar or hotel, so be it," said Stanton.
Recently, he and Rabbi Ben Spratt of Congregation Rodeph Sholom in New York's Upper West Side started The Tribe, a monthly worship and social gathering of young Jewish professionals who live and work in the city.
Since September, they've hosted Shabbat services on Fridays, as well as Havdalah on Saturdays, in spaces ranging from bar basements to hotels and art galleries. In addition to drinks and music, the events also feature moments of silence, niggunim (Jewish ritual songs), kiddush cups, challah and shabbat candles. Participants lead the night's festivities as often as the rabbis.
"Sacred spaces are made by people who are gathered together for a meaningful experience," Stanton said. "Our goal is to connect with people, not to recruit for our synagogues. It's important simply to get people together -- that's the basis of the future of the Jewish world."
Redesigning The Traditional Worship Space
In Denver, Visioneering Studios designed Stapleton Fellowship Church to be housed in a converted airplane hangar.
Even in the more prevalent evangelical Christian practices, where single-denomination, permanent houses of worship with pews and altars or stages are the norm, many congregations and mega-churches are innovating. Over the last 11 years, Southern California-based Visioneering Studios has designed
of church spaces to create mixed-use sites where shopping, community development, entertainment and worship happen within steps of each other.
"Our original intent was to be the anti-church, punk-rock architects," said Mel McGowan, founder and president of Visioneering Studios, which has offices in Seattle, Dallas, Denver, Charlotte, Nashville and Orange County. "We get back to the root of the world 'ecclesia' as the center of the community. The idea of Jesus saying that you, the people, are the temple."
Outside Washington, D.C., in Chantilly, Virginia, that meant converting a former Anheuser-Busch distribution center, dubbed the "Bud building," into nZone, a 83,000-square foot sports complex that has three indoor soccer fields, two multi-use wooden courts, a gym and a "keg room" (a multifunction room where kegs used to be stored). New Life Christian Church has no permanent worship space, but the keg room is used for preschool worship, and hundreds of members gather on Sundays over three worship services on the sports center's campus.
In Austin, Texas, McGowan's team designed "The For the City Center," a former nursing home that's been converted into a multi-use building in the city's downtrodden St. John's neighborhood. Local nonprofits have offices in the center, which is also used as a weekly meeting space for the Austin Stone Community Church
In Denver, at the Stapleton International Airport, which was decommissioned to serve as the site of a new planned community, Visioneering designed a church in a former airport hangar.
"Even though we are asked to design and build walls, we are literally trying to blow up the walls," said McGowan, who authored Design Intervention: Revolutionizing Sacred Space. "The theology of place is bigger than simply creating sacred space. In fact, the architect and author of the world that created all space intends all of it be to sacred."
Before You Go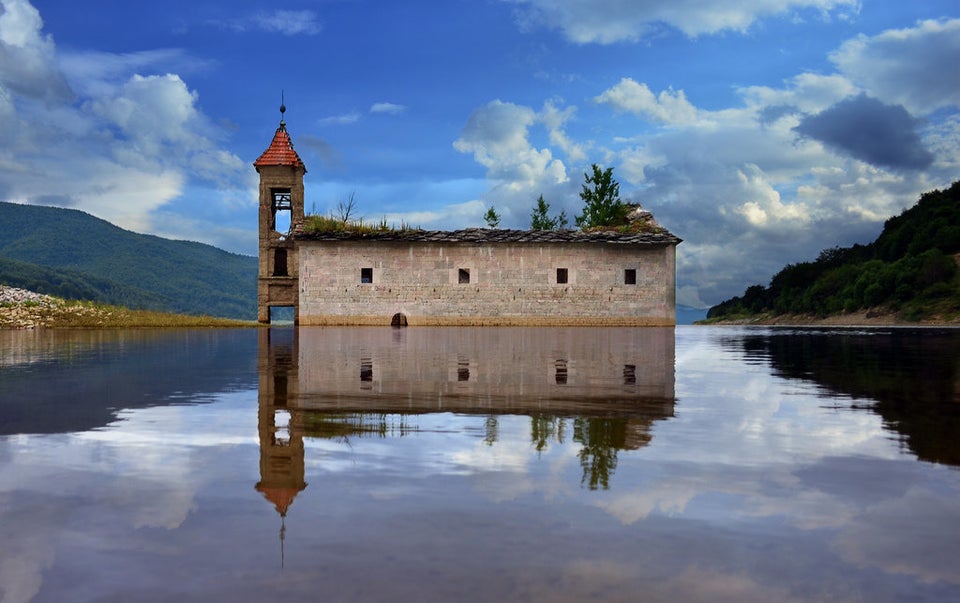 Abandoned Churches