When most people think of Ugg boots, they picture this: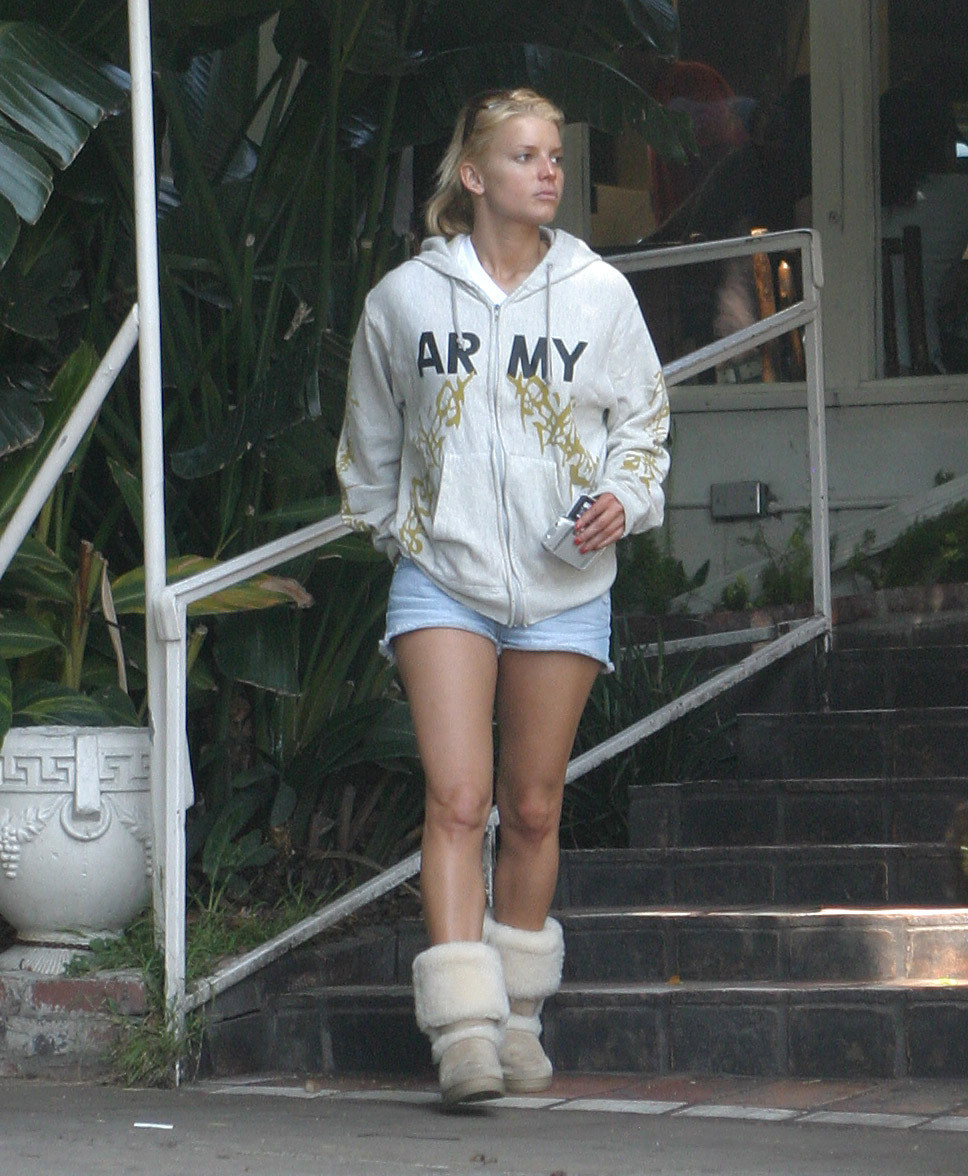 The company that makes Ugg boots would rather you picture this: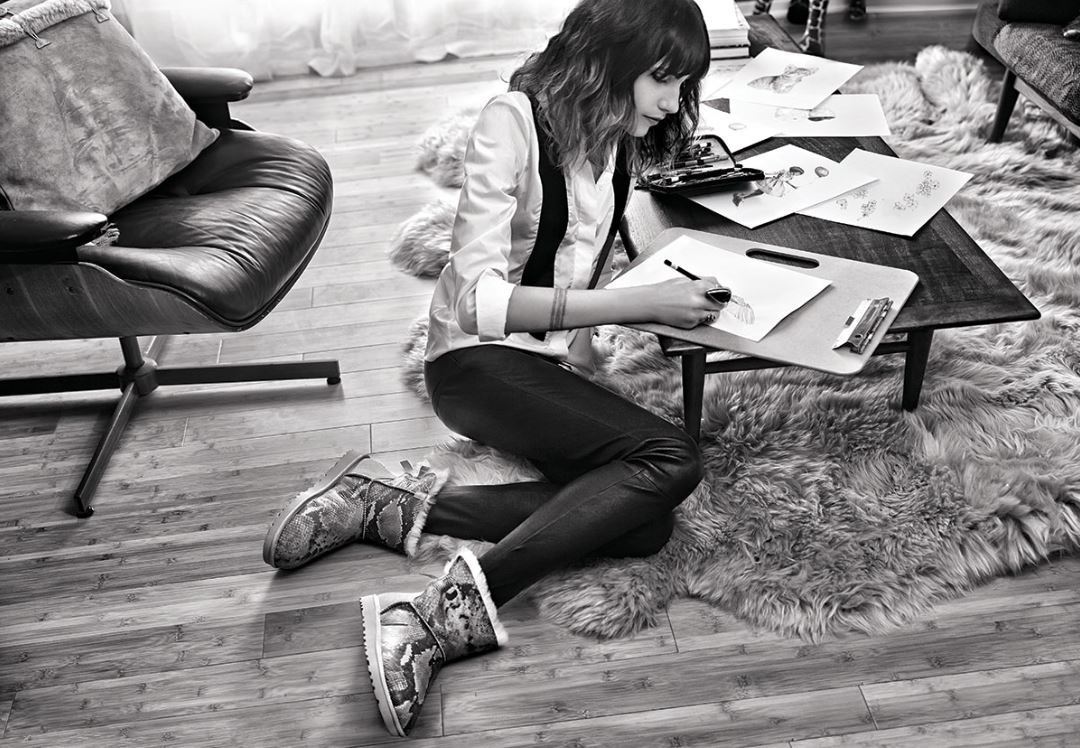 The model in this Ugg ad is wearing Ugg boots, but she is drawing on an $795 Ugg-branded sheepskin area rug with a $145 Ugg pillow on the chair behind her. Oh -- and she's Ernest Hemingway's great-great-granddaughter, sketch artist Langley Fox Hemingway.
Seeking to avoid the fashion dustbin of history, Ugg Australia is plugging away at diversifying its brand. It launches a new advertising campaign on Monday with the tagline "THIS IS UGG" in an attempt to portray Ugg as "universal," with items for men, women, kids and the home -- not just one style of sheepskin winter boots. In addition to Hemingway, the ads feature New England Patriots quarterback Tom Brady.
Connie Rishwain, president of Ugg, told The Huffington Post in an interview this week that she doesn't want Ugg to be "stereotyped" as a mere footwear brand.
Indeed, the brand sells all kinds of stuff these days. Ugg debuted a home goods line in October: knit pillows, blankets and sheepskin rugs. In 2011, Ugg launched a pricier fashion line called Ugg Collection, made in Italy. In 2012, Ugg opened its first men's store. Rishwain said Ugg is trying to go for a year-round feel by offering products under the Ugg name that shoppers can use at different times of the year.
Of course, branching away from a core product isn't always a winning strategy. Another big shoe brand, Crocs, tried a similar move in 2009, but took things too far, the company admitted in July. By putting its name on so many different styles of shoes, Crocs strayed too far away from its heritage, bewildering customers by selling plastic, hole-punched clogs alongside fancy high heels.
Reflecting on the rise of Ugg boots in the mid-2000s, Rishwain said she loved all the press and PR when celebrities like Britney Spears and Paris Hilton were spotted with the classic sheepskin boot on their feet. But it's not 2003 anymore. A decade after Ugg boots became popular, few besides teenagers in Santa Barbara wear them like that, said Rishwain.
"We were really well known for that and it was photographed a lot," said Rishwain. "Ugg has really evolved over the years to be so much more than the boot."
Founded in California in 1978 as Ugg Imports, the boots burst into popularity in the early-2000s after being featured by Oprah Winfrey on her television show, sparking a teenage fashion frenzy. Deckers Outdoor Corp., which bought the brand in 1995 and is now Ugg's parent company, reaped the profit. In 2013, the brand raked in nearly $1.3 billion in sales.
Over the years, Ugg has fought constant criticism. The high fashion crowd has largely dismissed the boots as ugly. Podiatrists have said the boots don't provide proper support, leading to health problems. A U.K. judge warned that the boots are dangerous to wear while driving. Animal rights group PETA mobilized against Ugg, accusing the company of "extreme cruelty to animals."
In spite of it all, the brand has done quite well lately for Deckers. In July, it announced a 22.8 percent spike in Ugg sales to $123.3 million for the quarter, up from $100.4 million the same period the year before.
Sam Poser, an analyst at Sterne Agee, wrote in a note to clients that Deckers, which also owns brands Teva and Sanuk, is benefitting from a trend toward comfort, as clothes like stretchy leggings and yoga pants become increasingly popular.
"Products across brands and categories are gaining momentum," including Ugg, wrote Poser. "Deckers is set up well for the future."
As much as Ugg wants to branch out, it remains dependent on the original shearling boot it owes its success to. The Women's Classic Short boot, which sells for $155, remains the brand's best-seller.
According to the company's market research, Ugg needs the classic boot to attract first-time buyers, who then go on to buy other kinds of products. So, Ugg tries to keep the boot updated. Compared with its days as a teen fashion craze, the stout little booties are now a bit slimmer, with new soles. Designers have added styles with embellishments, bows, embroideries and buttons.
And that boot is here to stay, whether the haters like it or not. In interviews with HuffPost earlier this year, fashion psychologists and stylists said that the classic Ugg boot has surpassed fad status, earning a permanent place on women's feet.
"They have become the winter flip-flop," fashion consultant Kate Schelter told HuffPost at the time. "A banal essential that people cling to out of comfort and freezing temperatures."
Popular in the Community