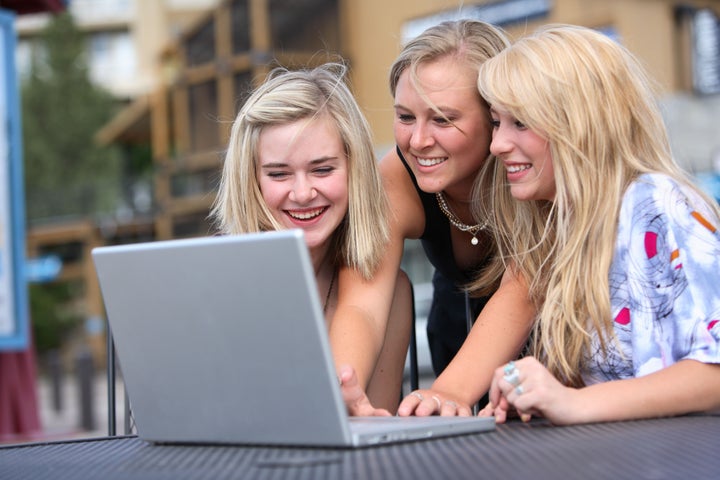 Growing up, the catch phrase "the World is a global village" was the buzzword for the evolution of technology and how the world's borders were fading and becoming less relevant. Today's world is no longer a global village, the world is your room. Social media has helped in making the world turn into this imaginary room with more friends you would never remember. But its future lies not in the size of this room but in how it can be coupled with emerging future technologies.

Social Media has been able to spark revolutions and protests. The Arab Spring through to the "Occupy" movement has proven the strength of social media in its ability to gather individuals with speed irrespective of borders for a unique cause. Social media is fast becoming the de facto standard in which we relate with the world. Everything needs to be more social or its future relevance comes into question.
The future of social media is far beyond a new Facebook layout or just wishing for more "likes" on your Facebook page, it could be how business processes become more efficient or how our regular devices are able to connect and interact meaningfully with each other. For example, a refrigerator should be able to tweet to the manufacturer once a fault is detected while under warranty or automatically order new groceries. Based on the food in your fridge, your refrigerator should automatically like the pages on your behalf and sign you up for free coupons on further purchases.
The social media experience has been that of creating new relationships, adding new friends, getting new likes and so forth but the main question for tomorrow is what should we do with all these relationships we have amassed. How can we analyze these relationships to increase our revenue, to predict the next election, to predict how the stock market is going to fare or to force how the stock market should fare.

Social media is going to have different advantages for all industries. As a case study, from the perspective of filmed entertainment, we could have a simple social media ecosystem as illustrated in the diagram below.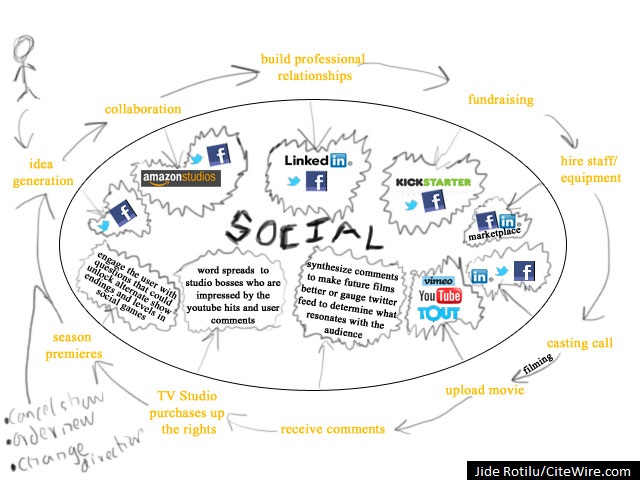 Social media is major at every step in this process. You have the individual with the idea whose daily interactions both offline and online shapes the route of his idea, then he finds out about Collaboration on various blogs and story soundboards. As this is going on, he is building professional relationships also online by meeting Facebook friends with similar interests or connecting with role models, like minds or mentors from LinkedIn. He chooses to crowdsource funds for his idea through Kickstarter or various Facebook donations. He hires the equipment from Marketplace. He does an online casting call, where applicants upload their 15-second video to Tout and their CVs are submitted via LinkedIn. The movie or show is cast and the demo reel is shot. Comments from all sorts of media come in which could shape the future of the show or channel. A TV studio could choose to purchase the right and from here social TV kicks off.

The viewer watches the show while having a second screen device to update his reactions to various plots in real time and chat probably with the directors or other interested individual. The viewer could also be captivated in alternative endings or second life stories that could be unlocked via social applications. Anything that can be done to engage the user once the show is long ended is worth the investment which is going to be the aim of future social investments. The studio and writers would gauge the Twitter feeds and the quality of user engagement across various platforms to set a new direction for the show either by ordering new episodes, cancelling it or setting a new direction. The future is the user engagement would be directly proportional to the future of the show and the viewer input is now going to be part of the content.

Now, imagining African series such as GRA Women or British series such as Coronation Street crowdsourcing ideas from viewers worldwide and generating engagements far long after an episode is ended, or a future where the winner of a pageant can be predicted based on the contestant's Twitter following numbers. In one phrase, "The user's voice is going to wax stronger." We expect the user having the power to make the show go on or to stop the show totally.
Social media's future would have a greater emphasis on networks becoming primary online shopping centers. Social commerce has begun on various social networks but it has not been fully embraced by many brands and is probably nonexistent amongst African brands. We are expecting customers to be able to purchase, rent or stream the filmed entertainment right from the brand's Facebook page or buy products right from the brand's Facebook page without leaving the page.
The aim of the future social network is deeper levels of engagement amongst users and their friends in respect to different brands. In the fusion of social media and filmed entertainment, games or social applications would be the main focus of tomorrow based on the show's characters that would be integrated and created on Facebook or Twitter. This would strengthen the relationship between the audience and the company's brand. Customer progress in the game could unlock new video material and give discounts on purchase of the show memorabilia.
Social media would keep being revolutionary and companies would have to create a new social departments and budget more effectively for it or lose out. For the user to have "liked" your page, it means he has given you the permission to regularly update (market to) him. The user's value in this scenario is zero if there is no differentiation in your proposition that is with the onslaught of data tsunamis, it becomes harder for companies to validate their investment in social media and harder for users to go through the clutter. The return on investment should not be based on the number of likes that has been received on the page but rather by engagement metrics. The future social media would be about engagement metrics and how such engagement would lead to purchases on the social commerce app of the brand or customer satisfaction. For companies, winning the future with social media would be based solely on constant dialogue with buyers.
Companies would focus more on social media as a way to gather poll numbers which would be useful data for their TV advertisement campaigns and for quality control or predictive information for the company's direction.
In the future of social media, we are expecting more detail on a local level. In the sense that, I am able to view the Facebook profiles of individuals around me and view the pages of businesses around me. The novel here is, I should not look for the businesses -- they should be automatically on my screen. To avoid an influx of useless data, the algorithm would pick out information based on my interests. It's all about targeted data in the future. If my interests match the interests of other members in the community or the services from a business in the local community, there should be a platform where we could meet easily without the installation of third party apps. Local awareness is going to be a heavy part in the future of social media.
Social fragmentation would create new markets and it would not just be referred to as social media anymore, there would be social in front of every industry. There would be an uprising of more careers in social media including content curators and data analytics, and various institutions would start offering Bachelors in social media strategies.
So when I decide to go to a local restaurant in London or Johannesburg that one of my friends has been in before, I get a message stating the friend's experience. That's it, it happens automatically, I do not have to check in to Foursquare or any other app, it just happens. If my friend's experience is negative, the restaurant is meant to engage with the customer and look for how to win him back. This sort of discussion is how the restaurant improves it engagement metric.

It's going to be way more than just reading your friends statuses and flipping through pictures but now interacting with more social applications such as games, video messages, augmented reality experiences and so on. There would be a greater emphasis on video such as Google Hangouts, Tout and Tango are showing and this would be a gradual transition from text.
Also as a perk for users, user would be able to gain revenue from the adverts that appear on their profile page or wall.
Any company who does not go social or strategize socially would be at risk of losing base with customers and their competitors would win the race. We obviously cannot live without social media and its place in the future is rock solid. The mind has been expanded to a point we cannot even understand how we were once living without it.
The downside to this future is the fact that you would be leveraging more of your privacy to be more social, there would be more vulnerability in the security and protection of data from social networks. The world has shrunk further to the size of a room but my privacy is the legal tender for its shrinkage. It would get to a point where we would suddenly become "claustrophobic" and get tired of staying in the "room," we would yearn for the distance we so wanted to get rid of.
This article originally appeared on CiteWire (educating Africa one post at a time)
REAL LIFE. REAL NEWS. REAL VOICES.
Help us tell more of the stories that matter from voices that too often remain unheard.