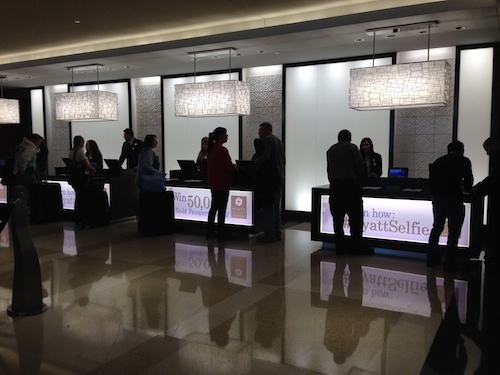 The Hyatt Regency McCormick Place, in Chicago, is using Instagram and Facebook for a "selfie" contest.
The way we travel is changing. And hotels are upping the ante, with technology that's as forward-thinking as your favorite airline -- and, in some cases, your favorite video game.
In preparation for IPW, the U.S. Travel Association's annual tourism convention that took place this month in Chicago -- and while staying at and reviewing a variety of hotels in Latin America during recent travels -- I researched some of the latest technological advances at hotels both large and small. Among the ways your hotel experience is changing:
• In February, Marriott Hotels and Resorts added mobile checkout capabilities to its mobile app, building upon the already existing check-in feature. Later this year, all Marriott hotel properties around the world will offer mobile check-in and checkout -- and it will be available in English, Chinese, French, Spanish and German.
• Personality Hotels, which operates seven hotels in the San Francisco area, this year introduced the opportunity for guests to use their smartphone as a room key, at the Hotel Diva and Hotel Union Square.
• Starwood Hotels & Resorts, which has nearly 1,200 properties in 100 countries, is working on technology similar to what Personality Hotels is using. Starwood is testing an app that will send digital keys to your smartphone, allowing you to skip the check-in desk and head straight to the guest room upon arrival. The new option is to debut this year at two of Starwood's Aloft hotels -- one in New York City and one in Cupertino, California.
• Yotel New York City, located near Times Square, allows arriving guests go directly to airport-style check-in kiosks, and only interact with a human if they really need to. Should they need to store luggage, a giant robotic arm called the Yobot serves as a bellhop.
• Hotel 1000, a member of Preferred Hotels and Resorts in Seattle, features guest rooms with heat-detecting body sensors that indicate to housekeeping staff when a room is occupied; it's a kind of automatic, 21st-century "do not disturb" notice (guests can still push a button to activate the electronic "do not disturb" manually). Hotel 1000 also offers a "virtual golf club" -- an interactive venue that allows guests to try their skills in virtual recreations of famous courses like Pebble Beach and Pinehurst. An infrared tracking system calculates the velocity, spin and trajectory of the ball.
• Hotel Zetta, a member of the trendy Viceroy Hotel Group in San Francisco, has a decidedly adult-oriented Playroom that -- in addition to pool table and shuffleboard -- is stocked with Nintendo gaming consoles and a 30-foot Plinko game wall.
• The Eventi, a Kimpton Hotel in New York City, has opened a Business Bar -- a service that provides travelers with loaner Apple products, including iPads and MacBook Pros, as well as Kindle and Nook tablets and digital cameras.
• Carlson Rezidor Group, which owns Radisson Hotels, has introduced a mobile game app called Rad Hotel by Radisson that puts travelers in virtual "management" roles, challenging them to oversee the complex operations of a hotel.
Who knows -- after playing a game like Rad Hotel, travelers might even learn a bit of appreciation for the hard-working people of the travel industry.
Popular in the Community