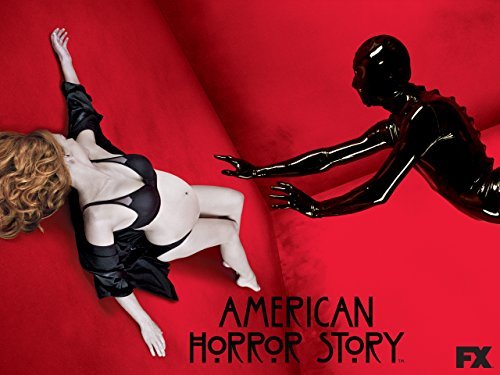 FX aced its American Horror Story promos leading up to the October 2011 premiere: even as someone who isn't typically into horror stories, the singular image, above, that was used to advertise the show -- notably, with no other explanation -- did the trick. It's visually arresting, with an undeniably menacing creature (is it even human, I wondered?) defying gravity as it approaches what appears to be a Victoria's Secret runway angel who has passed out from malnutrition, all set against a sensual backdrop that implies both the satin sheets of a bordello and the outpouring of blood. This image alone supports the title of the series: it tells a story, asking questions that beg to be answered. Is this an S&M thing? Probably; the person who viewers would come to know as "Rubber Man" is in a telltale vinyl (Latex? Is there a difference?) outfit, and there's obviously an intensely sexual implication here. At the same time, Rubber Man is defying the laws of nature, and we are told this is a horror story by the title, so... what exactly is going on? You have to watch to find out.
So I watched, and I was really taken by so many aspects of the show. First and foremost, it didn't look anything like any television I had ever seen: the cinematography in the first couple of seasons of the show always has been a primary aspect of the storytelling; in later seasons, it's seemingly the only attempt left at telling a story. Almost every still from every episode is a sort of work of art, and that was striking from the very beginning.
The first series, later titled "Murder House," also defied expectations in that it exceeded all expectations. Yes, it was a horror story; in fact, it was a pastiche of horror conventions that by virtue of being a haunted house story risked running out of ideas as a television series. But unlike the vast majority of horror genre movies, there was a clear investment in acting here -- Jessica Lange would come to inherit all credit for the show's success (understandably; she wins every scene even when she's not looking for a fight) but, oh my God, Connie Britton, Dylan McDermott, Frances Conroy all shone in their respective roles, and Evan Peters, Kate Mara, Lily Rabe and others became bona fide breakout stars. It's something when an ensemble cast like this, largely composed of little-known actors, finds a way to give each his or her own stronghold that creates a cult following.
And so it went with "Murder House." The pilot episode was novel and perplexing, and after setting up tensions between McDermott's and Britton's husband and wife, that alluring title graphic was explained, horrifically, by letting viewers know what Britton's character (probably) didn't: the man in the rubber suit who ravaged her was not her husband. For someone like me who isn't into gross-out, slasher-type horror, the psychological approach is far more terrifying. The first season went on to show a number of other truly affecting horrors, including an extended school shooting scene that still bothers me to this day -- and reflecting on it after last week's mass murder at an Oregon College, I can't say I support the idea of ever showing a school shooting in any version of media again because of the inevitability of inspiring would-be copycat shooters. Still, stepping down off my soapbox, that scene accomplished what the show creators intended: it really tapped into American anxieties and showed viewers our worst nightmares come to life.
Cut to October 2015's premiere of American Horror Story: "Hotel" (aka Season Five). As always, the show's visuals are beyond arresting: many still frames, if framed and presented in a gallery, would work as legitimate art (of a certain genre, anyway). Even when grotesque, American Horror Story is stunning to look at. And... well, that's about all.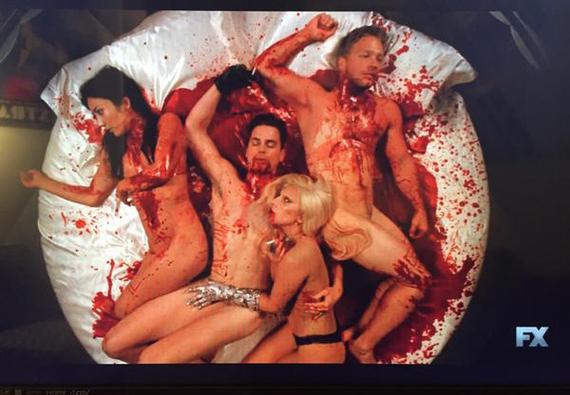 Since AHS rebrands with a new post-colon subtitle, and since the show never shies away from referencing any previous incarnation of horror entertainment that it can squeeze in, I have a suggestion that may not be too radical: change the name of the show to American Horror Picture Show. Incrementally, season by season, the story part of this show has given way to a focus on gross-out graphics. If there is any story left at all, it is incidental: I like Wes Bentley - -as with all things on American Horror Story, he's interesting to look at -- but I don't give a damn about the cop-father the show wants me to invest in. Who cares? All the action in the premiere of "Hotel" took place in the hotel, and all that action was a series of self-one-upmanship of gratuitous gore, violence, and naked bodies. The "Murder House" season inspired so many questions about what was going on throughout the run of the series. Here are the thoughts that ran through my mind during "Hotel's" premiere:
Wow, this set is incredible.
When is Lady Gaga going to show up?
How do all these junkies manage to work out six days a week and look like Men's Health cover models?
When is Lady Gaga going to show up?
That was gross.
When is Lady Gaga going to talk?
Oh. Maybe she shouldn't have.
That was sick.
Jesus, do people really get off on watching these... holy crap, that's actually on basic cable?
Eww.
Kathy Bates is talking about chicken livers because...
"Hotel California." Oh. I get it now. A whole season inspired by a hit song... um... maybe it's time to give up on this thing.
That was it. Surely, American Horror Picture Show is a feast for the eyes... certain eyes, but the way it's gone over the years, not mine. Cut throats, hanging people with hanging entrails, murder-orgies, plucked eyeballs, Lady Gaga stomping stiffly through corridors as if she's on an Alexander McQueen runway. I mean, OK, if that's your thing, that's cool... it's a far cry from "Murder House", though, and I guess I kind of resent that I am still watching this show because I was baited by the first season's -- and it should be said, the second one, as well -- actual storytelling, and all that's left if the season premiere was any indication is a 90-minute picture show, a moving gallery of body parts, blood, and skin that makes for uncomfortable viewing for this viewer.
So as not to be a total jerk, I'll end on a complimentary note: I still love Lady Gaga and think she's a bundle of talent; this show just isn't making use of it. Also, I really enjoyed the short moments of Chloe Sevigny complaining. If nothing else, American Horror Picture Show reminded me how much I loved HBO's Big Love, and I'll be rewatching the series, episode by episode, every Wednesday at 10:00 p.m.
REAL LIFE. REAL NEWS. REAL VOICES.
Help us tell more of the stories that matter from voices that too often remain unheard.