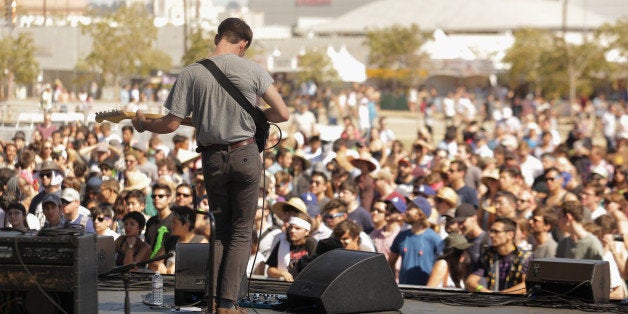 FYF Festival hasn't hit its teens yet, but the 10th annual festival showed that its grown up and is ready to join the big boys in the Southern California music festival scene.
FYF Festival rocked the Los Angeles Historic Park over the weekend, concluding Sunday with a raucous, eardrum popping set by the Irish indie-rock band My Bloody Valentine, celebrating a landmark in the young festival's evolving life.
While previous years have showcased great bands like M83, Sleigh Bells and long-awaited reunions like The Descendents and more, fans who came to celebrate the milestone with FYF this year said the lineup really brought the festival to another level.
The more than 25,000 people at the two-day festival saw a James Brown-esque performance by soul singer Charles Bradley, who was carried off stage so he can hug fans after his set, and a light and sound interactive show by electronic musician Dan Deacon, who chose "captains" in the crowd to help direct fans to dance and cheer.
Even Blake Anderson, comedian and actor on the hit Comedy Central show "Workaholics," said the festival was a hit.
"I come for the music and the beer, and this year the music hasn't disappointed," he said.
On Saturday, the Yeah Yeah Yeahs brought the bigger-than-FYF kind of feel to the night as the band closed out day one of the festival. Decked in sequins that made her shine like a disco ball, frontwoman Karen O amazed fans with her energy and ability to hit high notes like banshee.
"It's really gotten bigger and better," said Raquel Ojalvo of Los Angeles, who attended the festival back when it was still just a small gathering of musicians and comedians in Echo Park. "I know a lot of people don't like things when they get too mainstream, but I don't think FYF has sold out. They've just been able to attract better headliners, which is a good thing. They still have some great up-and-coming bands."
Kevin Whan of San Diego agrees, adding that FYF often is a great way to preview "the next big thing" as many of the festivals acts tend to be on the bill for next year's bigger festivals like the Coachella Valley Music & Arts Festival.
But Whan and other fans are quick to note that FYF is "nothing like Coachella" --and they like it that way.
"This festival really targets a different kind of fan," said Freddy Ibarra of San Diego. "Coachella is more diverse, but that also means you get a bunch of people who aren't really into the music scene as they are into the party and dance scene."
Festival founder Sean Carlson, a Los Angeles area native who was born in Torrance, said he never thinks about comparing FYF to Coachella as "it's a L.A. festival that is downtown booked with L.A. people in mind."
"This is really my favorite festival," Ojalvo said. "It's for locals, by locals."
(c)2013 Daily News (Los Angeles)
Distributed by MCT Information Services
REAL LIFE. REAL NEWS. REAL VOICES.
Help us tell more of the stories that matter from voices that too often remain unheard.
BEFORE YOU GO
PHOTO GALLERY
31 Of The Most Rock 'N Roll Shots From FYF 2013