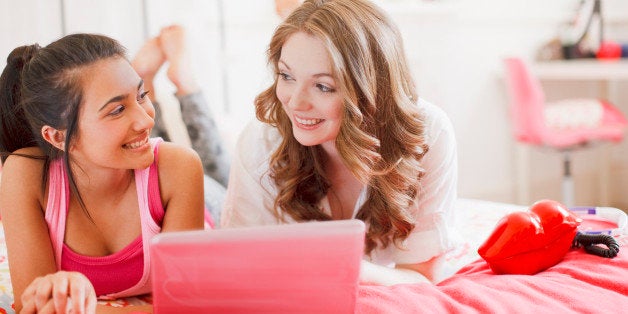 One mother's advice became another parent's point of outrage this week, after a blogger's "FYI" to teenage girls sparked a contentious debate over female bodies and sexuality.
With a chummy tone, the mom cautions teenage girls to be careful about what photos they put online. She goes on to say the pictures will be judged by the Hall family, and those who are found to be posting too explicit images will lose social media friend privileges with her sons.
"Last night, as we sometimes do, our family sat around the dining-room table and looked through your social media photos," Hall wrote. "We have teenage sons, and so naturally there are quite a few pictures of you lovely ladies to wade through. Wow – you sure took a bunch of selfies in your pajamas this summer!"
Hall notes how the girl (or girls) in the photos appear to not be wearing a bra. She also "can't help but notice the red carpet pose, the extra-arched back, and the sultry pout. What's up? None of these positions is one I naturally assume before sleep, this I know."
These suggestive poses and outfits apparently sadden Hall, who writes that she would hope better of a self-respecting young lady.
"Those posts don't reflect who you are" Hall exclaims. "We think you are lovely and interesting, and usually very smart. But, we had to cringe and wonder what you were trying to do? Who are you trying to reach? What are you trying to say... Did you know that once a male sees you in a state of undress, he can't ever un-see it? You don't want the Hall boys to only think of you in this sexual way, do you?"
"[Hall] outlines her urgent plea in a blog post that includes half-naked photos of her saintly sons flexing their muscles at the beach," Jezebel's Katy J.M. Baker wrote. "It's not meant to be ironic."
Others decried what they perceived as "slut-shaming" on the part of Hall.
Mommyish blogger Koa Beck wrote that the "real issue here is sexist perception and the fact that we've culturally deemed a young girl in pajamas as innately salacious, but young men in bathing suits showing off their bods is just a wholesome PG time for all. 'FYI (if you're a teenage girl),' this is pot meets kettle, the slut shaming edition."
Huffington Post blogger Mike Julianelle, for example, wrote that while he would certainly caution any of his (hypothetical) daughters against posting suggestive pictures online, he will just as certainly be teaching his son "that just because he sees a picture of a naked or half-naked or three-quarters naked or fully naked girl or woman or boy or man online, and just because he can't 'un-see' such a picture, that doesn't mean he has ownership over that person, or that he has the right to shame that person, or that he has any idea of who she really is based on a photo or that it's OK for her to be nothing more than a sex object to him."
"If this post was coming from a potential employer, it wouldn't be labeled 'slut shaming,'" Gosser wrote. "It would be labeled 'common sense' and 'professionalism.' If you think a teenage girl is too young to consider professionalism, then she's probably too young to be uploading suggestive photos."
Popular in the Community