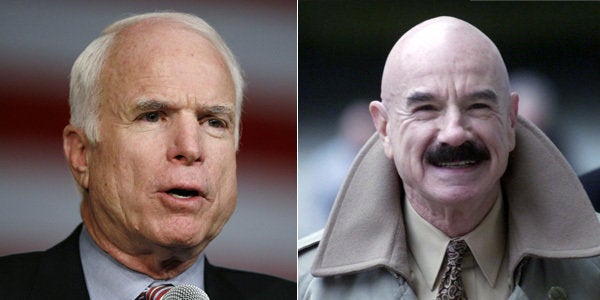 Obama has said repeatedly that Ayers' radical past (he was involved in a handful of bombings in the 1960s) occurred when Barack was just a child, and he repudiates those actions. Nevertheless, McCain wants more. He claimed recently:
"I think not only a repudiation but an apology for ever having anything to do with an unrepentant terrorist is due the American people."
Now, however, the Chicago Tribune is pointing out McCain's own radical associations with G. Gordon Liddy:
How close are McCain and Liddy? At least as close as Obama and Ayers appear to be. In 1998, Liddy's home was the site of a McCain fundraiser. Over the years, he has made at least four contributions totaling $5,000 to the senator's campaigns--including $1,000 this year.

Last November, McCain went on his radio show. Liddy greeted him as "an old friend," and McCain sounded like one. "I'm proud of you, I'm proud of your family," he gushed. "It's always a pleasure for me to come on your program, Gordon, and congratulations on your continued success and adherence to the principles and philosophies that keep our nation great."
For those who are unaware, Liddy helped plan the Watergate break-in that would cost Nixon his presidency and landed Liddy a four-year jail sentence.
But Liddy's career of inflammatory statements and actions exceed his Watergate actions.
"I wanted to bomb the Red River dykes [sic]. It would have drowned half the country and starved the other half. There would have been no way the Viet Cong could have operated if we had the will-power to do that."
"If the Bureau of Alcohol, Tobacco and Firearms insists upon a firefight, give them a firefight. Just remember, they're wearing flak jackets and you're better off shooting for the head."
When he listened to Hitler on the radio, it "made me feel a strength inside I had never known before," he explains. "Hitler's sheer animal confidence and power of will [entranced me]. He sent an electric current through my body."
Popular in the Community