Warning: This article contains graphic nudity and may be inappropriate for work.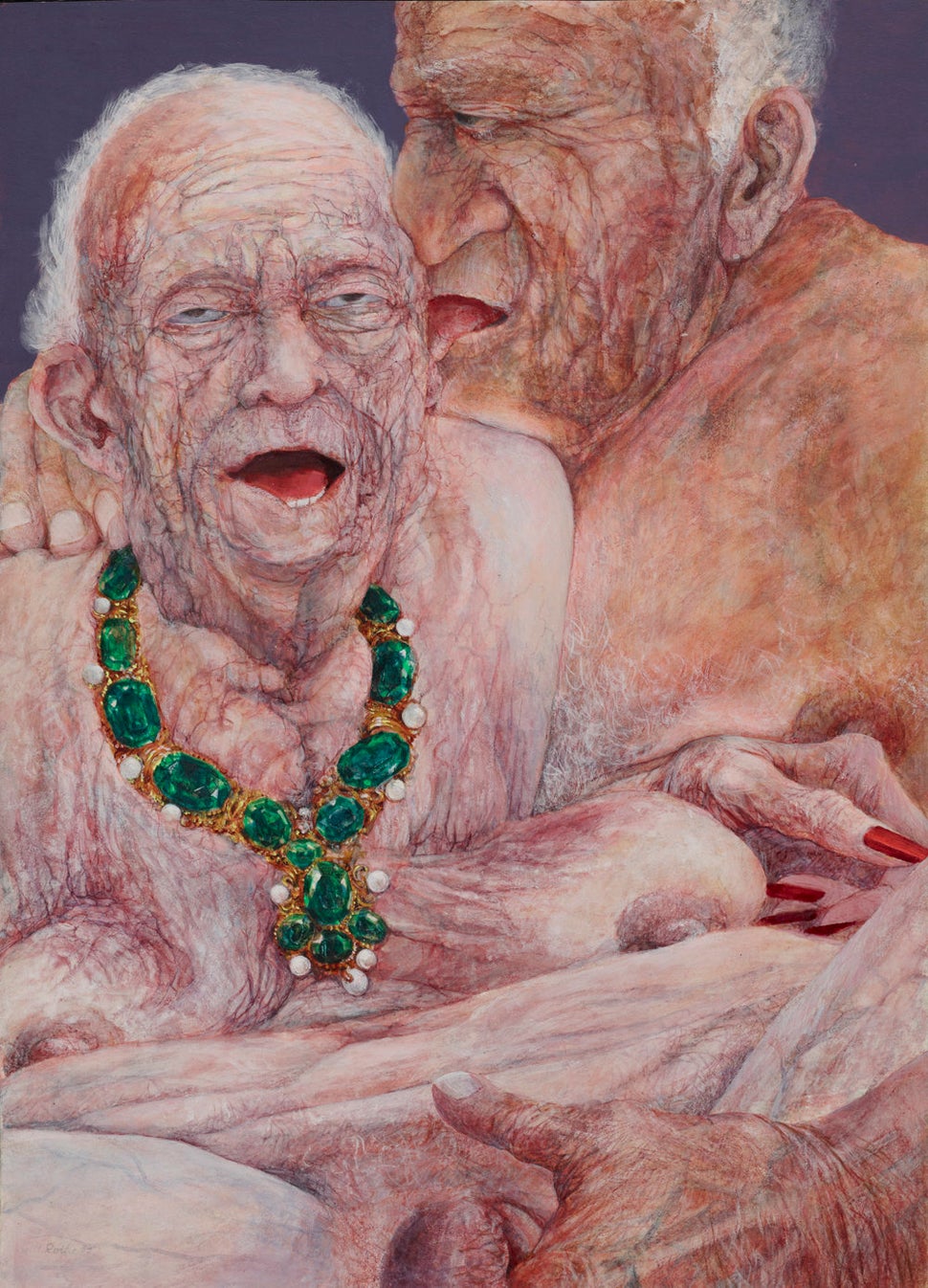 You've probably never heard of artist G.H. Rothe. If, perchance, you have, you're likely familiar with her commercial mezzotints, depicting horses, landscapes and dancers mid-leap. They're the kind of thing you might find in a dentist's waiting room, a schlocky hotel lobby, or the powder room of an equine enthusiast. While Rothe's career as an artist is characterized by her some 30,000 mass-produced tints, it appears that the German artist, who died in 2007 at 72 years old, had other, more NSFW interests. 
You see, when she wasn't hard at work creating a galloping herd of horses fading in and out of lucidity, Rothe was delving into subject matter far less dentist office-friendly. Specifically, the sexual relations of the retired set. An ongoing San Francisco-based exhibition titled "Seven Paintings" introduces these never-before-seen images to the public for the very first time since their creation in 1987.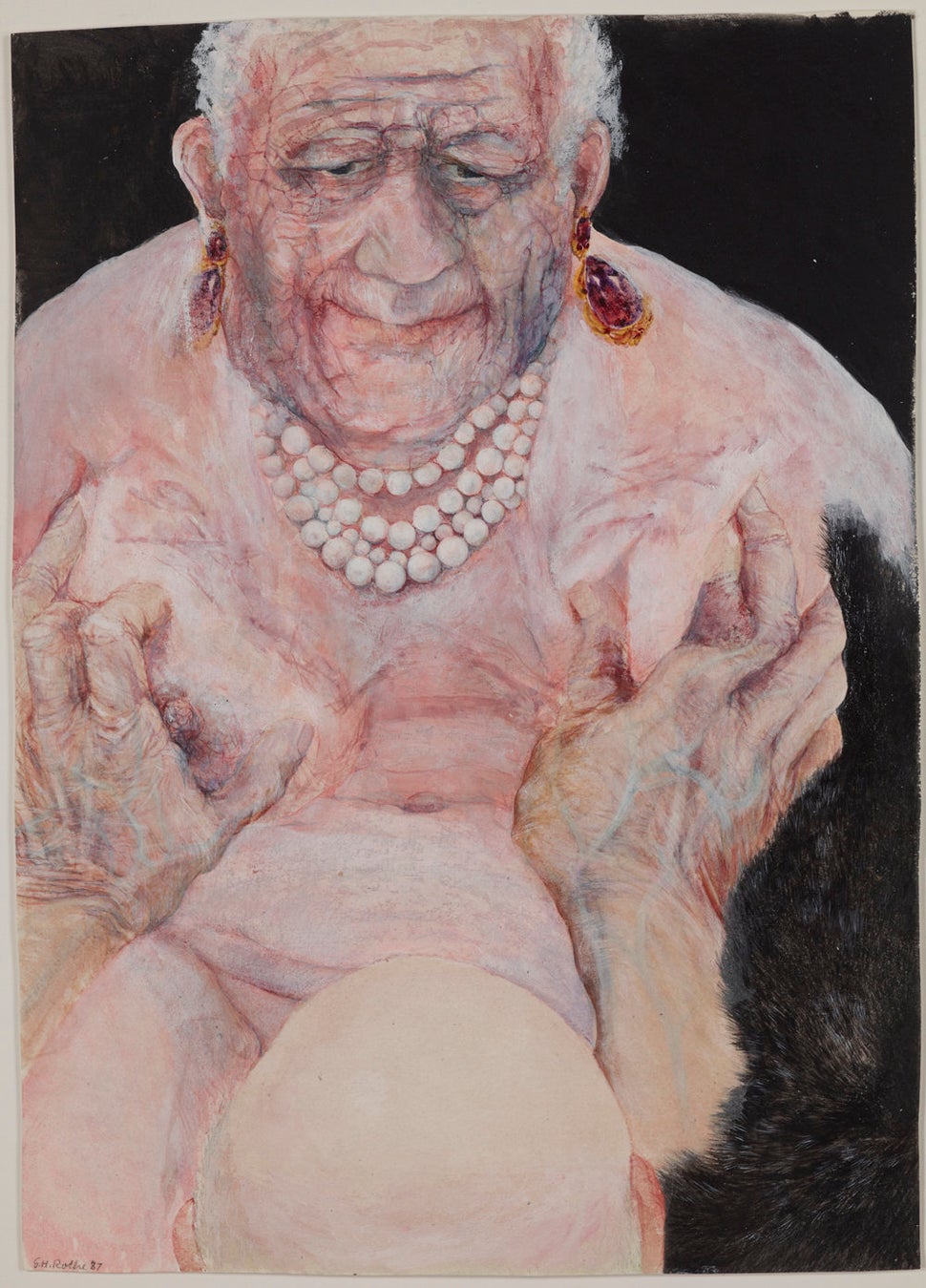 Rothe's paintings chronicle an older couple at various stages of getting it on. There's face licking, breast caressing, manual stimulation and oral sex, to name a few acts. In one particularly graphic image, a woman worships at the altar of a wrinkly scrotum. White hair protrudes in weightless tufts from heads, eyebrows, nipples and genital triangles. Nearly translucent skin yields to the body's bustling ecosystem of blue veins, red arteries, peach clusters and purple clots.
Yes, Rothe's subjects, unlike those usually permitted to engage in erotic pastimes on a public platform, are old. At once dream-like and painstakingly realistic, Rothe's paintings revel unabashedly in the imperfections of the aging body, while depicting the oft misshapen reality of sex as it appears in real life. In the canvases -- between the sex act itself and the grizzled bodies of the participants -- bodily boundaries loosen up, giving way to an undulating landscape of breasts, thighs, bellies and other pinkish stretches of meat. It's as if Rothe is capturing the strange sensation of bleeding into another person, both indulging in the pleasure and illuminating the gross uncanniness of it all. 
Somewhere between James Ensor's haunting dreamscapes and Lucian Freud's exploration of flesh's alien glow, Rothe's work renders a usually invisible act in a style at once euphoric, grotesque, sentimental, and kind of hot. The fact that many of the subjects are donning Titanic-esque jewels for their romps feels like one final punchline -- that human beings, the fleshy, pleasure-hungry animals we may be, opt to adorn our naked bodies with fancy gems, as if covering up our inherent grotesque beauty.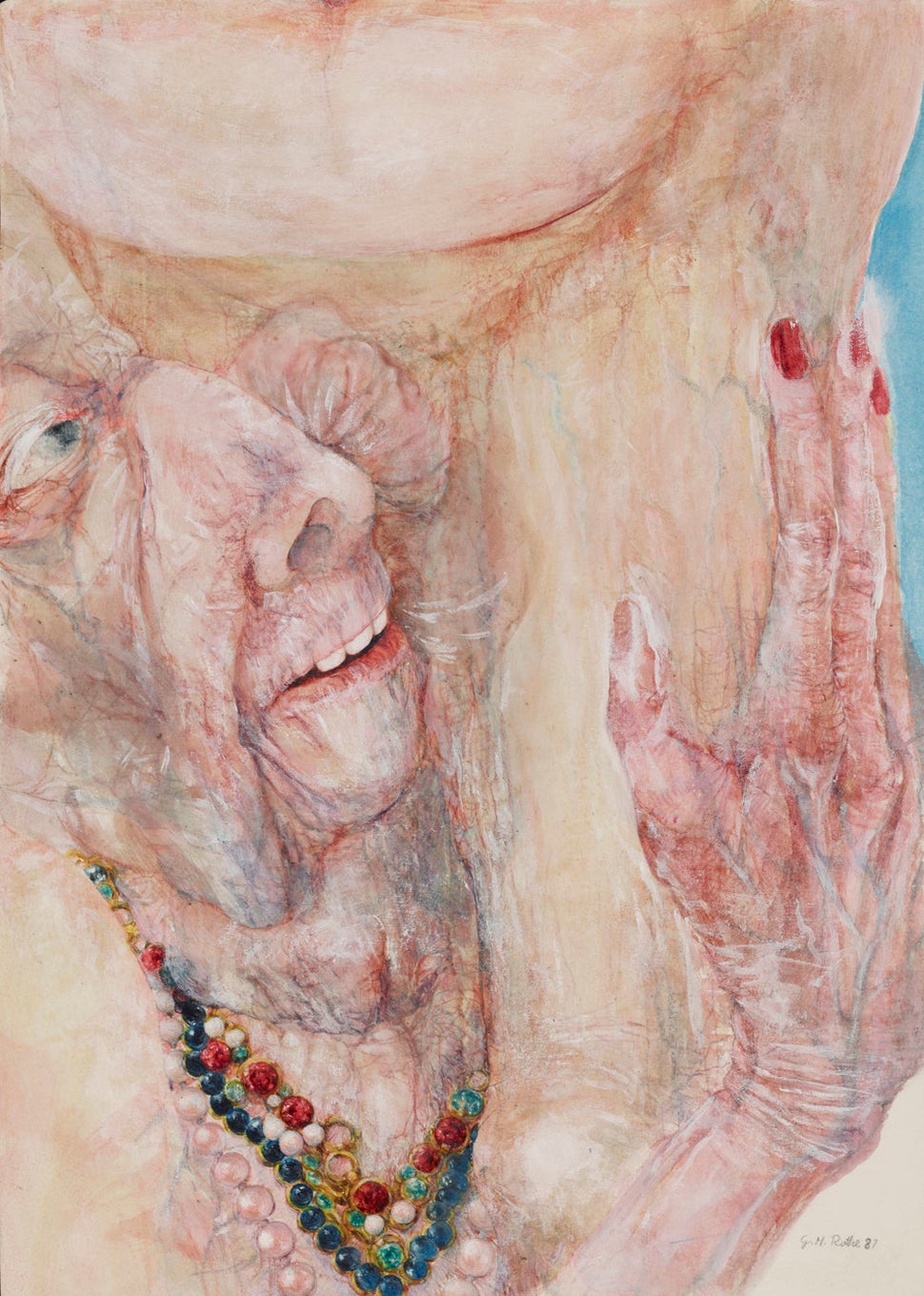 Whether or not you see the extremely graphic images included as unsightly, inspirational or simply uncomfortable is up to you. Hopefully you'll taste all of the above.
In a world where sex between elderly individuals is often hidden from view, Rothe's paintings illuminate the beauty in all the the ugly imperfections, awkward moments and unflattering positions. Thanks to the mouths clenched in anticipation, so much so that lips disappear into the blackish orifice between them, and the pearl-colored breasts, which hang free and loose like overripe fruits, we grasp the immense intensity of love, an intensity that, against what we're so often told, doesn't fade with old age. 
PHOTO GALLERY
Things That Can Affect Your Sex Life
Calling all HuffPost superfans!
Sign up for membership to become a founding member and help shape HuffPost's next chapter