Garrett Dutton, a.k.a. G. Love has been out hustlin' his unique blend of hip-hop inspired blues music for over twenty years with his band Special Sauce. I caught up with G fresh off his recent tour to talk about his career, his appreciation for the arts, and his newest CD Loves Saves the Day.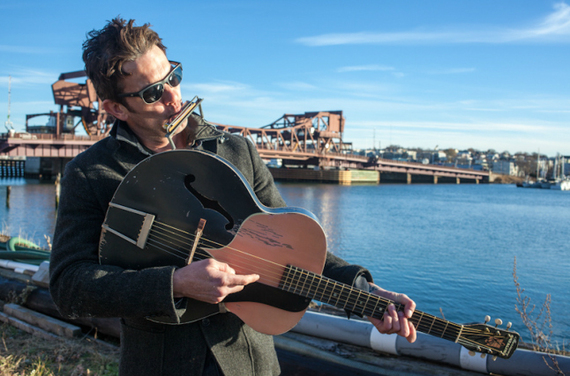 Photo courtesy of Daniel Tedeschi. danieltedeschi.com
A Philly boy in Boston. Why did you decide to reside in Boston rather than any other place?
GL: This is my second time living in Boston. The first time was kind of by choice back in 1992. I moved up here to be a street musician because it was legal.
GL: No. In Philly you could get booted out. You could do it, but like if it was a busy night on South Street, which was the ghetto Newbury Street of Philadelphia, the cops would be "you need to beat it, man." So that got pretty insane down there. So I went to Inman Square and got my permit, and then I was playing the T, and then Harvard Square in the summer of '92, and then I met my band, and then we got a deal actually out of Philadelphia, and then we hit the road and then moved back to Philly because any time that I was off the road was a holiday so I wanted to be at home with my friends and family. Then the years went by and on a day off, we were staying at that Holiday Inn near Fenway and my drummer goes, "hey, you want to go see my ex-girlfriend's new boyfriends band?" I was like "all right." So we went to the Kendall Café and I ended up hooking up with this girl and she moved to Philly and we had a baby. Anyhow, years later we broke up, she moved back to Boston, and is married to Will Dailey, so then I moved up to Boston to follow my son up. And that's why I'm here. So, the first time was to follow my dream, and the second time was to follow my kid. I've been back up here for about nine years. I love Boston, but I travel a lot. Other than my kid, I don't have too much of a scene here. I'm either on the road, or home chillin' and can't sleep in because I have to take my kid to school.
When I listen to your music, it feels like the blues and hip hop had a baby and they called it Garrett. What was more influential, the blues or hip hop music?
GL: (Laughing) I would say that there were two sides of me. I had this book that I found in my high school music room called something like The Complete Folk Song Collection of Alan Lomax. Then on the other side, this is gonna sound kind of corny, but since we're the same age you might remember the movie Crossroads.
GL: That movie, as a musician watching it, had a really profound affect on me. And seeing and hearing about this legend Robert Johnson and how the blues could beat this terrible heavy metal which I hated. And how there was this romantic lifestyle and I really reacted to it. And then I was trying to figure out how someone like John Hammond was making his guitar and harmonica sound like that because he was not strumming and he wasn't just breathing in and out on the harp. Everything was like this elevated performance. He was playing riffs and playing an acoustic guitar. All my friends were in bands playing music like The Cure and stuff. I am like, that's not it for me. I'm playing the acoustic and not just strumming it, I'm playing the shit out of it. I'm also playing the harmonica, not just breathing; I'm really trying to play it. Now the flip side was, I'm a teenager in Philly, an East Coast city, right when hip hop was exploding. Now back then, every Friday night, there was a program on the radio called Street Beat with Lady B on Power 99FM. I remember hearing the Public Enemy stuff and be like, that was scary. And then you'd hear from your friends and you'd be like, what was that, and they'd say, that was De La Soul, and then you'd wear that out, and then you'd be like, what was that? And they would say, oh that's Boogie Down Production, or KRS-1, or The Beastie Boys, or RUN DMC, or LL Cool J. So from like 12 to forever that was what I was rocking. The musical side, I was just doin' it alone, but when you're hanging out with your friends, as a teenager in Philly, everybody went from like basketball and break dancing when you were in 8th grade, to skateboarding and writing graffiti, and then smoking weed , then everybody was starting to DJ and get into music. And from there the worlds all collided.
When did you start to realize that you had a signature sound or style?
GL: I remember the first time it happened. There was this one night I was out on 2nd and Lombard in Philly and I had been playing out on the street all day on a Friday night in the summer of '92. I was playing on the streets really regularly. This particular night I made about 60 bucks, a joint and a couple of cigarettes and a beer and I was feeling loose. I finished playing this riff that was kind of like this on the one blues style riff then I started rapping this Eric B & Rakim Paid in Full lyric over the top of it. I realized right then, oh shit....this is it! Then later that week, I was like....I can do that. So that week I wrote my first rhyme that was called, A Rhyme for a Summertime, which was about being a bike courier in Philadelphia. I was never a courier, but that was my thing back then, writing about scenes of the city. I wrote a song once about basketball courts, and writing graffiti, there's one about homeless people, I wrote a lot about racism and the tension, especially when I moved to Boston. I felt it more up here than I did in Philly.
You named one of your albums "The Hustle". Can you elaborate on how important hustling is for a musician trying to come up in the industry?
GL: Yeah man. Just because the fact that you'll see so many talented musicians, some people made it out, and some people didn't. A lot of it has to do with work ethic a.k.a 'the hustle' and the ability to always put yourself in a position to do something or to show your shit off. And I think I always had it, because back in the day, if I wasn't out, if I wasn't practicing or writing, I'd be playing on the street or at a gig, and when I wasn't doing that, I'd be a Kinko's fuckin' making stickers and then plastering them all around Boston. Or making calls to The Middle East trying to get an opening slot or to whoever else the local booking agents were. They were the toughest guys to deal with when you are first starting out.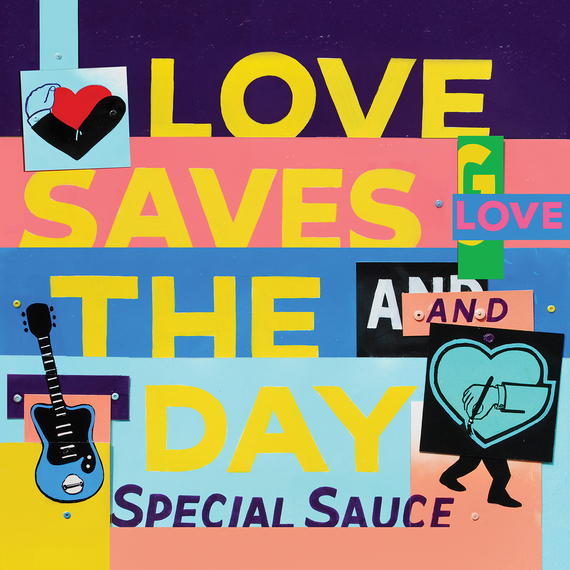 Your album Sugar had a nice run in 2014, and now you're about to drop Love Saves The Day, your newest release on Brushfire Records. What can we expect from you on this CD?
GL: This is our heaviest, most rock & roll record. If you look at it, our Fixin' to Die record was like reconnecting with the blues, then Sugar took the reinvigoration of the blues and also reintroduced that original hip hop blues style but heavier on the blues. This record is like how the classic rockers like Cream and The Rolling Stones and Led Zeppelin did it--those guys were rock & roll but started as blues bands and spend a lot of time really learning the blues and that's how their blues was so authentic. I always say, if you learned your rock & roll from Led Zeppelin or you learned your blues from Stevie Ray Vaughan, you're kind of missing the boat on where they learned it from. The reason rock & roll came about was because people were just pushing the blues. And that's what happened on our new record. We were rooted heavy in the blues, and then we came up with this sound on the new record. It is hip-hop blues, but it ends up sounding real rock & roll. But it's authentic.
You had a bunch of collaborators on this new CD. Which one blew your mind?
GL: Everybody was amazing. We started our Sugar record with David Hidalgo from Los Lobos as a special guest on the first night, and it turned out that is exactly how we started this recording session as well. We had a seven-day session, so on the first day we cut with David and he played some crazy guitar solos. He has a great flavor and a deep pocket and he's just one of those guys who knows what to play, and what not to play and its technical enough to say, what the fuck was that, but also rootsy enough that it just feels natural. That first night we cut three tunes with him. Then we had Ozomatli come in and we cut a track live with them. They also played horns on the single which was the Citizen Cope collaboration called Muse. They all brought something different and powerful to the album.
You said you cut the album in seven days. Is that how you normally do it?
GL: I've done them all ways. Certainly in the late 90's and early 2000's, we had our own studio in Philly, and we could take our time with our records. If you can be in the studio for a year, you probably would. Now it's different. We're more prepared when we go in, we get heated in the studio, play great live performances, and do some vocal takes, and then the shit's done.
The Love Saves The Day cover was a work of art by Stephen Powers, a.k.a. ESPO. One, how did that come to be, and two, do you collect art, and if so, what are you drawn to most?
GL: Well, Stephen is graffiti artist / street artist turned fine artist living in Brooklyn now. We're around the same age and I was a graffiti writer in Philadelphia albeit not on that level...actually not on any type of level. He was one of the greats around Philly and super original. We tried to get him to do the cover for Sugar, and he passed. We went back to him this year and he said yeah.
I am into art and I am an art collector through going down and playing around Art Basel in Miami every year. I would always take my gig money from playing the shows down there and I would take that cash and buy some art. I've been doing hand-drawn set lists for a few years, and now that's become a thing. Then a buddy asked if I wanted to have a show, and I was like, sure. So I started to make these art chairs and sold some, and most recently I've been painting these huge backdrops in a big warehouse. Now I've been buying these old thrift store paintings and painting them. Art is a big part of my life.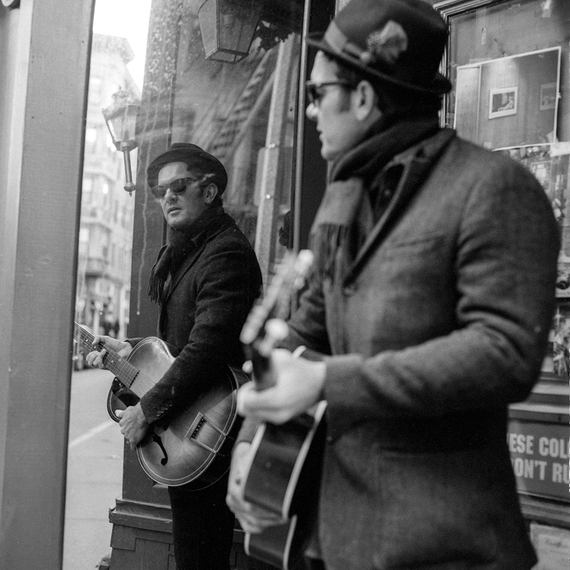 Photo courtesy of Daniel Tedeschi. danieltedeschi.com
True or False: Did someone once throw one of your guitars out a window?
GL: Yeah. . .that's true. My ex-fiancé. . .she was a firecracker. She was having an episode one night. Me and her best friend were like, you're fucking insane. We're going down to the bar. So we head down to this corner bar in the east village and we're having a Guinness. I take a sip and then my phone starts blowing up. I answer it and she was like, where the fuck are you? And I was like, we're right down the street, we'll be back in a little while. And she says, you might want to come back right now because I just threw your guitars out the window. And I'm like, Fuck! And I know she's not joking. So I ran out the door and out on the street were two guitar cases. My touring J-45 that was on loan from Gibson and luckily the other guitar case was empty. Now, she lived in a 4th floor walk up. In the guitar case the middle part was full of harmonicas so when she threw the case out it basically went nose first because it was top heavy and hit the ground and it buckled out. The damage wasn't that bad and I was able to get it fixed and it's the one I have on the road now that I do all of my acoustic gigs with. She's lucky she didn't kill anybody because I'm sure she didn't look.
I read that one of your earliest influences was The Beatles. If a young G. Love got to meet John Lennon, what would be the first question that you would have asked him?
GL: Back then I would have asked him why do you look like my dad? My mom always used to say that my dad looked like John Lennon.
If there was a young guitar player interested in playing the blues, what would be your advice for them?
GL: Just really shed, shed, shed and keep paying your dues. I think a lot about this blues guitar player that is really hot right now, Gary Clark Jr. He came out hot when he was in his late 20's, which means he'd been playing for about 15 years, just being in Austin, being a great guitar player. And now he's really hittin' it, and when he came out he was like, I'm ready. Where as when you are twenty and you get discovered, you're just getting thrown out there, you really don't know anything about anything, and you got to figure it all out and you'll make mistakes, and sometimes not be able to overcome them.
Love Saves The Day, the new CD by G. Love and Special Sauce will drop on October 30, 2015. For more information, visit: philadelphonic.com
Calling all HuffPost superfans!
Sign up for membership to become a founding member and help shape HuffPost's next chapter