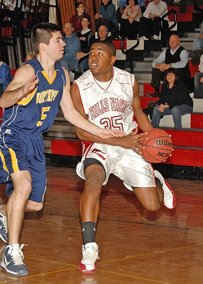 I was a junior on the varsity basketball team and my minutes were decreasing to the point where I was barely in the game. I wasn't used to that kind of playing time. I was livid. I was considering quitting the team. Then G-Pa strolled into the kitchen. A short, balding man, my grandfather stands at about 5'4 and has a chubby frame. He always wears his spectacles, dress pants and his polo button up shirt. He never wears shorts or t-shirts.
G-Pa grinned at me with his normal smirk and shouted:
Seeing my reaction, he immediately realized I was unhappy. He pulled a stool up, and I explained what was bothering me. G-Pa had seen me play and insisted that I needed to be more aggressive in practice and in the few minutes I had on the court. "You just have to push yourself." He also told me that life has difficulties and quitting is the worst possible way to deal with them. I guess I absorbed what G-Pa told me. A year later, I am the captain of the team.
When my grandfather talks about working hard, I listen. He was a Tuskegee airman and we spend hours discussing World War II. He sparked a lot of my interest in history and his advice has changed my life in many ways. For example, basketball and football had been at the center of my world for as long I can remember. They were always more important than school work, especially during my freshman and sophomore years. Then came G-Pa again. He wanted to know why I was taking so few advanced courses. "You are smart, and you should work as hard in your classes as you do on the basketball court."
I took his advice and decided to take AP US History and Economics. I have had my best academic experiences ever in those classes. At first, they were very difficult. I still remember all the serious faces on my first day in AP history. I could not spend any of the period making jokes and talking to my friends. I could not pick up my Blackberry. Flirting with girls in the class had always been more important than what the teacher wrote on the board, since everything was so easy. The B+ I received in U.S history was so much more valuable than any of the A's I received in my first two years.
I am frightened by the thought of what I would be if my grandfather had not moved in with us a couple of years ago. Ironically, I was angry when my father announced that his father, Patrick, was moving back from Guyana to our house. I was angry and selfish. I did not want to share food with a new resident of the house. Within a week, we became best friends. His greeting is always cool and warm: "Wasssup, Big T."
He will most likely follow that up with a joke about how much I eat. Or he will ask me a question about history or current events. Or we will argue over football. G-Pa doesn't understand the game as much as I do, but he still has a great time watching and cheering against what ever team I want to win. The real family fun begins when the Dallas Cowboys play the New York Giants. For some odd reason my grandfather has taken a serious liking to the Dallas Cowboys. I remember one cold November night the Cowboys and the Giants were getting ready to square off in a huge NFL battle. My grandfather sat right next to me and began his trash talking. Of course, I couldn't just let my grandfather talk smack without any repercussions. I yelled everything I could at the screen about the Cowboys. Dallas won, but that didn't matter. I still had fun with G-Pa.
Tyler Mackenzie, a junior at Syracuse University, is a 2011 graduate of Half Hollow Hills High School East.
Related
Popular in the Community