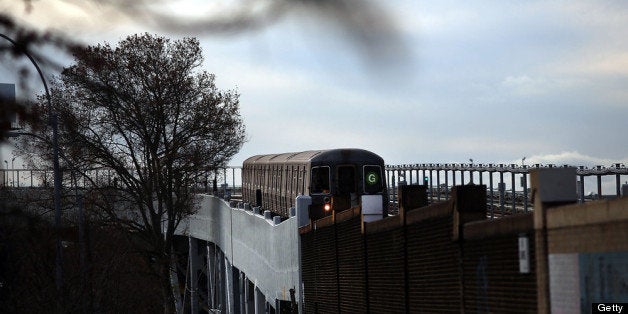 NEW YORK CITY — The G train is going places.
Service on the G line will increase and weekend service on the M train  will be extended after the Metropolitan Transportation Authority secured state funding, helping to pay for $18 million in service improvements, the governor's office announced Monday morning.
"For the second year in a row, the state has invested in significant enhancements and expansions to our state's transit system that will improve the experience of the eight million commuters who use the MTA," Governor Andrew Cuomo said in a statement.
"In the last two and a half years, our administration has made real improvements to the nation's largest public transit system, implementing reforms that have improved services and made the MTA more efficient by reducing costs, cutting waste and putting the needs of straphangers and commuters first."
The increased funds were also made possible by MTA operations cost-cutting and increased revenues from fares, tolls, subsidies and dedicated taxes, the governor's office added.
Service investments means the G will now operate every eight minutes instead of 10 minutes from 3 p.m. to 9 p.m. on weekdays. The four-car train will also now stop in the same place at each platform, which will be clearly marked for riders, to cut down on the infamous dash.
Other improvements include the M train running from Middle Village in Queens to Delancey-Essex Street in Manhattan on the weekends, rather than stopping at Myrtle Avenue in Brooklyn.
Most of the changes are slated to be rolled out within a year, officials said.
Service will also be restored on the B37, B70 and B8 bsses in Brooklyn.
Weekend service will be restored on the M8 in Manhattan and Q31 in Queens, as well as the Sunday Q77.
Midday and evening service will be added to the S93, between Bay Ridge, Brooklyn and the College of Staten Island.
And the Bx24 in the eastern Bronx will be extended to Hutchinson Metro Center.
The Long Island Rail Road will also see improvements, with service being added every half-hour on weekends to and from Ronkonkoma, and service will be restored to Port Washington.
The following train times are being added:
- Weekend service to Greenport will be extended for 10 weeks
- 4:09 p.m. weekday train will run from Penn Station to Ronkonkoma
- 7 p.m. weekday train will run from Ronkonkoma to Penn Station
- 8:22 p.m. weekday train will run from Penn Station to Hicksville
- 4:37 p.m. weekday train from Penn Station to Wantagh will be restored
- 4:57 p.m. weekday train from Penn Station to Freeport will be restored
The new service will cost the MTA $7.9 million annually on the bus and subway improvements, according to the governor's office. Another $5.9 million is being spent on track and station cleaning.
The LIRR is spending $2.6 million for the new and restored train service.
Metro-North is slated to spend $1.7 million per year to install real-time customer service displays at all its stations by 2020.