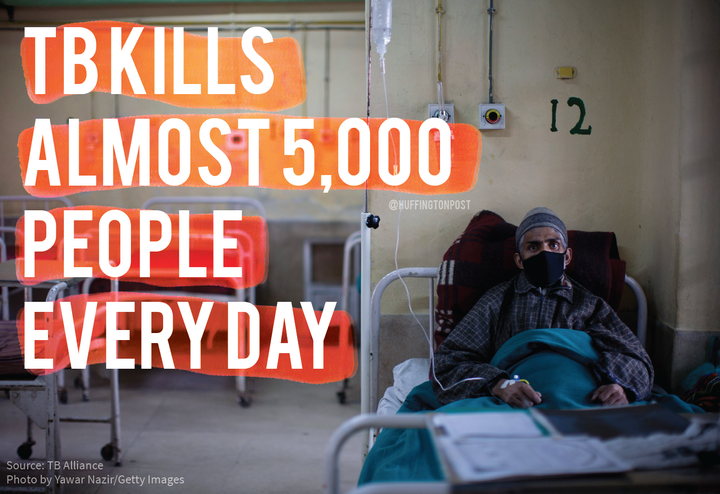 Advocates in the fight against tuberculosis are pleased that the top global infectious killer is mentioned by name in this year's G-20 Leaders' Declaration.
"The specific inclusion of TB on top of the priority pathogens listed by World Health Organization to be addressed by new efforts in R&D against [antimicrobial resistance] is a great victory of the TB community against many odds," Dr. Mario Raviglione, director of WHO's Global TB Programme, told HuffPost in an email.
In a HuffPost review of the last 10 years of G-20 declaration documents, the only other disease to be mentioned explicitly was Ebola, which had a separate treatise in 2014. Antimicrobial resistance, the umbrella under which TB was mentioned, was first highlighted as a global issue in 2015. The 2017 declaration lays out the importance of combating AMR's "growing threat to public health and economic growth" through research and development, responsible antibiotic use and treatment, and the creation of an international R&D collaboration hub.
"We get almost 2 million deaths, 11 million cases a year in a disease that we can diagnose, treat and cure. The world needs to be outraged more than it is."
By 2050, drug-resistant forms of the airborne disease are expected to account for a quarter of the 10 million deaths due to AMR each year, according to the final report of the Review on Antimicrobial Resistance, a U.K. committee chaired by the economist Jim O'Neill. More than 75 million people are expected to die of multidrug-resistant TB by 2050.
Global health experts have repeatedly warned of the growing threat of drug-resistant forms of tuberculosis, which are responsible for around 580,000 cases annually. Typical cases of TB have a cure rate of over 90 percent, but MDR-TB cases have a cure rate of around 50 percent.
Lucica Ditiu, executive director of the international Stop TB Partnership, was thrilled that tuberculosis made the final draft of the leaders' declaration.
"I think we are going to a place we've never been," she said of the momentum in the fight against TB. "This is the first time that it's come up at this level of heads of state."
Ditiu said the TB advocacy community hopes this momentum will continue to snowball at the ministerial conference in Russia in November, at a series of conferences in the coming year and at the first-ever U.N. high-level meeting focusing solely on TB in 2018.
As Dr. Eric Goosby, the United Nations special envoy on tuberculosis, put it to HuffPost, this momentum has been a long time coming.
"The tragedy of this disease that hasn't been adequately amplified ― we get almost 2 million deaths, 11 million cases a year in a disease that we can diagnose, treat and cure," he said. "The world needs to be outraged more than it is."
Goosby noted that the current momentum is unlike anything he's seen around the disease. He believes tuberculosis is now a part of the conversation in a way it wasn't before ― and he hopes that will translate into greater funding and more action.
However, not all advocates see the mention as an occasion to celebrate.
"It is questionable whether the announcement of a collaboration platform to promote existing and future research initiatives can actually start to overcome the failures of today's R&D system," Marco Alves of Doctors Without Borders Germany said in a statement. "The G20 must now look ahead to concretely commit to adequate funding of new initiatives that ensure medical tools are accessible and affordable to all people in need, wherever they live."
Matt Oliver, head of the secretariat for the Global TB Caucus, applauded the mention, but also pointed to the need for concrete steps.
"The recognition of TB by the G20 as a leading component of the AMR threat is a major step forward for the disease," Oliver told HuffPost in an email. "However, a Declaration is only worth as much as the action it generates."
Ditiu also told HuffPost that while the mention of TB is in some sense a landmark, it may be different "for people with TB ― they're like so what. It's literally a word in a document."
She stressed that the next steps of engagement will be essential in combating the disease.
But Goosby remains hopeful that this could be a turning point in the fight against the world's top infectious killer.
"Hopefully this step will help us maximize our ability to stop the death and dying from a disease we can cure," he said.