Violent clashes erupted Thursday between police and protesters in Hamburg, Germany, as world leaders are set to attend the G-20 summit in the city.
Several people were injured, according to HuffPost Germany reporters on the scene. Hamburg police said 76 officers were injured. Earlier the department said three were hospitalized for the injuries. They implicated small groups of protesters in the violence.
Police used smoke grenades and water cannons on protestors, reporters said, while activists threw stones, bottles and explosives, and set at least one car ablaze. Fires were still burning in the street as of 11 p.m. local time.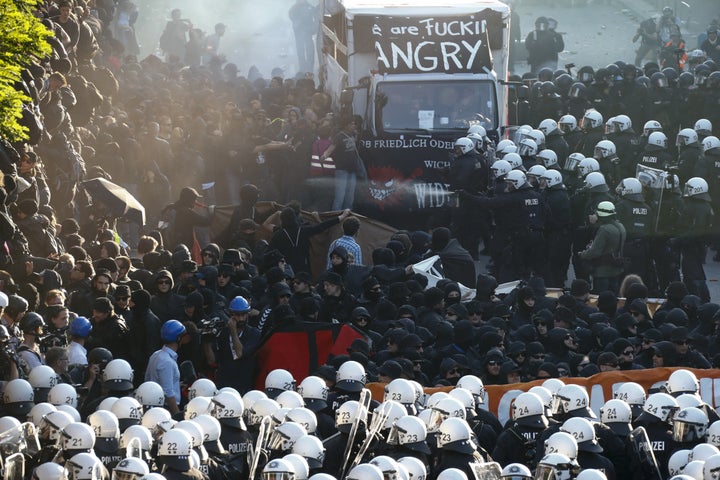 At least 20,000 German police were mobilized to secure the streets and venues, as authorities have readied for immense demonstrations. Police estimate that a total of 100,000 people may join the demonstrations in the city over the course of the summit, and that about 8,000 of them will be violent. They announced earlier this week that they had seized from activists a range of homemade weapons.
The summit brings together leaders from 20 of the world's most powerful nations to discuss pressing international issues ― including U.S. President Donald Trump, German Chancellor Angela Merkel and Russian President Vladimir Putin ― but also serves as a target for critics of global inequality.
The annual G-20 summit is held in a different member nation each year, and often becomes a lightning rod for protests. Over 1,000 people were detained in Toronto, Canada, during the summit in 2010 as anarchist demonstrators torched police cars and shattered store windows.
It's not yet clear what the extent of the damage to buildings in Hamburg is, HuffPost Germany reported.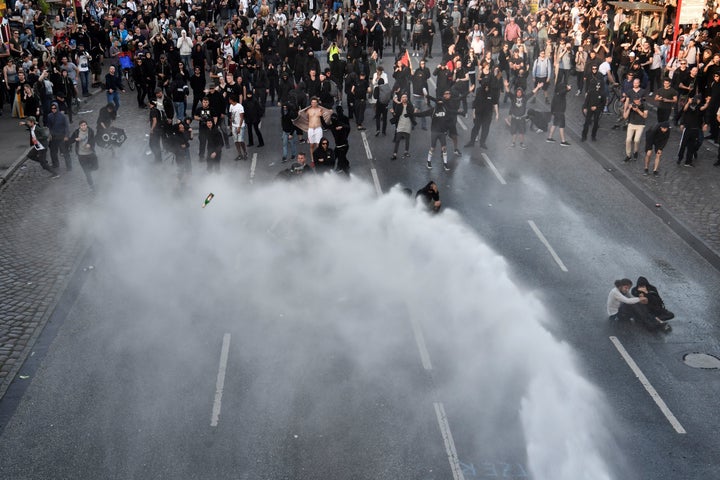 The motto for the protests this year is "welcome to hell," and they tackle a variety of issues ― including Trump's presidency, concerns over climate change and grievances over globalization and capitalism. Some of the leaders attending the summit, such as Putin and Turkish President Recep Tayyip Erdogan, are also accused of human rights abuses and growing authoritarianism.
A portion of the demonstrators taking part in the protests are from far-left activist groups, some of which chartered buses to Hamburg from other European nations. A few of the groups have produced propaganda videos ahead of the event that depict masked men marching against capitalism.
Members of the anti-capitalist Black Bloc movement were out in force on Thursday, chanting and marching through Hamburg. HuffPost Germany political correspondent Jurgen Klockner captured footage of both Black Bloc activists and the police using cannons during the protests.
Many shopkeepers in Hamburg boarded up their stores over fears of property damage during the protests, which started in the city earlier this week.
Officers on Tuesday night used a water cannon to disperse a gathering of several hundred activists that had gathered in a park to the west of Hamburg, claiming that the crowd was illegally camping on the grounds.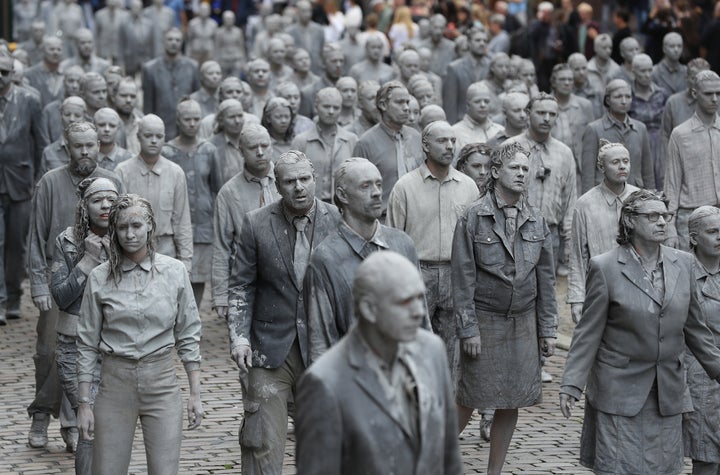 A performance art piece on Wednesday saw activists make a statement about political change: Caked head to toe in gray clay to look like zombies, they slowly marched through Hamburg before revealing colorful outfits under their drab facade. Some carried a sign reading "Smash G20, Welcome to the hell of St. Pauli."
That night, a fire broke out at a Porsche dealership. It is currently being investigated to see if it was an act of arson.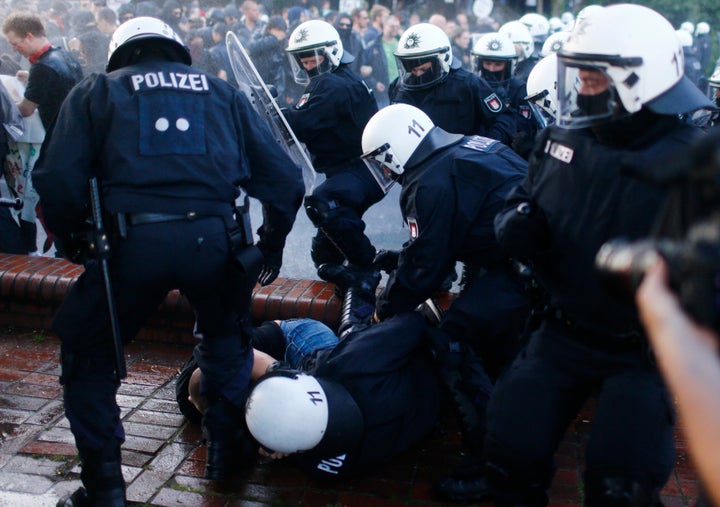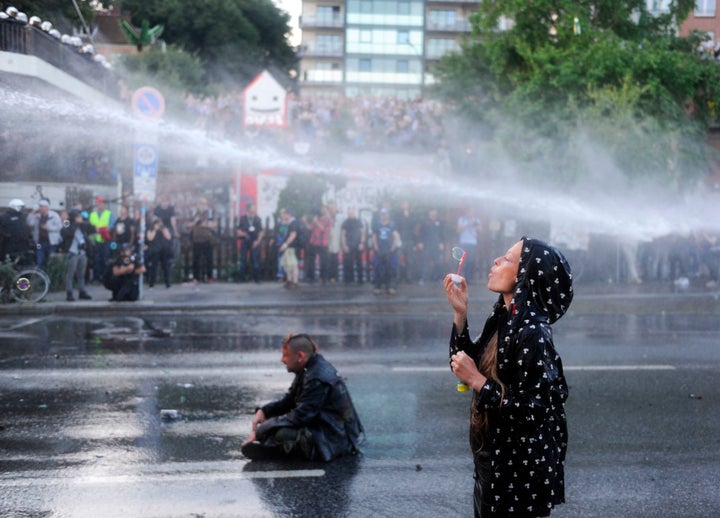 This article has been updated with more details about the protests. Lydia O'Connor contributed reporting.
Before You Go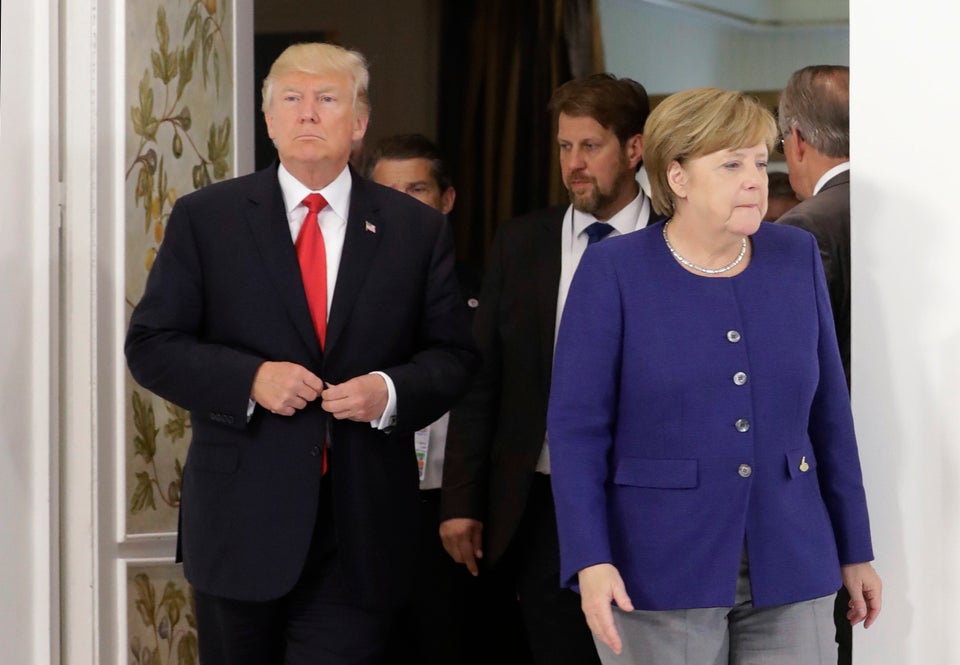 Most Awkward Trump And Merkel Photos From The G-20 Summit
Popular in the Community