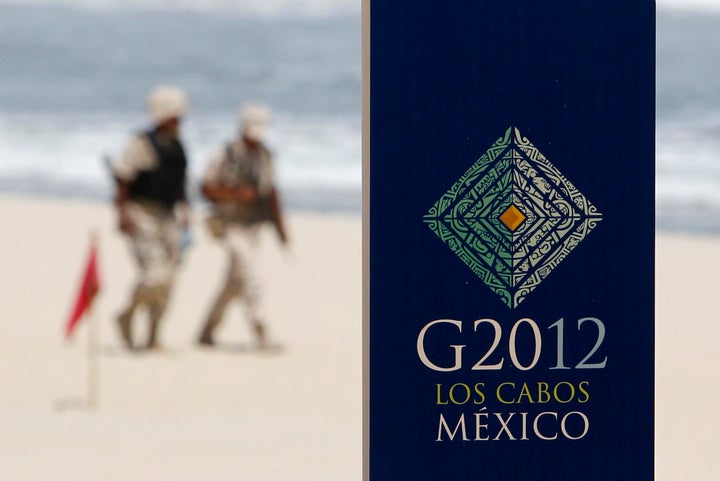 Travel about three hours north of Los Cabos, the luxury Mexican seaside resort community where President Barack Obama and leaders from 19 other G20 countries are gathering, and you come to another coastal town -- La Paz, a state capital that's home to some 200,000 people.
I've taken the bus here to join the Cumbre de los Pueblos, a People's Summit of civil society and grassroots activists.
The terrain between the two towns is brown, dotted by large cacti and leafless brush. The bus driver tells me it shouldn't be this way, but the rains have barely come the past two years. In fact, Mexico is withering under its worst drought in more than 70 years.
But at the G20, the annual meeting of the world's self-proclaimed "premier economic forum," the focus will be on another crisis, one much farther afield: how to contain the economic (and political) fallout of the euro crisis.
In La Paz, though, like much of the world, other issues are more pressing.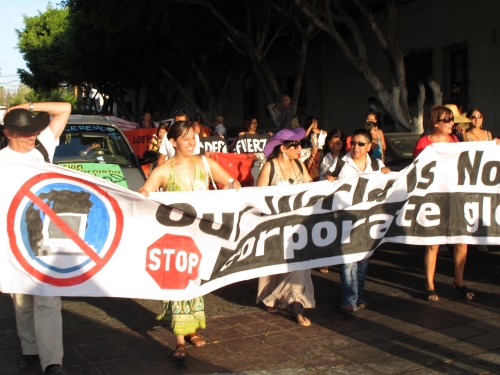 People's Summit Demonstration, La Paz, Mexico, 17 June 2012
Top of the list here are dignified jobs that pay a fair wage.
Laborers -- mainly women -- have assembled parts in maquiladora factories since the 1960s, connecting sleeves to shirts and more recently taping electrical wires for Ford pickups and pumping out plasma TVs, Blackberrys, blenders and more.
But the workers on the assembly lines can not afford even the simplest of the products they produce.
The worst case may be in the calamari factories operated by Asian companies to meet the demand for seafood back home as well as in the United States. Here, women clean squid for 12 to 16 hours a day. Their children often help; some go to school, others do not. In some factories, the women live on site, their beds made from the plastic boxes used to ship squid. A court case over unpaid wages is still pending and sexual harassment and even rape by supervisors is not uncommon.
Creating jobs is meaningless if the working conditions are not safe, companies do not pay a living wage and women's rights are not respected.
Less than 20 kilometers from La Paz in the foothills of the Sierra de la Laguna, a Canadian company may soon start digging for gold, pending a government permit. Well, dig is not really accurate. First the mining company will dynamite the mountains, then pour water and cyanide over the open pit, forever changing the environment and potentially polluting the aquifer that is the source of the region's water.
"Mining companies get great wealth," Juan Trasvina, an engineer with a masters degree in environmental science, tells me. "But they don't use it to clean up what they do. Mining leaves behind millions and millions of tons of toxic waste and they do nothing about it."
Juan hopes to block the permit. He leads a group of scientists and activists working to stop large-scale mining projects. He notes that half of Mexico's land has been given to mining companies, but the industry generates few jobs and contributes just one percent to the country's GDP. In addition, mining projects require vast amounts of water -- some 60 percent of the region's supply -- at a time when drought is turning water into a precious resource.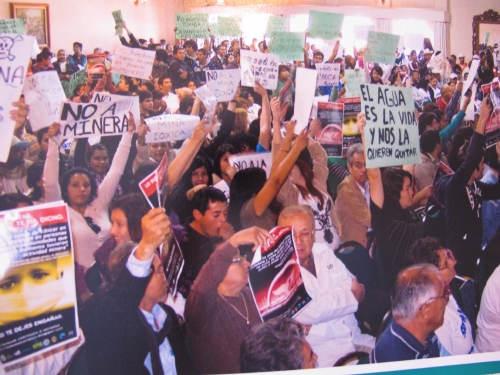 Protesting Toxic Mines, Photo courtesy of 'Cumbre de los Pueblos'
At first glance, working conditions in Mexican factories, mining projects and even drought may seem like local issues. How can they compare to a European currency crisis that could potentially drag the U.S. and other economies back into recession?
Attend any grassroots development forum in Africa, Asia or Latin America, though, and you can hear the anger, the grief and the hurt caused by companies that do not respect the communities where they work. (Even in the U.S., women from coal communities are calling for a halt to mountaintop removals that leave their communities in tatters. West Virginian coal, by the way, is being shipped overseas to meet the energy needs of another G20 member, India.)
Still, can we really ask world leaders to address these issues?
The answer lies in the type of world that we want.
Current policies shape the world we have.
But if we want a world where our economies create prosperity for everyone and not a select few, if we value our planet and environment, if we want a world based on justice, gender equality and a respect for human rights, then the answer is clear.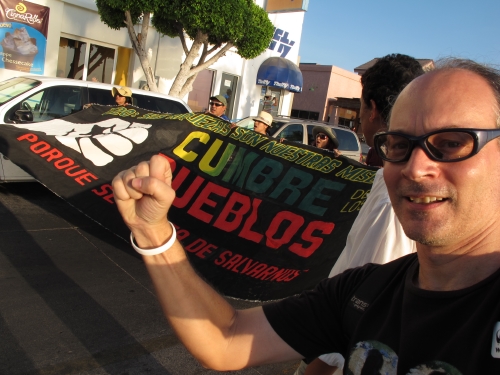 Popular in the Community