FRANKFURT, GERMANY -- Little Omar is not agreeing to the routine medical treatment. But what little 11-month old child likes being dragged from his mom, laid on a measuring board and being prodded in the belly by a stranger? Omar vents his disagreement to the entire maternal and child health clinic here in Garowe, the regional capital of Puntland, Somalia.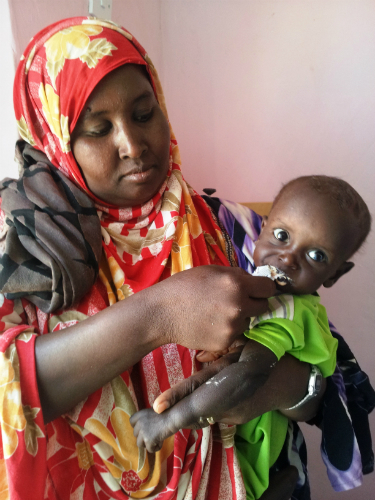 Omar's mom, however, is happy for the support she is receiving from the government health-workers that monitor the recovery of her little boy. Every two weeks she comes to the clinic to have Omar checked, receive two weeks' worth of therapeutic feeding paste and be counseled on child nutrition. This is a community-based nutrition project jointly run by World Vision in Somalia and the Somalian government. The aim is to treat undernourished children at home, supporting moms with knowledge and therapeutic food, and alleviating a thinly-stretched to non-existing health system.
Recent numbers published by the UN show that the human death toll of the Horn of Africa hunger was much higher for Somalia than thought previously. In total 258,000 Somalis lost their lives during the 2010-2012 famine of which more than half, 133,000, were children under five years. This surpasses even the numbers of the terrible hunger in 1992-93.
As we approach this year's G8 Summit, the news on children and nutrition is not good. A recently published study series by the British medical journal The Lancet shows that we have underestimated the effects of undernutrition on child mortality, and approximately 45 percent of child deaths before their fifth birthday are now attributed to lack of enough or nutritious food as underlying cause, leading to a staggering 3.1 million children losing their young lives in 2012 alone to a cause we know very well how to prevent and treat.
At the 2009 G8 Summit held in the ruins of the heavily earth-quake affected Italian town of l'Aquila, the G8 and partners promised to spend $22 billion on food security by the end of 2012. Yet they have disbursed less than three quarters of that amount. At a time when child mortality could be dropping much faster, the recently published accountability report for the G8 gathering in Lough Erne, UK next week doesn't even contain a section on nutrition, exposing the G8 as giving less focus to this huge child killer at a time when all the evidence points to nutrition being pivotal in our efforts to attain the Millenium Development Goals (MDGs). Well, roughly 900 days before the end-date of the MDGs we're still off track to reduce the target of reducing child deaths to 4 million per year and we know now more than ever the critical contribution of nutrition to reaching this goal.
This is no time for complacency and the good news is that we know exactly what works and what it could mean for the lives of children such as little Omar. This is why at last weekend's Nutrition for Growth Summit in London, World Vision pledged to invest $1.2 billion by 2020 in its nutrition programs. But what is really needed now is a concentrated effort by the donors and the German pledge of $200 million is just not enough. We have had much G8 rhetoric around nutrition and food security over the last several years and the renewed interest in this quintessential intervention for human development is good, but needs to be backed up by a transparent accountability framework that can trace every promised dollar. Whether to report on progress made cannot be left to the gusto of a given G8-host, it must become part and parcel of every G8 accountability report. This we owe to the vulnerable little ones like Omar and his mom, who left the clinic with better knowledge and a two-week ration of therapeutic food thanks to a successful cooperation of a thoughtful donor, a cooperative government and a supportive development organization. We need more of this!
This post is part of a series produced by The Huffington Post and the NGO alliance InterAction around the G8 summit being held in Northern Ireland, June 17-18. For the next eight days, we will be featuring one post from an NGO based in each of the G8 countries -- this piece is from Germany -- and then one blog from the vantage point of the developing world. To see all the posts in the series, click here. For more information on InterAction, click here. And follow the conversation on Twitter with hashtag #DearG8.
Photo: Courtesy of World Vision
Related