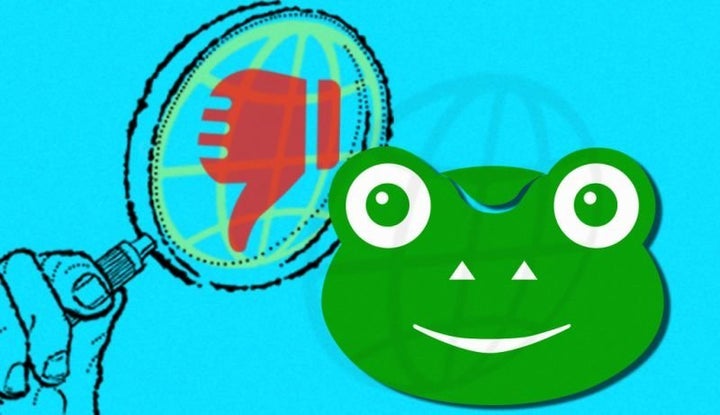 WASHINGTON — A social networking website popular with white supremacists faced a fresh round of controversies this week after it banned the former system administrator of the neo-Nazi Daily Stormer from using its services. At the same time, it faced a deadline from its domain registrar in Australia, which said it would delist the site over its controversial content.
"The website at <gab.ai> violates Australian federal and state anti-discrimination laws, which prohibit public vilification on the basis of race, religion, or ethnic origin," Asia Registry said in a letter Monday, which Gab posted to Twitter.
By Tuesday evening the site had found a new way to stay online. "We got an eleventh hour hope from an unnamed source that we are going to keep confidential that actually got us our registrar saved. We are no longer with Asia Registry," Utsav Sanduja, the chief operating officer of Gab.ai, told Yahoo News by phone from Canada, where he lives. "The organization in question — which I cannot name — supports free speech vehemently. So that issue with the domain has been taken care of, so Gab is completely fine in that respect."
Sanduja said the banning of Andrew "weev" Auernheimer, a legendary internet personality who helped invent trolling in its current form, was unrelated to the question about the site's domain registration in Australia, a nation with more robust antidiscriminatory speech laws than the United States has. But the episode raises questions about how free speech concerns and a global array of hate speech laws affect the complex relationship between social media sites and domain registries and hosting companies.
"He advocated for striking back at Jewish people for supposed things that they did to white people, and we saw that as a final straw," explained Sanduja. "We saw that as an incitement to violence. We saw that as a directive to take action. We saw that as essentially speaking the advocacy of terrorism, and it was threatening in nature and in language, and that violates our guidelines very clearly, and based on that we decided to do a takedown."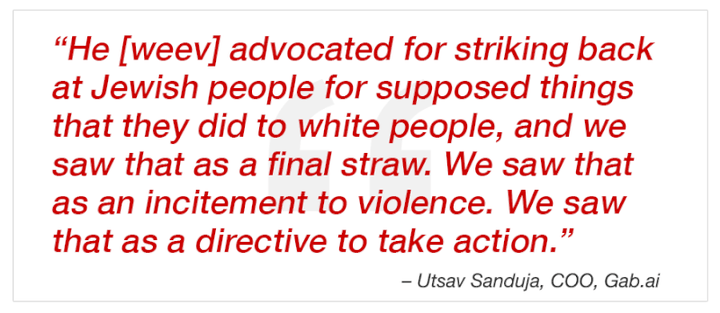 Gab.ai was launched on Aug. 15, 2016, during the height of the presidential campaign of Donald Trump. With a frog avatar as a brand icon and a commitment to giving a platform to so-called alt-right figures who had been banned from Twitter, the site quickly became popular in #MAGA circles, as Trump supporters call themselves online, using the hashtag for Trump's campaign slogan, Make America Great Again. Though the frog avatar bears a superficial resemblance to the alt-right mascot Pepe, Sanduja says it's actually a reference to one of the 10 biblical plagues inflicted on Egypt. Gab is "releasing the plague of frogs all over Silicon Valley" in response to the "corruption" found at its major companies: "Gab is here to send the plague to the Valley."
The Gab AI Inc. site was launched by Andrew Torba, a Trump supporter who was later kicked out of the Y Combinator technology incubator network in Silicon Valley for "harassing" conduct. "I call it like I see it, and I helped meme a President into office, cucks," TechCrunch reported he wrote on Facebook. A conservative Christian, Torba says that Silicon Valley is unwelcoming to conservatives and biased against them. Gab was quick to defend James Damore after he was fired from Google over a memo he wrote questioning the company's diversity practices. The site was pointedly launched without internal policies restricting offensive content, so long as the speech fell within the bounds of U.S. First Amendment law.
Today Gab.ai has four full-time employees and one full-time contractor, according to Sanduja. Two of them are based in the U.S. — chief product officer Ekrem Büyükkaya has been based in Turkey since the site launched — and the company itself is now legally based in Philadelphia, after a stint in Austin, Texas. The site boasts more than 280,000 registered users, half of whom are in the United States, according to Sanduja.
The takedown of weev shows how the trolling problems that afflict larger social networks can force even studiously content-neutral internet advocates into the role of speech censor — as well as the risks of launching a globally distributed site premised on the defense of the First Amendment of the U.S. Constitution, which protects free speech much more robustly than do the laws of many other nations.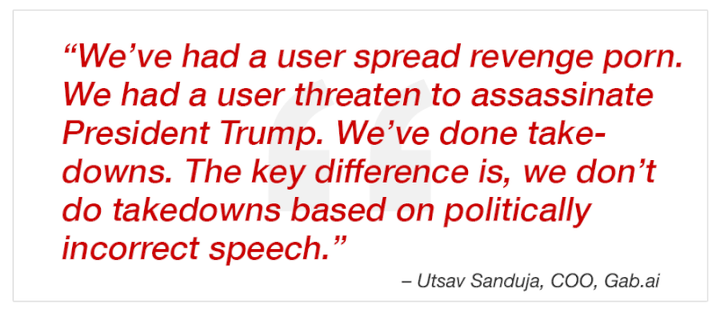 Though he would not disclose the new country in which the Gab.ai domain is registered, it remains a "dot ai" site, using the web suffix of Anguilla, a British overseas territory in the eastern Caribbean.
The site has had to take down other users, in addition to weev, said Sanduja. "We've had a user spread revenge porn. We had a user threaten to assassinate President Trump. We've done takedowns," he said. "The key difference is, we don't do takedowns based on politically incorrect speech. As along as the speech is protected by the First Amendment and is lawful it remains. … Our takedowns are very limited to the basic parameters of the law, like advocating violence, doxxing [publicizing personal or identifying information about an individual] spamming, child pornography."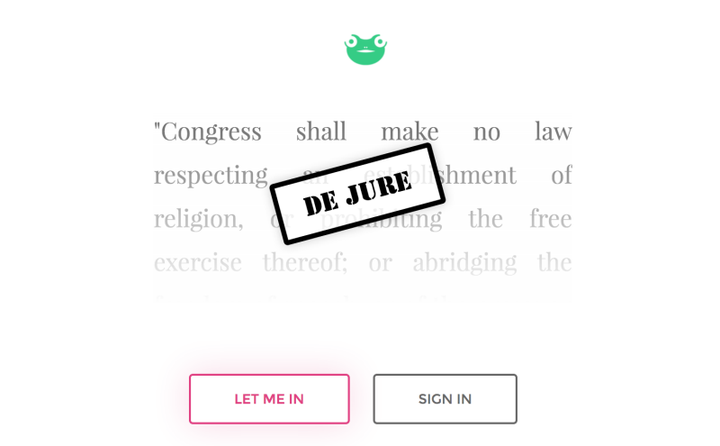 Gab disagrees, of course, and continues to defend legal, offensive speech publicly. "'Hate speech'" is free speech," Gab.ai proclaimed on Twitter Monday. "It's also subjective."
Sanduja questions why Gab, alone among social networks, is considered a hate site, when much of the hateful content that can be found on it can also be found on other social networks despite their formally more aggressive takedown and content moderation policies. Gab's front page on Tuesday displayed a number of anti-Semitic posts, including one calling Trump's daughter Ivanka, who converted to Judaism, "Jewvanka." A search for the term on Twitter and Facebook shows other posts using the same slur.
Gab may approach takedowns differently, but ultimately all social media sites are heavily dependent on user complaints to manage content, and a substantial amount of unreported offensive content — and even reported offensive content — can be found on all the major social networks. "We have a three-strikes policy on Gab," said Sanduja, outlining the Gab difference. "We give warnings before we take action. We also allow users to post an appeal to each decision."

Twitter, Facebook and Snapchat today all operate more as mobile apps than websites, but Gab has been unable to do so because of its reputation as a hate site. Gab has tried to distribute an app through the Apple App Store. "We have been rejected nine times. Their rationale was that supposedly Gab is a hate app," said Sanduja. The Android version of the app was available in the Google Android store "for several months," before Google kicked if off last month amid a broader digital media crackdown on white supremacist sites.
"After review, Gab, ai.gab.android, has been suspended and removed from Google Play as a policy strike because it violates the hate speech policy," Google said in an email to Gab last week.
Gab last Thursday responded by filing a lawsuit alleging antitrust practices against Google. "Google deprives competitors, on a discriminatory basis, of access to the App Store, which an essential facility or resource," Gab alleged in the lawsuit.
"In order to be on the Play Store, social networking apps need to demonstrate a sufficient level of moderation, including for content that encourages violence and advocates hate against groups of people," Google said in a statement. "This developer is welcome to appeal the suspension if they've addressed the policy violations and are compliant with our Developer Program Policies."
Read more from Yahoo News:
Popular in the Community