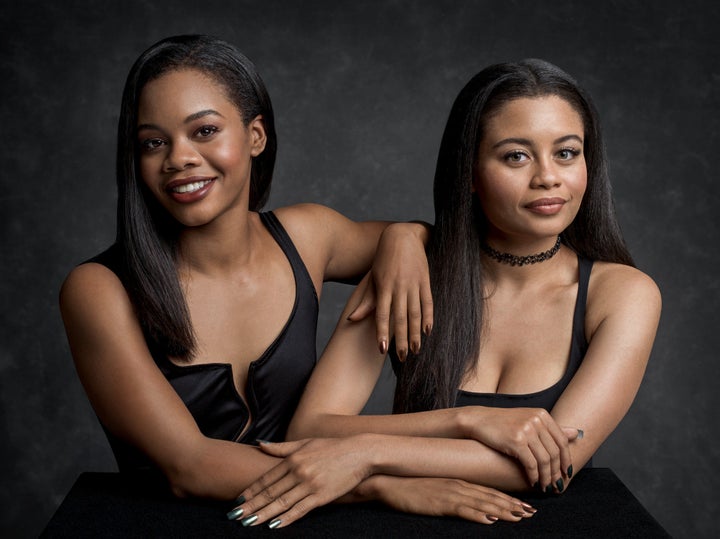 With all of its scrunchies and Swarovski crystal, gymnastics stands out among other sports for the element of pageantry at its most prestigious levels. Some might like to see that change, but gymnast Gabby Douglas isn't one of them.
"We all like to get glammed up. Everyone does," Douglas recently told The Huffington Post. The star Olympian, who has become a face of the ActuallySheCan campaign for women's empowerment with sister Arielle Hawkins, added: "It's like a masterpiece finish."
The rules of gymnastics glam are actually quite strict, especially at the Olympic level. Each athlete must be "well-groomed in her appearance" ― no undergarments peeking out from beneath leotards ― while not restricting her movement. The contemporary version of the sport is about the ability to flip, bend, stick a landing and look good enough for a red carpet. 
Whether or not glitter has any business participating in an Olympic sport, however, is a minefield of strong opinions. Sometimes, they're not so sophisticated: During the Rio Olympics, Fox News decided to air a segment in which two men ― a radio host and a retired NYPD detective ― shared their expert views on the Final Five's appearance.
But sometimes, they are. In a piece for The Atlantic, Megan Garber wrote that makeup and sparkles in athletics exemplify the questions surrounding gender roles today. The Huffington Post's Chloe Angyal explained how contemporary gymnastics fits squarely in our comfort zone: "Even though they're throwing themselves around in skin-tight leotards that show every line in their six-packs, they're competing in an appropriately feminine way." In a piece for New York Magazine, Meghan O'Rourke called gymnastics "the most dramatically feminine sport" in a way that makes her question the ethics of even watching. 
Why can't women gymnasts wear plain spandex like the men? Why do they need makeup?
To 20-year-old Douglas and her teammates, the aesthetics of their sport have a more positive deeper meaning. Douglas agreed that makeup and crystals can give an athlete an extra confidence boost, which can mean all the difference on the mat.
"You look good, and you go out there, and you compete well," she said. "I think we should keep it."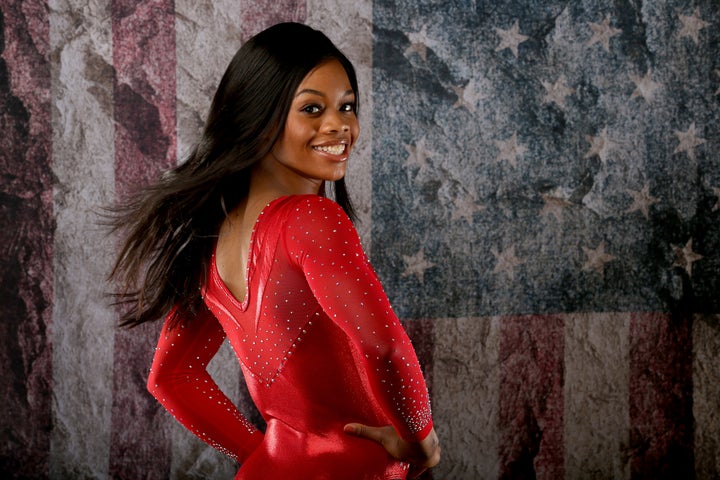 Although she enjoys the pomp and circumstance of her sport, Douglas is not one to display her three gold medals around the house, or even wear them. They live carefully under lock and key because, evidently, organizers won't replace broken or lost medals. (Which she finds strange.)
"They're like, 'Oops, sorry! That's the one chance you had!' They won't even make you another one."
Now retired from Olympic competitions, the athlete is setting her sights on another industry all about optics ― media. She's set to live in Los Angeles full-time with some of her family, who are in talks to continue their Oxygen reality TV series, "Douglas Family Gold."
REAL LIFE. REAL NEWS. REAL VOICES.
Help us tell more of the stories that matter from voices that too often remain unheard.
BEFORE YOU GO
PHOTO GALLERY
Exhausted Olympians At The End Of The Decathlon