The Gabby Douglas hair saga continues and now the Olympian's mom is addressing the haters.
The folks over at Fashionista.com snagged an interview with Natalie Hawkins, Gabby Douglas' mother, who is speaking out in fierce defense of her daughter's hair.
"How ignorant is it of people to comment on her hair and she still has more competitions to go. Are you trying to ruin her self confidence?," Hawkins told Fashionista.com. "She has to go out there and feel good about herself, and if she feels good about herself on that floor, who are you to criticize her? What have you done to help contribute to her dream, that you felt it necessary to put it out there so that she could see it."
For a young lady who has made history twice over -- she is the first African-American to win the all-around title and the first American, period, to win gold in both the all-around and team finals -- it's mind boggling why her hair has continued to dominate the headlines.
We're with you Gabby. Since spotting the negative comments on Twitter, we've been trying to figure out the 16-year-old's follicle fail. Other than the messy bun style that all the American gymnasts are sporting, we can't find much wrong with Gabby's 'do. It's gelled and pinned back as it should be. Hawkins says that Gabby's hair is chemically relaxed and is styled in a ponytail 28-30 hours a week, due to her rigorous training schedule.
"You're going into foam pits, and any hair stylist will tell you that foam on African American hair is destructive. It breaks the hair horribly," Hawkins told Fashionista.com. In order to combat some of these harsh training elements, Hawkins says that Gabby has tried getting creative with her hair -- wearing it both short and long. "We grew her hair out because she preferred long hair. I'm not going to make her cut her hair just to please someone else," said Hawkins.
Gabby's coach Liang Chow agrees. He told Hawkins -- "She's beautiful. You don't need to change her hair. We need to focus on training. Hair is secondary."
And Hawkins adds there's more to why her daughter's hair may look unkempt to the critics (who Hawkins assesses have mostly been African American women).
"She lives with a white host family and they don't know anything about taking care of her hair," said Hawkins. "And there's no black salons in their area [in Iowa] –- not one. We had to work really hard to find a stylist to come and do her hair."
We're pretty impressed with Gabby's hair considering those factors. Black women know the perils of maintaining their manes no matter what the style or texture. Compound those issues by being a 16-year-old girl living 1,200 miles away from her mother with no help in sight -- and then try looking like a beauty queen.
Thankfully Hawkins and Gabby have been able to find humor in all the hoopla surrounding Gabby's hair. The two have laughed about it and made it into a huge joke. Hawkins says Gabby "hasn't given it another moment's thought."
Now if only the haters would do the same.
Before You Go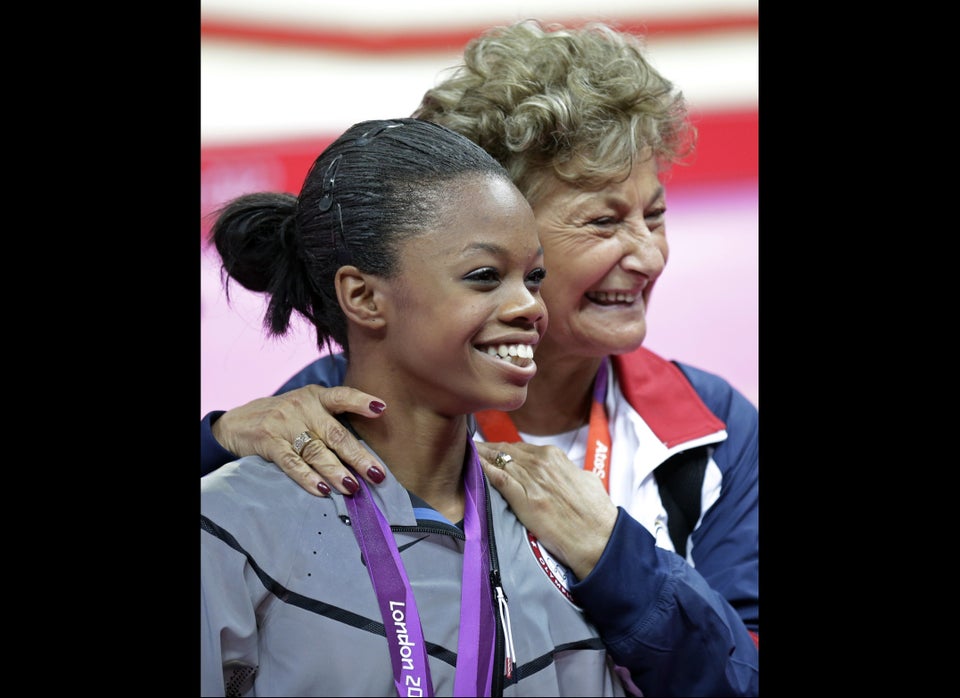 Olympic Gymnastic Moments
Popular in the Community